A masterful performance from Michael Murphy proved pivotal as Donegal got the better of Meath in this evening's Allianz League Division 2 final at Croke Park in front of more than 23,500 people.
The Donegal captain produced a man of the match performance and shot seven points as the Ulster champions recovered from a disastrous start to wear down the Royals, who only managed to register one point in the final 27 minutes.
Meath looked set to spring an upset when they led by eight points after less than a quarter of an hour, but Donegal gradually played their way into contention and they used all their experience to edge ahead and close the game out.
The crucial score of the game arrived in the 57th minute when a brilliant flowing move involving more than half-a-dozen players ended with Jamie Brennan cracking the ball to the Meath net past Andrew Colgan.
That terrific goal propelled Donegal into the lead for the first time (1-16 to 1-14) in an entertaining match, and they kept Meath at arm's length in the closing stages.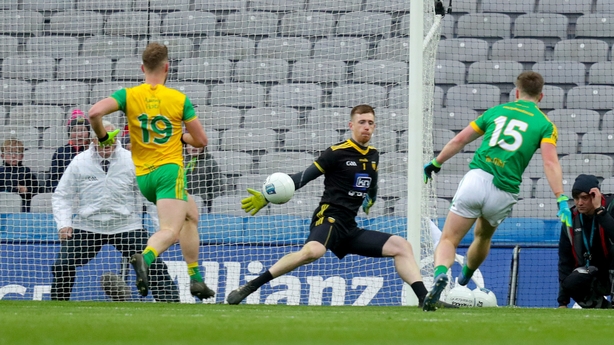 Andy McEntee's side pressed high and hard all the way to the final whistle and restricted the winners to just one further point — from a Michael Murphy free.
However, all they could manage themselves at the other end was a free from Cillian O'Sullivan in the 73rd minute, their only score for almost 30 minutes of football.
Meath also finished the game with 14 men after corner-back Shane Gallagher was dismissed in the 70th minute.
It had all been so different early on, and the Royals led at the end of a fast-paced, high-scoring first half by 1-10 to 0-8.
They came flying out of the blocks and were eight points up by the 13th minute as Donegal struggled to keep pace.
Andy McEntee's men settled into their rhythm immediately and early scores from Bryan Menton, Michael Newman (2) and Shane McEntee eased them ahead by 0-4 to 0-1.
Donegal's problems increased dramatically on nine minutes when Meath's Thomas O'Reilly goaled and this was followed by a couple of quickfire points from Ben Brennan and the razor-sharp Michael Newman.
Meath were 1-6 to 0-1 in front when the dust settled, with Donegal made to look very ordinary by their opponent's pace and movement.
However, the Ulster champions slowly and surely began to settle an a string of points from Jamie Brennan (2), Oisin Gallen and Niall O'Donnell cut the deficit in half by the end of the first quarter.
Meath responded to this mini-Donegal revival impressively though with Bryan McMahon (2) hitting the target to restore his team's five-point cushion.
The nip-and-tuck nature of the contest continued unabated as Jason McGee and Oisin Gallen both clipped points for Donegal to keep the Tir Chonaill men in touch.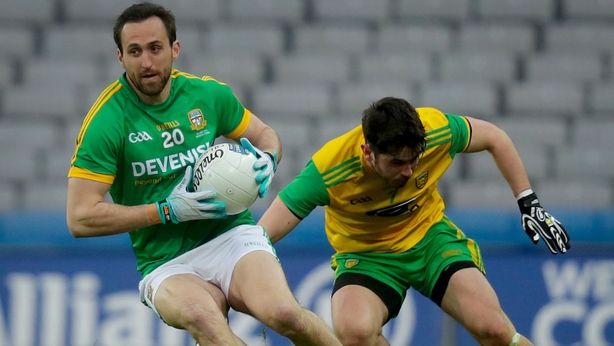 However, Declan Bonner's side were also given a massive let-off in the 32nd minute when Michael Newman's palmed goal for Meath was ruled out for a square ball after referee Derek O'Mahony consulted with his umpires.
Despite this setback, the Royals continued to keep the pressure on with Cillian O'Sullivan and Thomas O'Reilly both finding space behind a porous Donegal defence to tag on further scores.
As a result, Meath were five points clear at the interval.
The third quarter followed the same pattern with both teams creating and scoring chances as the impressive Oisin Gallen, Jason McGee and Michael Murphy (3, two frees and a mark) traded points with Michael Newman (2 frees), Graham Reilly and Barry Dardis, who landed an incredible score from a free on the right wing.
That inspirational effort from Dardis had Meath ahead by 1-14 to 0-13 by the 47th minute, but Donegal were about to get their second wind.
A flurry of scores from Niall O'Donnell, the high-fielding Michael Murphy (mark) and Oisin Gallen left them within striking distance of the pace-setters, and Jamie Brennan's goal proved to be the match's watershed moment.
Donegal: S Patton; P McGrath, B McCole, EB Gallagher; D Ó Baoill, L McLoone, R McHugh; H McFadden, S McMenamin; N O'Donnell (0-2), J McGee (0-2), C McGonagle; O Gallen (0-4), M Murphy (0-7, 5fs, 2 marks), J Brennan (1-2).
Subs used: N McGee for McCole (inj, 13); M Langan for McGonagle (43); E McHugh for Ó Baoill (53); F McGlynn for R McHugh (70);
Meath: A Colgan; S Lavin, C McGill, S Gallagher; J McEntee, D Keogan, R Ryan; B Menton (0-1), S McEntee (0-1); C O'Sullivan (0-2, 1f), B Brennan (0-1), B McMahon (0-2); B Dardis (0-1, 1f), M Newman (0-6, 2fs), T O'Reilly (1-1).
Subs used: G Reilly (0-1) for McMahon (35); D Campion for Brennan (42); J Conlon for O'Reilly (57); G McCoy for McEntee (57).
Referee: D O'Mahony (Tipperary)