Galway manager Kevin Walsh said he couldn't be too critical of his players despite their seven-point loss in Omagh, saying they had over-performed on expectations during the Allianz League.
At half-time against Tyrone, Galway appeared destined for a second successive league final appearance but a chaotic second half, in which they conceded a couple of bizarre goals, resulted in a 14-point swing in favour of the hosts.
Despite the turnaround, Walsh was in relatively philosophical mood afterwards, praising his side's performance over the league campaign as a whole.
As is frequently the case at this time of year, Galway had to work without the Corofin contingent and an injury to influential full-forward Damien Comer kept him sidelined for the entirety of the campaign.
"Nearly everybody was waiting for Galway to go down on the basis of what we had," Walsh told RTÉ Sport afterwards. "And we didn't get too many of those injured players back, even since then.
"You have to be very positive about the lads that came in. It's a young side. The older lads showed a lot of leadership during the league.
"We just fell a bit short for the league final. But it's a good place to be in your last day out, having an opportunity for a league final.
"If you're not learning lessons, you're going nowhere and I'd say there's a few lessons to be learned today.
"Overall, the lads have done a really, really good job (in the league) and we can't be too critical. You could say it's an opportunity lost to get to a league final. But in six weeks time, we'll be looking at championship and I don't think there'll be too many people looking back."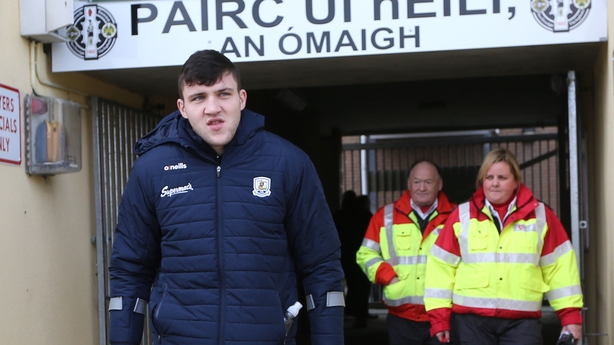 As far as today's game, Walsh wasn't inclined to fret too much about the second half display - in which his side lost 3-08 to 0-03.
He acknowledged that standards slipped and sloppy play cost them but also suggested his team were unlucky to go down to 14, with Gary O'Donnell sent off with eleven minutes remaining when there was still only three points in the game.
"Whoever comes to Omagh and wins, is going to earn it. From outside, it looked we'd it half-earned at half-time. The first half was really good from our perspective. And in the second half, we didn't live up to the same standards.
"Bit of sloppy play undone us in the end. But then the black card kicked in at the wrong time. We were coming back to fifteen a-side and we were only three points down, and well in that game. We kept it to three points after the onslaught.
"We felt we starting to get the upper hand. Eoghan Kerin came back, there was eleven minutes left and then Gary O'Donnell gets a red card when it looked like to me there was a complete chop on the back of John Daly.
"We were starting to gain control again and that just totally took out our plans to push up in the last few minutes."