It's a case of two from four with regard to the Division 1 finalists in this year's Allianz Football League.
Kerry, at the head of the table, or more or less there on ten points. Next in line are Galway and Mayo on eight points, with Tyrone on seven.
The Kingdom travel to relegation-threatened Roscommon for their final game, while Mayo host a Monaghan side who are also skirting with the dreaded drop and Tyrone welcome Galway to Healy Park.
In looking ahead to the final day's action, Kevin McStay believes Kerry will get the job done and that Mickey Harte's side will continue their upward trajectory this spring and claim a spot in the decider for the first time since 2013.
He told RTÉ Radio's Saturday Sport: "Kerry are going to be in the final. They will ensure they get there by beating Roscommon who, nevertheless, will be competitive.
"I have a fancy that Tyrone will come through. I think they will pick up the points against Galway and I also think a big favour will be done by Monaghan.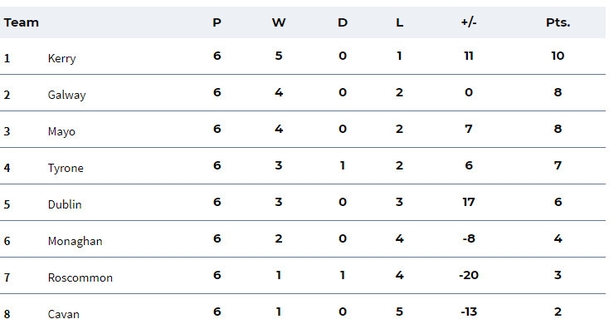 "It's been neck and neck between Mayo and Monaghan in recent seasons and while both have a lot to play for, Monaghan's need on this occasion is greater. They have a lot on the line in terms of avoiding relegation.
"Mayo have an idea of getting to the final which would be lovely, in terms of winning a national title and all that. But the real need for survival won't be there; they are in the happy position of having retained their Division 1 status.
"Quite simply, Monaghan can take no chances. As I said earlier, Roscommon will be competitive, so Monaghan will have to look after their own business.
"For then it's full on and so I give them a massive chance of winning in Castlebar against a Mayo side who have made six changes as they look to develop their own panel.
"Galway have been one of the most impressive outfits this spring and I have been singing their praises. but I really like what I've been seeing from Tyrone.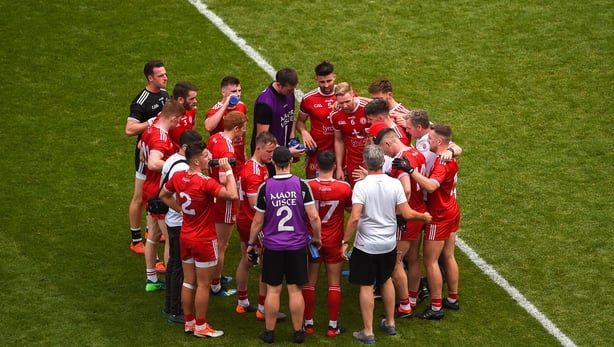 "I have stayed on Tyrone, despite the All-Ireland defeat last year. I think there's a lot of football in them. There is no doubt they are beginning to develop a serious offensive edge.
"It's buttressed by the fact that they have an awful lot of good footballers, lads that are very comfortable on the ball who can move it at pace.
"There is massive athleticism throughout the team and that eventually will come to the fore.
"Once they have got the balance of their defence and transition game and are able to attack faster and longer, they'll be a serious outfit.
"We saw the long, early ball used to good effect against Dublin and Tyrone will look to develop that even more."
"They'll get the points in Omagh."