In January, temperatures in South Australia hit 46°C.
Heat that would have have a lizard gasping for air-con, never mind an Irish athlete preparing for her first foray into professional sport.
"We're not built for anything past 28 degrees I think," laughs Ailish Considine. "It was the hottest summer ever recorded in Adelaide".
Fortunately, a sponsor supplied the vast quantities of suncream required, and the Clare native was able to concentrate on making an impact in the Women's Australian Football League (AFLW) with Adelaide Crows.
The elements may have eased a little but on the field things are hotting up.
The former dual-star is one of five Irish women playing in the AFLW this season, and the only one whose team is in with a shot at the title.
We need your consent to load this Instagram contentWe use Instagram to manage extra content that can set cookies on your device and collect data about your activity. Please review their details and accept them to load the content.Manage Preferences
The Crows topped one of the two five-team conferences and will play Geelong in the preliminary (semi) final on Sunday (2.10am Irish time) at the 53,000 capacity Adelaide Oval, which Considine describes as "almost their equivalent of Croke Park".
"It's absolutely amazing. You couldn't have even thought of it," she says. "I knew when I came that it was a special group of girls and a special club but the fact that we're in the semi-final is unbelievable.
"It should be something special to run out in front of a big stadium and hopefully a big crowd."
Considine played in all but one of the Crows' seven regular-round games and scored her first two goals - in as many minutes - against Melbourne last week.
"I had put a lot of pressure on myself to get them and that had probably stopped me playing my own game a little," she reflects. "If feels like a little monkey off the back, I'm a bit more relaxed now.
"The girls did great work to get the ball up the field. I was on the right end of it this time. It must have been the luck of the Irish on St Patrick's weekend."
Ailish Considine earned the #SpecialKStrongPlay after opening the game with two goals. @specialkaus #AFLW pic.twitter.com/e9Btboj431

— AFL Women's (@aflwomens) March 16, 2019
The Crows beat this weekend's opponents by 29 points in February but the Kilmihil woman is wary of marking the decider into her diary prematurely.
"We won that game pretty well on the scoreline but it was still quite a tough game. They did score six goals against us. Semi-finals are a different story. You can't write off any team and it's a very big prize if you win. If you lose you're out.
"Even if their form hasn't been up in the last couple of games, we're still not going to take them for granted. It's still going to be a tough game. They move the ball pretty well and they're really good on the contested marks.
"Hopefully we perform and get a good result."
"Seeing how the AFL and AFLW over here work completely together, it's what you want the GAA and LGFA to be like at home"
Tickets for Sunday's encounter are free, as with all AFLW games, including the Grand Final.
The 26-year-old admits she initially found that "a bit of a culture shock", given the athletes are paid, but it's part of the strategy to promote the league in its early years - this is just the third season.
That the AFLW and highly profitable AFL are essentially the same organisation makes that possible and begs the question how much bigger women's football in Ireland could become if the Ladies Gaelic Football Association and GAA were more closely aligned.
"Seeing how the AFL and AFLW over here work completely together, it's what you want the GAA and LGFA to be like at home," observes Considine. "It's all the one, it doesn't matter the gender. it's all being promoted in the same way, the same funding is being pumped in and the same media coverage is being done.
"It's something that needs to be looked into back home. It has been proven over here that it can work. It's coming from a similar thing where the men started years before women's teams formed.
"It's good to have the backing of the AFL over here. Even in the last three years, how quickly everything has moved, how many teams have come in, how the wages have increased.
"One thing I found when I came over was how quickly they have transformed from having no league to where they are now. It gives you hope for home that big changes can be made in a short period of time."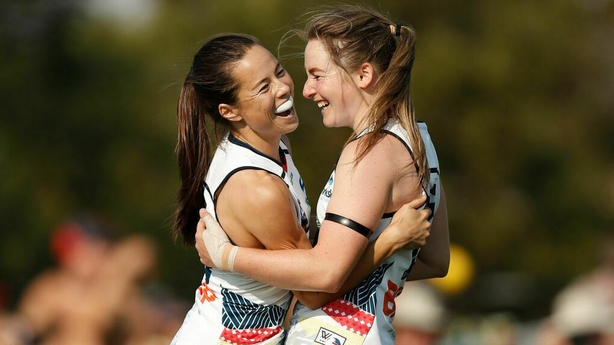 Considine is on a six-month, 20-hour a week contract with Crows, and a visa that means she can't work elsewhere ensures plenty of time to hone her skills with the "unpredictable" Sherrin football used in Aussie Rules.
"We train twice a week and we have three gym sessions a week. During pre-season it was three pitch sessions a week.
"We train in the evening because a lot of the girls have jobs, it's semi-pro (players earn between AU$13,400 [€8,400] and $24,600 [€15,400] before bonuses)
"I probably needed the extra time to learn the game. They have been great in terms of that. Every day I've had something, whether it be an extra skills session, an extra video session or whatever it is. It's been really beneficial not having a job while I'm out here."
She has also had time to sample Adelaide's cafe scene and even dabble in restaurant reviewing for the Crows website.
The ubiquitous 'smashed avo', avocado on toast to you and me, gets the thumbs up but her verdict on Vegemite might upset a few true blue team-mates: "It's very much an acquired taste and I think you might have to be Australian to acquire that taste!"
.@duckyc7's top 10 cafes in #Adelaide! Definitely a list to keep handy ?????? https://t.co/xbldKRidng #weflyasone #crowsaflw pic.twitter.com/GeAVfTwhLN

— Adelaide Crows AFLW (@CrowsAFLW) March 13, 2019
Considine, Tipperary's Aisling McCarthy (Western Bulldogs), Yvonne Bonner (Greater Western Sydney) and Sarah Rowe (Collingwood) all followed in the the footsteps of the returning Cora Staunton (also GWS) in trying their hand at the AFL this year.
Considine believes the transferability of Gaelic football skills (witness hers in the video below) to AFL and attractiveness of the pro lifestyle will encourage a further wave of émigrés, though with the league set to expand to 14 teams in 2020, the option of going home to play Championship might not be on the table much longer.
"It is a huge draw over here because you know what you will get is a professional setup," she says. "There's no stone left unturned, between S&C, nutritionists or training loads and that kind of thing.
We need your consent to load this Instagram contentWe use Instagram to manage extra content that can set cookies on your device and collect data about your activity. Please review their details and accept them to load the content.Manage Preferences
"The fact that it's only a six-month contract, it's a lot more flexible than the men's - I think they are bound for two years when they sign. If you love it, you'll hopefully get re-signed and be able to continue playing. If you hate it, you can leave and go home.
"Most of the girls have slotted straight in. Even skill-wise, although our kicks weren't perfect, our handling and movement skills on the ball were pretty good.
"Because we come from a kicking and catching sport, the technique may not have been perfect but it was very transferable. Most girls who play county would be able to kick with both legs and that's something that they don't really have here yet. Just having those basic skills from home, even though it's a different ball, definitely helped make it an easier transfer.
"Athleticism and fitness-wise, we're up there, which is a really good thing to see from the Ladies Gaelic perspective, that the girls back home at an amateur level are up there with a professional sport in another country."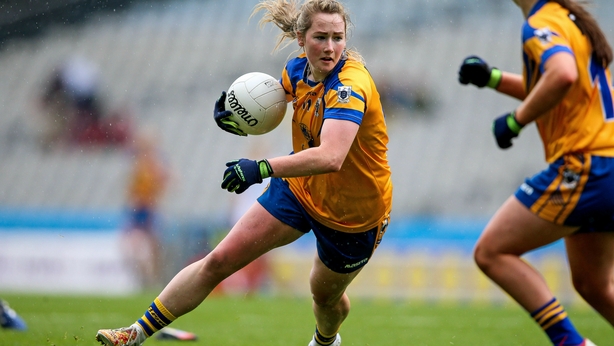 As for a potential return to the Clare jersey?
"A lot will depend on how the rest of the season goes, if there's a chance of getting resigned with Crows.
"I will be home at some stage in the summer. If it works out and I was allowed back onto the panel, I would definitely be open to going back and playing a bit of ball at home."
But, for another few weeks at least, home is a sunny spot Down Under.
"It's been an amazing experience, probably the best thing I've ever done, in sport and life," Ailish reflects.
"Obviously the weather is good, there are beaches everywhere, but it's been the people over here that have blown me away. The club, the players, the girls, everyone has been so welcoming it doesn't feel like I'm thousands of miles away from home.
"You miss friends and family and that's quite hard at times, but you're only a Face-Time away from your mother, sister (Ireland rugby international Eimear) or friend, whoever it is.
"Playing football is something I miss a little bit but this is the closest thing I can get to it at a professional level. It's worth the big move."