Offence wins Games, Defence wins Championships
We're not yet through the full Allianz National League program but the teams focused on challenging for silverware in the summer will have assembled their plans for improvement based on what they've seen already in the league environment.
As the rounds ticked by and results impressed, Kerry have been elevated by some to the position of Dublin's potentially closest challenger when we get to the business end of the season.
But if we step back and look at the evidence of what most Division 1 teams are trying to achieve at this time of year and where that might put them for Super 8s action then it appears that Kerry may have wasted the league.
The Starting Task
The starting position under Peter Keane was that Kerry have an array of attacking talent that can match and surpass most but they have been exposed by the best teams when they don't have the ball over recent seasons. This is much the same landscape that Eamonn Fitzmaurice faced into when he took the reins.
We also understood at the outset that, on the evidence of recent underage success, the Kingdom have a conveyor belt supplying seemingly endless attacking reinforcements to supplement the established quality of Clifford, Geaney, O'Donoghue and O'Shea.
And sure enough the production line has done its job. Factor in the reinvention of Stephen O'Brien alongside the emergence of several viable additional attacking players and the options up front are impressive.
You may already have noticed a pattern.
Case for the Defence
Saturday evening at home to a Mayo team pushing hard but deliberately rotating personnel to road test options for the summer should have raised the alarm considerably among the Kingdom coaching staff.
Throughout the duration of the game, a glaring and fundamental weakness of the entire Kerry team was laid bare by their own tactical approach. In the opening half with the breeze at their back, the Kingdom went after Mayo with a man-on-man approach to try to hem the westerners in and win possession back high up the pitch.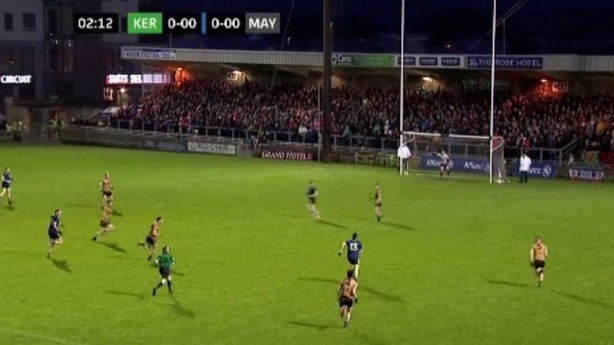 Time after time Mayo broke tackles, slipped past contact and drove into space untracked. On the evidence of this weekend, Kerry do not have a collective will to defend and get their teeth into the unglamorous but essential task of scrapping and working to protect their farm.
If that lack of mental toughness wasn't worrying enough, there is a bigger problem. Inexplicably, very few of the Kerry players have the technical capacity to make an effective tackle in one-on-one situations. Only Sean O'Shea and Peter Crowley of the entire cast who auditioned were able to consistently make themselves difficult to beat.
Although there is an obvious and significant technical deficiency in a group of players at the highest level of the game being unable to deal with an opponent coming at them with intent, the gap speaks again to a deeper issue.
At any level, aside from the physical and technical ability to carry out your task, making your tackles and being hard to beat is a mental battle. Moving your feet and making aggressive but controlled contacts on man and ball at high intensity burns.
Your opponent is gasping for oxygen and space to play when they are under the pressure of aggressive tackling. For milliseconds you are clawing at their soul and exposing your own to not open even a crack of sunlight. Backing off doesn't just open up space, it offers up your personal pride.
If those Kerry players look at the pride that predators like Johnny Cooper, Ryan Wylie, Keith Higgins and Peter Kelly extract from one on one battles then you realise what the benchmark has to be individually if you are to build a collective defense that can cope with a top level attack.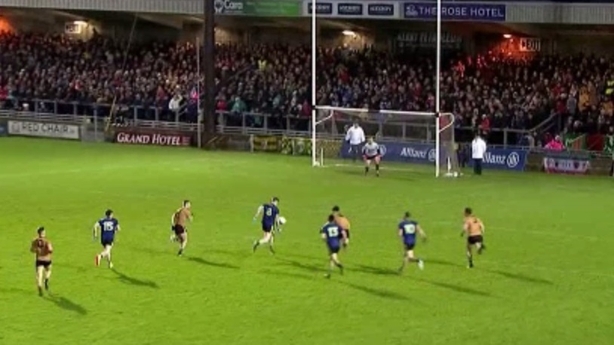 Collective Responsibility
The glaring reality for Kerry is that they do not have the individual defensive qualities to get into an open trade with the best teams in the country.
The examples of Mayo runners opening the Kingdom up in the highlights reel are plentiful and the most important conclusion is obvious: this Kerry team need a collective defensive plan that can give them a platform to unleash their undoubted attacking potential.
The question has therefore to be asked. How have Kerry come almost entirely through the league campaign without addressing such a fundamental gameplan issue. The League provides every team in each division the seven games that are arguably the most competitive and useful of their season. It's where gameplan building blocks are carved and then chiselled through trial and error.
The impending final against one of three possible opponents – each of which will be better organised and arriving to win – could be a sobering experience for the Munster champions.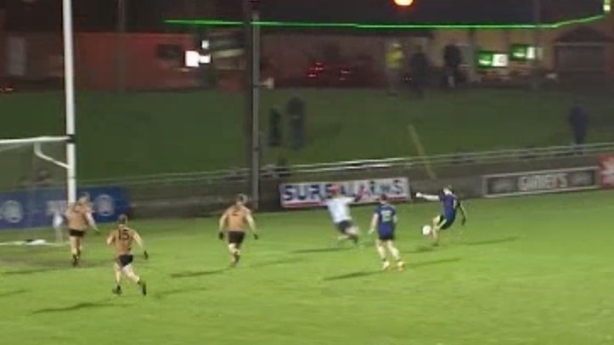 Predictable Attack
Given that there is so much individual talent in the Kerry squad, the lack of variety and creativity on Saturday evening was also bemusing.
They have great pace on the front foot, look to move the ball fast and directly and when they do are very effective. Tommy Walsh and Kevin McCarthy benefitted most from that approach in Tralee.
However, when Mayo cut off this supply Kerry were a relatively blunt instrument.
Mayo's stoic defending – in contrast to what they faced at the other end – meant that the Kerry attack needed plenty of guile to find gaps to create scores in. Alarmingly, there were very few answers in this department either.
That and the lack of variation off floundering kick-outs suggest that maybe the whole performance can be written off as a one off car crash. If these were recurring themes it would imply an alarmingly poor level of tactical preparation.
Matthew Ruane beats Brian Kelly this time, but what about that pass by @KevinMcLough?!?! Watch highlights @RTE2 Sunday night on Allianz League Sunday #RTEGAA https://t.co/Xy4PRzvrHL pic.twitter.com/sSayE7YZTi

— The Sunday Game (@TheSundayGame) March 16, 2019
Future Planning
The Kingdom could very well find themselves in a League final in a couple of weeks at the end of a first campaign under new management but very quickly realise that weeks of serious gameplan cramming lie ahead to be prepared for championship exams.
The attacking components will all be assembled for Keane in good time but the work needed to put Kerry on a footing to compete beyond Munster is not of the glamorous type.
That awful word 'system' is more relevant for Kerry than any other team in the country now but the signs are that the League has been wasted in that regard.
Given their dearth of quality defenders, Kerry have to find a collective solution to standing their ground.
On the evidence of Saturday night, that will require some detailed architecture on the training field along with a more belligerent mindset to underpin it.