In the shadow of Mount Brandon and the Blackstairs mountains, and on a valley above the river Barrow, the St Mullins' pitch in Bahana sits on the tip of the wedge between Kilkenny and Wexford.
DJ Carey's Gowran is just seven miles to the west. The famous Rathnure club lies on the other side of the Blackstairs. In hurling's pocket atlas though, St Mullins is a hurling heartland without a name.

For decades, the hurlers of St Mullins and the other clubs in south Carlow were the most salient victims of that straitjacket imposed by county boundaries. Brilliant players hailed from those clubs but, because they were born a handful of miles the other side of Kilkenny and Wexford, they effectively didn't exist in the wider hurling public's consciousness.

Heading north from St Mullins, the short journey towards Borris, Ballymurphy and Myshall effectively covers most of Carlow's hurling territory.

There are only four senior clubs in the county – St Mullins, Mount Leinster Rangers, Naomh Eoin Myshall and Ballinkillen. All four clubs are based in rural parishes, with small to moderate numbers of young adults to choose from.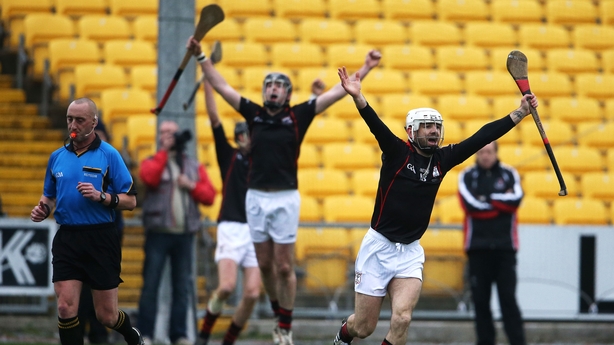 Although St Mullins only play Junior B football, all four clubs play football. Mount Leinster Rangers are senior football, and could be good enough to win that championship if their main focus wasn't hurling.

Naomh Brid, Erins Own (now Bagenalstown Gaels) and Carlow Town were senior in recent years before choosing to go back down to Intermediate. Naomh Brid won an Intermediate championship two years ago, but given that team's advanced age-profile, they choose to stay Intermediate.

With just three Intermediate teams, Carlow have only seven serious club teams. Burren Rangers, Palatine and St Patrick's Tullow field Junior teams, who are mostly made up of footballers who play hurling when it suits.

In more real terms, those numbers means the county senior management have less than 150 players to choose from.
For decades, the hurlers of St Mullins and the other clubs in south Carlow were the most salient victims of that straitjacket imposed by county boundaries.

With just five clubs represented on the current senior panel, what this Carlow squad have achieved has been one of the great hurling success stories of the modern era; Christy Ring champions in 2017, Joe McDonagh and Division 2A champions in 2018, Sunday's relegation final win against Offaly secured Carlow's place amongst the top 12 in next year's restructured Division 1.

That progress is more remarkable considering where they have been positioned on the underage ladder this decade; Carlow have been in the third tier in the Leinster minor championship for the last three years; they ran Kilkenny to two points in the 2015 Leinster U-21 semi-final but have struggled at that level in the meantime.

Their only Leinster minor hurling final appearance in 2006 resulted in a 26-point hammering from Kilkenny. Carlow never had a strong hurling culture at Colleges A level until Borris VS made ripples in recent years. There has only been sporadic success at B level while all their schools except Borris currently play at C level.
The county has regularly lost some of their brightest hurling talents. Padraig Amond, who was recently called up to Mick McCarthy's Ireland squad on the back of some brilliant performances with Newport County in the FA Cup, played on that 2006 minor hurling team. Sean Murphy was top scorer from play for the Carlow hurlers in the three seasons before committing to Turlough O'Brien's senior footballers in 2017.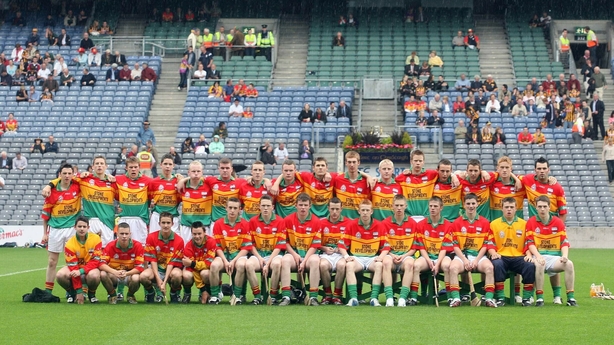 And yet, Carlow have kept going, kept improving. And kept finding a way.

One of the greatest achievements in the history of the club championship was Mount Leinster Rangers' journey to the 2014 All-Ireland club final, beating three serious powerhouses - Ballyboden St Enda's, Oulart-the-Ballagh and Loughgiel Shamrocks - along the way.

MLR had been All-Ireland Intermediate champions just three years earlier but the starting point of that team could really be traced to winning the Kilkenny all county Junior league a couple of years beforehand.

Kilkenny have always been welcoming to ambitious clubs in bordering counties but that welcome only extends as far as underage and Junior. Carlow teams still play in the Kilkenny Junior League while U-15 and U-17 teams are playing in Kilkenny this year too. It is a big step up but when MLR got the chance to test themselves across the border, they fully embraced the opportunity.

With just four club senior teams, those players are guaranteed just two serious club matches each season. Yet Carlow have never looked for excuses. Despite a number of other counties having used the 'special eligibility provisions for hurling' rule, which the GAA introduced in the last decade to allow certain counties to import outside players with family connections to that county, Carlow have never used it.

When Carlow hurling was strong in the 1960s, and they had outside players, those hurlers were living in the county at the time because they were working in the Sugar factory.

Carlow will face an uncertain future in the coming years because of the numbers game. An open hurling forum was called last year to address concerns that there have been just four teams competing at senior level, an accident waiting to happen as just four teams had been competing at A level at U-12, U-14 and U-16 for most of this decade.

A committee was established and Carlow will just keep doing what they can. Carlow Town and Setanta, another urban club, are making strides in hurling but the coaches in the clubs will always have to contend with the lure of football and other sports.

In the second smallest county in Ireland, and with the hurling pocket so small, Carlow have to keep thinking outside the box to keep moving forward. To provide more games during exam time in June, the county will run a seven-a-side U-17 competition. The panels wouldn't be big enough to stage an 11-a-side tournament.

Brendan Hayden, one of their Games Development Administrators, is an excellent coach. Benny Kenny, a Galway native, who was Hurling Officer in Sligo has also been appointed to a hurling post in Carlow.

The Carlow Colts Talent Academy was set up a number of years ago to identify and recruit promising young hurlers and footballers and put them into a development set up with the view of improving the standard of the games in Carlow. That project will take time to come to full fruition but - under the leadership and excellent management of Colm Bonnar and Turlough O'Brien - it's easy to see why Carlow is rising in both codes.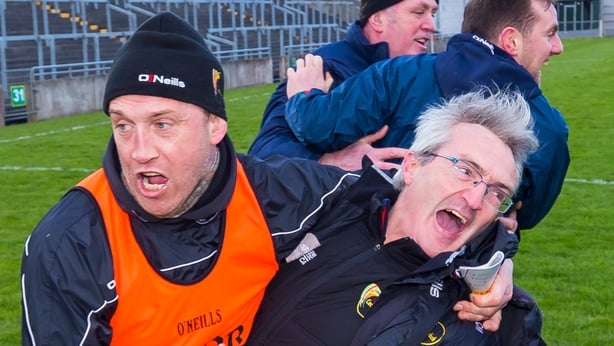 After Sunday's relegation final, all of the discussion afterwards inevitably focused on Offaly, and their fall from grace. Their small playing pool was mentioned but their playing numbers are still vastly superior to Carlow's; Offaly have 19 senior and Intermediate hurling clubs, 12 more than Carlow.

Offaly have paid a devastating price for their lack of foresight and poor development planning. Watching a proud hurling county slip so much has been a sad story for the broader hurling community. But one of the most dispiriting aspects of Sunday's game was the general apathy from Offaly hurling people.
Offaly's small playing pool was mentioned but their playing numbers are still vastly superior to Carlow's; Offaly have 19 senior and Intermediate hurling clubs, 12 more than Carlow.
On Friday, one of Offaly's greatest players, Johnny Dooley said that the match was "one of the biggest games in the history of Offaly hurling". Dooley felt that "relegation would be nearly worse" than their demotion to the Joe McDonagh Cup.

That was the pressure that the Offaly players carried into Sunday's match. If they ever needed the backing of their hurling public, Sunday was the day. And barring the people who went, the wider Offaly hurling support didn't provide it. In the sparse attendance in Tullamore, half the crowd were from Carlow. And that vocal backing was significant when Carlow got a run on Offaly after half-time.

The only ones who can get Offaly out of their current hole, and get the county moving forward again, are Offaly people. Some are doing great work on the ground but everyone needs to put their shoulder to the wheel now.

Lamenting where they feel they should be is a waste of time, especially when Carlow deserved to stay up ahead of Offaly; Carlow drew with Galway and Laois, and ran Dublin close. Offaly meanwhile have won one of their last 14 matches. They can't say this day hasn't been coming.

Sunday was always going to be about Offaly. But it should have been about Carlow first.