Carlow midfielder Jack Kavanagh has hailed his 'hero' teammates after they rallied from 11 points down to defeat Offaly and preserve their Division 1B status for 2019.
Colm Bonnar's side prevailed despite the horrible weather at O'Connor Park, while the result also means that Offaly have been relegated to Division 2A.
Carlow missed out on a league quarter-final spot after losing out to the same opposition last week, but Kavanagh says they're thrilled to have top-flight hurling to look forward to next year.
"We were devastated last Sunday that we couldn't get over the line and be in a league quarter-final against Limerick," he told Morning Ireland.
"But we just had to turn things around this week. We knew we weren't that bad, mistakes cost us but we got back to training on Tuesday night and we had it out.
"We knew we had one massive performance in us to stay in this division.
"It means everything. There's a lot of pride in Carlow hurling, in this panel and in the Carlow hurling world. It's massive for us and we're really looking forward to Kilkenny coming to Carlow and going to Salthill. It makes the hair stand up on the back of your neck, you can't wait to get going."
Carlow chose to play against the wind in the first half against Offaly, and were 11 points adrift at half-time as they struggled to contain the hosts in the difficult conditions.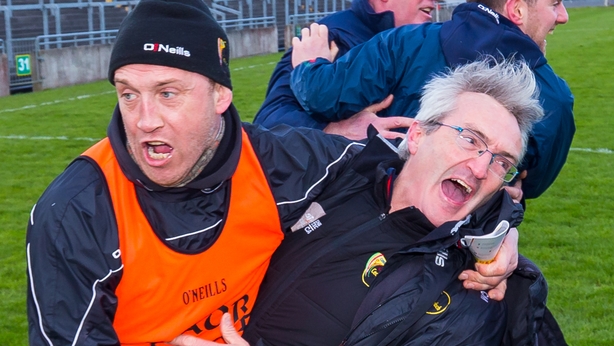 Carlow's challenge became even more difficult when they lost Eddie Byrne to a red card. The Mount Leinster Rangers forward retaliated by swinging his hurl across Offaly's Niall Houlihan after he was dragged down.
Kavanagh however, insists that the team still believed they could get back into contention at the break.
"Everyone was calm at half-time in the dressing room," he adds.
"The players knew there was a big second half to come. There was a gale force wind in the first half. Going down to 14 wasn't ideal but we knew that we could peg it back.
"We said we'd go out and go at it. We were more angry that we weren't performing and going out to show what we can do more so than anything else.
'The 14 that took the field in the second half are heroes' - Jack Kavanagh speaks to .@Darrenfrehill after the .@Carlow_GAA hurlers preserved their Division 1 status for 2019. pic.twitter.com/1bytKU8Xxb

— RTÉ Sport (@RTEsport) March 11, 2019
"I think the 14 that took to the field in the second half are just heroes in everyone's eyes. It was unbelievable to turn that around and win the second half. 2-11 to 0-05 was something else."
The Carlow players will now return to their clubs for the next few weeks before their Leinster hurling championship campaign commences in May.
"There's a lot of proud people in Carlow," Kavanagh concludes, "a lot of the talk was about how badly things were going for Offaly but it means as much to Carlow to stay in Division 1 as it would for Offaly to stay in Division 1."