Coming into the campaign under new management, and without the likes of David Clifford and James O'Donoghue, it would have been reasonable to expect some bedding in time for the squad.
But that's not the Kerry way.
The Kingdom took a big step towards a return to the Allianz League final with Sunday's comeback victory over Monaghan in Killarney.
They need just one point from their remaining two games to secure a place in the decider next month.
There, they're likely to be joined by one of Galway, Mayo, or defending champions Dublin.
One of the stories of the Munster men's spring campaign so far has been the performances of Sean O'Shea.
Still only 20, the Kenmare half-forward man has been a revelation, landing an impressive 39 points so far in five games.
His sideline kick against the Farney men on Sunday was the insurance point.
But the composure, and the skill in the kick itself, were something to behold, and has drawn comparisons to former Kerry great Maurice Fitzgerald.
O'Shea already has a winners medal in his pocket from the spring, having kicked seven points in UCC's Sigerson Cup final win over St Mary's of Belfast last month.
But his manager that day, Billy Morgan, says O'Shea still has a long way to go.
"He has a lot of the same attributes that Maurice had," says Morgan.
"But it's maybe a bit soon to be putting that pressure on him. Then again, he's such a level headed young fella, I don't think he'd let it (the comparison) go to his head."
Seán O'Shea lands a class point from a sideline for @Kerry_Official pic.twitter.com/ARBmLpXde4

— The GAA (@officialgaa) March 3, 2019
His dad, Sean senior, says his son began to blossom at around age 13.
"They started the development squad at under-14. The better club players were brought into that structure within Kerry," he told RTÉ Sport.
"He was with Kerry South, and then it amalgamated at under 16. If you were in there, it was a great help if you wanted to make the Kerry minors.
"Currans (Kerry's centre of excellence) has been a focal points for all of the players, especially for the development squads.
"Their gym is there, the pitches are there, they have their food there. It makes a big, big difference.
"The development structure, since Kerry introduced it, has given us five minor All-Ireland titles in a row. It has to be down to that structure.
"Kenmare is a small enough town, so it meant that he was playing out of his age bracket a lot. He was playing with 14-year-olds when he was 12, and so on. That gave him confidence."
Football wasn't the only game for O'Shea in his teenage years. The big ball game is king in south-west, and the young O'Shea had to make a decision.
"There was hurling until he was about 14, but in Kerry, football is what you aim for," says O'Shea senior.
"Once you get asked onto development squads, you have to make a personal decision, because they take up so much time.
"He was with the development squad twice a week, and then there was club training and games on top of that."
When he spoke with RTÉ Sport at the start of the year, O'Shea said retirements would give players a chance to stake their claim for a spot in Kerry's Championship squad.
And the double All-Ireland minor football winner has taken the bull by the horns, with 33 of his Allianz League points coming from frees, 45s, or sideline kicks.
"He was taking frees with the club's senior team from probably 17 years of age," according to his dad.
"He came into the Kerry senior team last year, and he was lucky to be taking the frees. If there had been an established free-taker there, he could have been waiting years to get a look in.
"It's only March, there's a long way to go yet. But it's a super start to the year.
"There seems to be a great buzz amongst the players at the moment, and the freshness of new people coming in is contributing to that."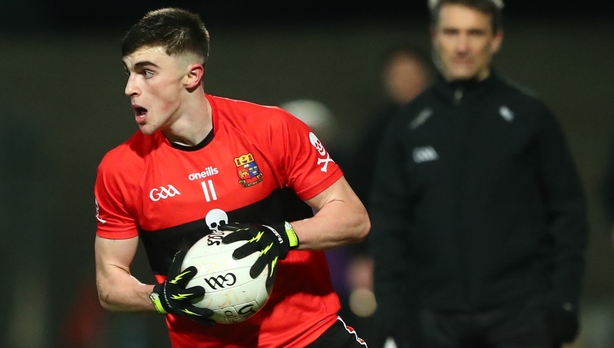 O'Shea's skill is obvious, with an ability to kick off both feet. But that's not the attribute that impresses Morgan the most.
"What I like about him is his humility. The fact that he's such a great prospect, he trains as hard, if not harder, than any of the rest, and he doesn't expect any favours.
"I was introduced to him two years ago, when he was a fresher. He came with a big reputation.
"I thought he was a very modest, polite young fella. No airs and graces about him.
"I won't name names, but over the years, there have been players who have had great ability, but didn't have the application.
"We trained once a week during the Christmas break. He was on holidays, and he'd just got off the plane.
"A lot of fellas would have gone home to Kerry, but he came straight down to the Mardyke to train."
With Kerry and the Dubs on separate sides of the draw, if they can both collect their ninth respective provincial crowns, an All-Ireland final clash between the pair could happen.
There's a lot of football to be played between now and then. But if any team is to take Dublin off their perch, Morgan reckons it will be the men from the Kingdom.
"Kerry are the team that I think will challenge Dublin.
"Even if I'd like to see it be a county closer to my heart, I think Kerry will win an All-Ireland in the next couple of years."