Former Waterford hurling boss Derek McGrath says having Walsh Park declared as a home venue for the Déise's Munster SHC round-robin games is "good news" for the county.
Waterford played their 'home' games at the Gaelic Grounds and Semple Stadium in the 2018 championship, and subsequently failed to progress out of the Munster round-robin series.
Speaking on RTÉ's League Sunday, McGrath admitted that he "wasn't forceful enough" in trying to get the grounds up to the required standard to host Waterford's matches, and referenced the example of Kildare's 'Newbridge or Nowhere' movement.
But he dded that their elimination from the championship wasn't strictly down to the venue.
"It's good news for Waterford first and foremost," he said of the venue which hasn't hosted a championship game since 2003.
"You'd have to acknowledge that the defeat and draw we got last year weren't just down to venues.
"There were a litany of injuries, ill-luck, refereeing decisions and just not being good enough on given days.
"The only thing I would say is the forceful pursuit of Walsh Park as a home venue was as much to do with the bad press and bad PR we got as a result of not forcefully pursuing it last year, as it is to with structure and improvements.
"The 'Newbridge or Nowhere' stance was an epiphany moment for all of us, myself included. On a personal level, I wasn't forceful enough. When you see [Kildare boss] Cian O'Neill coming out in the forceful nature that he did, you look at yourself first and foremost and say 'could you have done more?'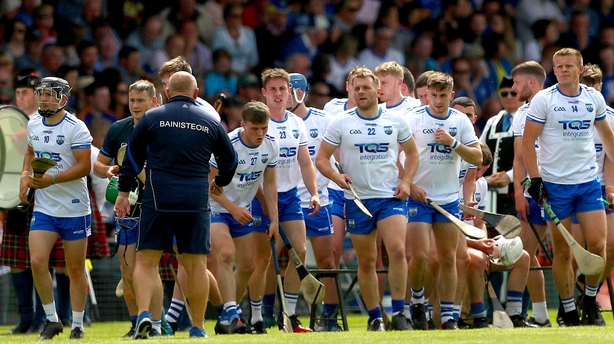 "There's lessons to be learned for all of us. We've wallowed in a state of perpetual mediocrity for the last 30 years in terms of grounds. It's an embarrassment, so it's good that there's a unity of purpose." 
He went on to emphasise the importance of teams having home advantage in championship games, and looked ahead to Waterford's opening provincial tie against Clare later this summer.
"Everyone's looking forward to the games but I think there's lessons that have to be absorbed, not just on a personal level but intangible element of having a game at a home venue, as opposed to larger venues getting larger revenue if you like. 
"It should always supersede the fact that you're going to a larger venue for other reasons. I'm looking forward to it, I can't wait for 12 May. I feel the boys will really put their stamp on the game. I'm looking forward to Tadhg de Burca, Austin Gleeson, Kevin Moran, the two Mahonys - those guys that have real immense character getting the opportunity on 12 May to play in Walsh Park.
"I think it's about moving forward now, absorbing the lessons. It's been debated wholly in Waterford now for the last number of months. Outside of the social and economic benefits, it's the advantage of training in your own ground for eight or nine weeks in preparation for a match, in terms of simulation and what you want to do.
"You can't countenance the value of that. One match was lost in the Munster championship last year for a home team - Tipperary lost. And if Jake Morris had stuck that ball at 67 minutes, we could be arguing that no match was lost on the home grounds."
Fellow studio panellist - and former Galway camogie star - Ann-Marie Hayes added that Galway experienced those benefits last year, when they hosted their first Leinster SHC games in Pearse Stadium.
"That carnival atmosphere, walking up the Prom and the sun was shining... it was a cracking game and over 20,000 in Pearse Stadium.
"I don't think it can be underestimated, having that home venue."