After losing their Leinster Championship status last year, Offaly are on the verge of relegation from the Division 1 of the Allianz League.
Twenty-one year years after lifting the Liam MacCarthy Cup for the fourth time, Offaly are one game away from a demotion that would mean battling against the likes of Meath, Mayo and Kildare in Division 2A.
As falls from grace go, it's spectacular, with all due respect to the hard-working hurling folk of those counties.
The table makes for grim reading with Offaly on zero points from four games.  
They now face a relegation play-off against either Carlow, who they play on Sunday, or Laois, who travel to play second-place Dublin.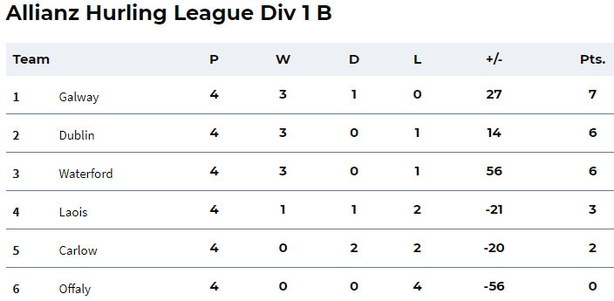 They say the league doesn't lie and teams end up where they belong but separation from the top table would be a massive blow to the county, say two of their former stars.
"If we get the mindset of being content to be in 2A then we're going backwards and we'll never get back up," three-time All-Ireland winner Joe Dooley told RTÉ Sport.
"Just accepting that we are a Division 2 team is a cop-out - we are better than that.
"We have eight very strong senior clubs and we can compete with county champions in Kilkenny and Wexford and Dublin and so on."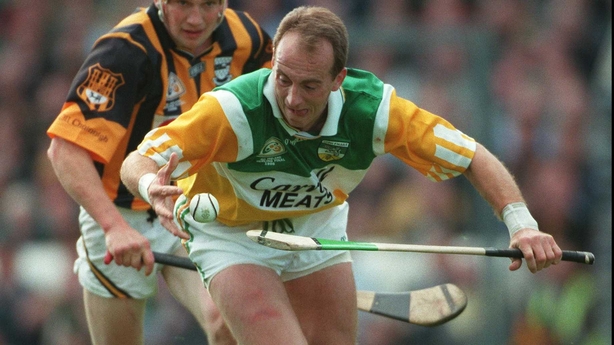 That sentiment is echoed by Brian Carroll, the former captain who was a member of the last Offaly minor team to win a Leinster title in 2000.
"We've been struggling against relegation for the last few years so we know where hurling is at in Offaly but if we get relegated and continue to languish in the Joe McDonagh Cup it's going to have a huge detrimental effect for our hurlers," says Carroll, who retired in 2016.
"We probably have a legacy issue in Offaly where anyone from my age up remembers Offaly's glory days and feel strongly that we should be dining at the top table.
"But we need to have our hurlers playing at the highest level they possibly can and give them something to aspire to.
"I already see a lot of apathy around the county to the fact that we are in the Joe McDonagh Cup.
"Now that's deserved based on our results but I'm not so sure that's right for the development of hurling in counties that are trying to climb up the ladder."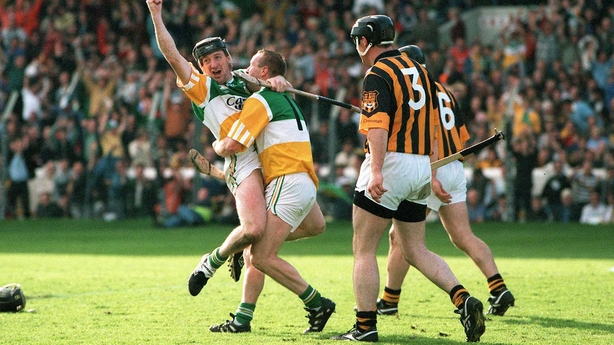 Offaly's woes since their last senior title, the All-Ireland of 1998, have been well documented. 
A number of managers – some like Dooley, Brian Whelahan, current boss Kevin Martin from the golden generation, outsiders like Kevin Ryan and Eamonn Kelly – have, for the most part, failed to get a tune out of the players.
A handsome league win over Dublin at the start of 2018 and a narrow quarter-final loss to Kilkenny was the latest false dawn for the Faithful County. 
Four Leinster Championship defeats followed and with that, relegation. 
Stories about players refusing call-ups and county board issues abound. 
Is it too simplistic to say Offaly's issues are down to bad attitudes?
Yes, says Carroll, there are a number of factors at play.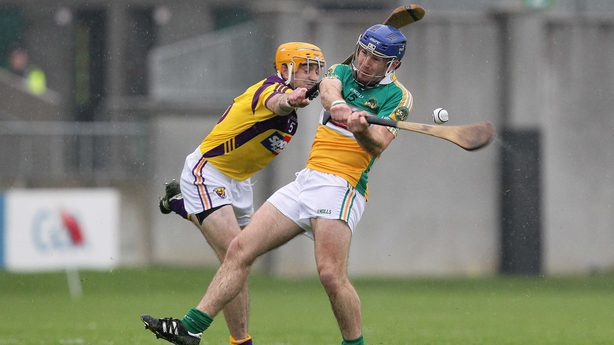 "It's one of those ones that you can't put your finger on," he says.
"It's about gelling as a team and being provided with that opportunity. The players need to relish the challenge of inter-county hurling and not shy away, bring back that 'never say die' attitude.
"There is no science for that, no money that can create that. It's a combination of hard work, team-work, humility and confidence.
"The big thing would be that all the best hurlers in the county should aspire to play for Offaly and be provided with the best opportunity to be the best hurlers as individuals and as a team.
"That's crucial and that can be done without the constraints of money, without the constraints of what other counties have in terms of coaching expertise.
Carroll was part of a now-defunct review group tasked with coming up with suggestions of how best to revive the game in the county.
Many, including chairman Liam Hogan and Carroll, felt that they didn't get the requisite support from the county board but there is little to be gained by whinging about what has gone on in the past, says the Coolderry forward.
"You don't get a good county hurler unless you've an excellent club hurler.
"They should be standing head and shoulders above those at the club and then you go in and further develop with the county. Sometimes we put the cart before the horse. 
"We are too busy in the blame culture in Offaly.
"We are blaming the county board for things that have gone by. Blame only gets you so far, you have to fix things.
"That means getting involved in your own club, drive things on there, underage, nurseries, and hope that there is enough change happening at club level that will drive it from the bottom up."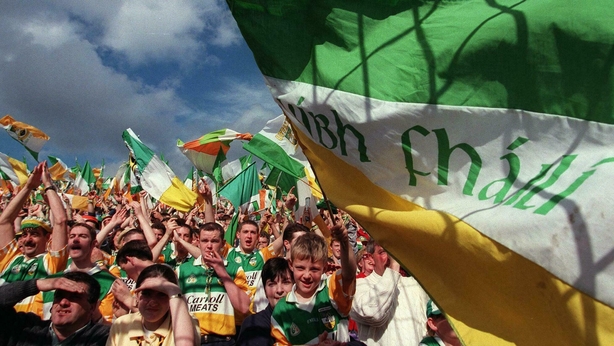 Dooley, a 1998 All Star, won five Leinster College titles with Birr and says that this route, and not the academies, is where to focus should lie.
"The schools and the county underage teams need to be doing well.
"We need to get schools being competitive, like Birr and Banagher, like the Tipperary and Cork, two teams in the Harty Cup final, that feeds into minor and they learn the skills and grow up in a winning culture."
Catching up the likes of Dublin and Wexford should be the senior team's aim for the moment, adds Dooley.
"Only a couple of years ago we were matching them. It can turn quickly, it's about hanging in there and believing in ourselves."