The Allianz Football League Division 2 meeting of top and bottom went the way of the formbook at Páirc Uí Rinn on Saturday night as Meath earned their third victory of the campaign.
Never trailing at any stage, Andy McEntee's team turned a one-point half-time advantage into a six-point win courtesy of a dominant period midway through the second half, with Cork enduring 27 minutes without a score as they suffered a third straight loss.
A crowd of 1,817 was present, with Tipperary having defeated Cork in a womens' league tie beforehand and Meath's start suggested a second home loss was likely.
Bryan Menton opened the scoring and Ben Brennan sent over a free to make it 0-02 to 0-00. Though Ruairí Deane got Cork off the mark, Meath had the next three points, all frees by Michael Newman.
Michael Hurley, who had earlier been off-target after winning a mark, pulled one back for Cork, having been found by a nice Kevin Crowley crossfield pass, but Brennan replied for Meath, scoring his second on 24 minutes to make it 0-06 to 0-02.
Though 11 minutes remained until half-time, it proved to be the Royals' last score of the first period. Corner-back Conor Dennehy landed a booming effort for Cork before Luke Connolly converted a free on the half-hour.
At the other end, Cillian O'Sullivan was unlucky to see his free come back off the post while Meath lost Menton to a black card and Brennan to injury. A good Connolly point in injury time had Cork back to within one, but Meath should have had a goal before the half was out.
A good move ended with O'Sullivan placing Bryan McMahon, but unfortunately for the corner-forward the ball hit the side-netting.
Graham Reilly ended the mini-drought on the resumption but though Michael Hurley replied on 38, Cork wouldn't score for another 27 minutes. In between, Meath put daylight between the sides as Thomas O'Reilly, Newman and Cillian O'Sullivan pointed before the goal.
Shane McEntee, O'Sullivan and McMahon were all involved, allowing McCoy an easy task and with an eight-point lead the win was as good as assured.
Cork did finally manage to add to their tally when sub Seán Powter palmed home a hand-pass from another replacement, Mark Collins, and though a pair of Collins frees brought Cork to within four as five minutes of injury time dawned, Meath struck again.
After forcing a turnover as Cork tried to play out, Newman could have shot but he opted to give sub Barry Dardis the easy task of tapping in.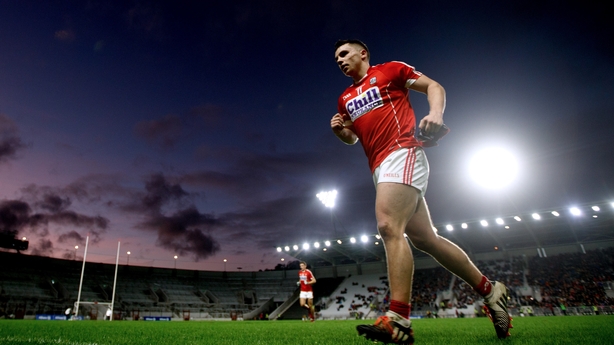 Meath: Andrew Colgan; Séamus Lavin, Conor McGill, Ronan Ryan; Gavin McCoy (1-00), Donal Keogan, Shane Gallagher; Bryan Menton (0-02), Shane McEntee; Cillian O'Sullivan (0-01), Darragh Campion, Ben Brennan (0-02, 0-01 free); Bryan McMahon, Michael Newman (0-04, 0-03 frees), Thomas O'Reilly (0-01).
Subs: Graham Reilly (0-01) for Brennan (32, injured), Ethan Devine for Campion (52), Barry Dardis (1-01) for O'Sullivan (61), Niall Kane for McCoy (63), Adam Flanagan for McEntee (67).
Cork: Micheál Martin; Sam Ryan, Kevin Flahive, Conor Dennehy (0-01); Kevin Crowley, Thomas Clancy, Paul Walsh; Ian Maguire, Kilian O'Hanlon; Ronan O'Toole, Luke Connolly (0-02, 0-01 free), Matthew Taylor (0-01); Paul Kerrigan, Ruairí Deane (0-01), Michael Hurley (0-02).
Subs: Mark Collins (0-02 frees) for Connolly (44), Brian Hurley for Walsh (46), Tomás Clancy for Crowley (51), Seán Powter (1-00) for Michael Hurley (53), Eoghan McSweeney for O'Toole (61).
Referee: Fergal Kiely (Longford).