Sigerson Cup Semi-Final: UCC 4-09 NUIG 1-15
UCC are through to the final of the Sigerson Cup after edging out what was a competitive semi final against NUIG in Mallow.
Both sides contributed to what was generally a gripping spectacle, but UCC's cutting edge in front of goal proved crucial in the end.
Sean O'Shea - a man that has been in red-hot form for the Cork college and the Kerry senior footballers - found the back of the net with a low finish in the opening minutes.
O'Shea got his and UCC's second, when he swept the ball home after NUIG failed to clear the danger from an initial effort for a point by Killian Spillane.
NUIG, however, enjoyed a satisfactory opening half and they were generally winning the battle in the middle of the park at that stage.
The Galway side showed their character through well taken points by Owen Gallagher, Jack Robinson and Peter Cooke.
UCC got a late score from Conor Geaney to edge into a one-point lead at the break with the scoreboard reading 2-03 to to NUIG's 0-08.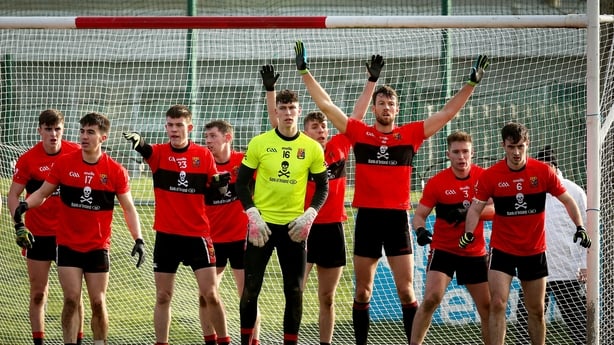 NUIG made a perfect start to the second half, with John Maher thundering an effort into the roof of the net.
However, UCC would reply with a goal of their own almost instantly, with Eimhin Courtney finishing low into the bottom corner after the ball came into his path.
Further scores from Geaney, O'Shea and Padraig Clifford put UCC into what was a commanding position.
NUIG responded well and got scores through a number of placed efforts by Michael Daly.
When Conor Geaney netted in the 52nd minute, it was much welcomed from a UCC perspective.
Credit to NUIG who refused to die and kept going right until the end. They had a late free knowing a goal would have taken the game to extra time, but UCC survived to see out the danger.
UCC will now go on to face St Mary's of Belfast in the Sigerson Cup decider, after the Belfast college defeated a highly fancied UCD outfit in the other semi final on Saturday.
That final will take place at Parnell Park on Wednesday night.
UCC: Mark White(Cork): Michael Flood(Meath), Kevin Flahive(Cork),  Graham O'Sullivan(Kerry): James McEntee(Meath), Brian Begley(Kerry), Cian Kiely(Cork): Padraig Lucey(Kerry), Jack Kennedy(Tipperary): Padraig Clifford(Kerry)(0-1), Sean O'Shea(Kerry)(2-3)(0-2 frees), Conor Horgan(Cork): Conor Geaney(Kerry)(1-4)(0-1free), Killian Spillane(Kerry), Eimhin Courtney(Clare)(1-1)
Subs: D O'Brien ( Kerry) for J McEntee (23 inj), R Buckley (Kerry) for C Horgan (39), C O'Hainifin (Clare) for C Kiely (55), G Murphy (Cork) for K Spillane (57), R Forde ( Galway) for G O'Sullivan (61).
NUIG: Aaron Brady(Roscommon): Stephen Brennan(Mayo), Sean Mulkerrin(Galway), Kevin McDonnell(Sligo): Kieran Molloy(Galway), Ruairi Greene(Galway), Patrick O'Donnell(Galway): Peter Cooke(Galway)(0-1), Cein Darcy(Galway): Nathan Mullen(Sligo)(0-1), Enda Tierney(Galway), John Maher(Galway)(1-0): Rob Finnerty(Galway)(0-1)(0-1 free), Jack Robinson(Kildare)(0-3), Michael Daly(Galway)(0-7)(0-7 frees)
Subs: O Gallagher (St Joseph's, Antrim)(0-1)  for P O'Donnell (23), J Daly (Mountbellow, Galway)(0-1)(0-1 free) for R Finnerty (39), F Ó Laoi (An Spideal, Galway) for J Maher (46), G Canavan (Mayo Gaels, Mayo) for J Robinson (47 BC), E McGrath (Boyle, Roscommon) for S Brennan (56).
Referee: Derek O'Mahoney(Tipperary).