Kilkenny manager Brian Cody says he doesn't regard his side's nine-point home defeat to Limerick as a 'disaster' and stressed that the Cats could take positives from the afternoon.
A devastating burst of scoring either side of half-time saw the 2018 All-Ireland champions effectively settle an encounter which had been bubbling nicely until that point.
The sides were tied at 0-07 apiece on the half-hour but the visitors rattled in 2-03 in the closing minutes of the half to open an unexpectedly substantial gap at the break. Despite facing into the breeze in the second half, Limerick then turned the screw in the third quarter, at one stage leading by 14 points (2-16 to 0-08).
Cody's side battled on gamely and eventually forced a more respectable look on the scoreline, outscoring the victors by 0-07 to 0-02 in the game's final 20 minutes. But the prospect of victory had long receded by that point.
The 11-time All-Ireland winning manager struck a relatively upbeat note afterwards, acknowledging mistakes but also citing his side's competitiveness in the early stages and their defiance late on.
"We started off well. For 20-25 minutes, it was a really competitive game," Cody told RTÉ Sport.
"We were playing against a strong wind and were doing very well. There was nothing in it, a couple of points either way.
"And they hit us with two goals, which were probably preventable. And the timing of those goals in the lead up to half-time gave them a real cushion. And then with the strength and the quality they have in their team, it was always going to be an ask to work it back.
"They were on top for the first 15-20 minutes of the second half as well, a time when we needed to drive it back. But then we came strongly towards the end again.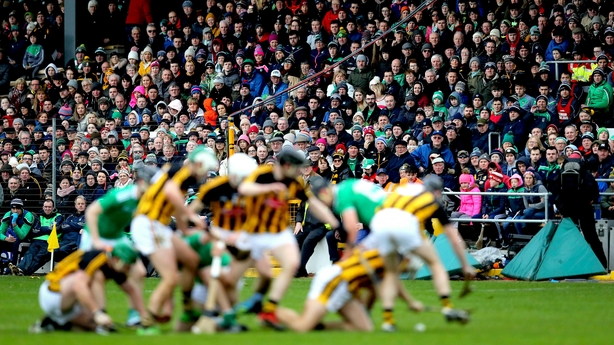 "The scoreboard suggests it was a bad beating. And the scoreboard doesn't lie. From a score point of view, it was.
"But there was plenty of positives for us as well I thought. I'm not going home thinking it was a disaster. It's something we have to learn from and look at all the various performances from the players and also from the collective.
"In my head, very definitely I can see it was a mixture of some very, very good stuff and then there were lots of mistakes as well.
"The league is going to go to the last match probably for all the teams. Most years, when you start losing games, people are focusing on relegation. So that's not going to happen for anyone this year. Look, it's going to be a real battle to finish in the top four."
Cody, meanwhile, confirmed he is content to allow the Ballyhale Shamrocks players a break from county duty with their All-Ireland club final meeting with St Thomas's coming up next month.
"They have absolute freedom to go with the club until St Patrick's Day. We won't even be looking for them to come in at all. We've spoken to Henry (Shefflin) and he knows that. That's the way it is."