Dunnamaggin (Kilkenny) 1-17 Castleblayney (Monaghan) 1-13
Dunnamaggin players to a man, used every sinew of their being in coming from three points down to claim the All-Ireland Junior Club Hurling title as they ended the romance for a valiant Castleblayney Hurling club in Croke Park.
The South Kilkenny side had to dig deep with seven unanswered scores in the final's finale as Castleblayney played like champions.
Dunnamaggin wing forward Thomas Maher showed supreme composure landing four of the seven momentous points down the stretch and captain William Phelan was inspirational in the second period at times.
The showpiece was anything but an hour-long coronation as expected and the scoreline proved as much. The nature of the victory didn't as this would be Noel Hickey's 10th all-Ireland medal and possibly his toughest.
The Monaghan and Ulster Champions were not overawed by the occasion lead by exceptional corner forward Fergal Rafter and the excellent Blayney full back line and just as it seemed the shock was on the cards their tilt faded like a cruel mirage.
The final went to script right from the off with John Fitzpatrick rising above the scrappiness to land a booming point from under the Hogan Stand and Eoghan Kearney quickly launched over a free.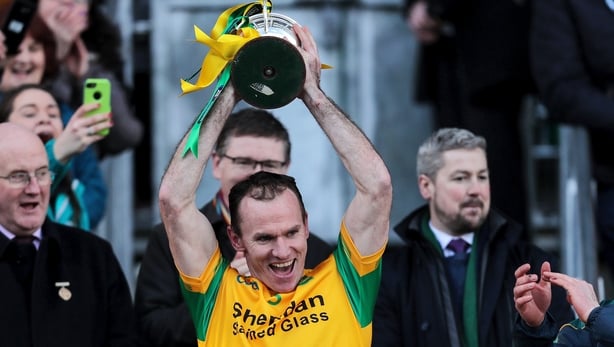 Then Blayney corner forward Rafter proceeded to rip up the script, sheet by sheet. Firing over a score from play and then a free to level proceedings.
With the scores level, Fitzpatrick pounced. Dunnamaggin's Ray Cody blocked Jim McHugh after a short puck out and Fitzpatrick rifled a shot to the net. Rafter once again responded with a free.
It was point for point as the Blayney full backline were unnerved but the three pointer was proving to be the match winning gap until Blayney threw off the prejudice of where they were from and played the match from where they were.
Rafter accurate again from a 65 ignited the comeback. Hugh Byrne then lifted the crowd with a superb point from distance into the hill. Chants from the Blayney fans began to echo even before Rafter levelled from a free.
It got better for the Monaghan Champions. Wing forward Byrne showed good vision to hand-pass the ball inside to the unmarked Brian McGuigan, who smashed the ball home for the underdogs.
Thomas Maher notched a badly needed point to make it 1-8 to 1-6, the Dunnamaggin side badly needing half-time.
Ray Cody began the second half in urgent fashion but it was Blayney who began in a flurry, firing over three points in a row, Rafter with two and Hugh Byrne from way out to push their lead out to four.
John and Darren Fitzpatrick points were sandwiched by a pair of Rafter free's which proved to be Castleblayney's last.
The Kilkenny side would not be deterred and shook off the pressure of favouritism and replaced it with fear of losing as they powered over seven of the games' remaining points in dogged succession.
Dunnamaggin: Seaghan O'Neill; Mark Heffernan, Noel Hickey, Victor Costello; Michael Cody, William Phelan, Andrew Fitzpatrick; Darren Fitzpatrick ( 0-01), Eoghan Kearney (0-01, 0-01f); Thomas Maher (0-07, 0-04f, 0-0165), John Fitzpatrick (1-03), Darragh O'Keefe (0-01);
Ronan Coffey (0-02), Ray Cody (0-02), Adam Fitzpatrick.
Subs: Jack Brett for M Heffernan (36), Ian Walsh for A Fitzpatrick (46),
Castleblayney: Paddy Collins; Eoin Leonard, Jim McHugh, Colin Merrick; Aaron Kenny, Peter Treanor, Cormac McNally (0-01); Brian Flanagan, Paddy Finnegan; Brian McGuigan (1-01), Mark Treanor, Hugh Byrne (0-02); Fergal Rafter (0-09, 0-06f, 0-0165), Craig Callan, Pauric Malone.
Subs: Fintan Finnegan for P Malone (55)
Referee: Liam Gordon (Galway)