The Hunger Games
In the opening two rounds of the Allianz Football Leagues, there have been six draws and 14 games won by three points or less.
In translation, 63% of games are decided by a single score - if the teams are to be separated at all. That statistic illuminates a reality that these seven rounds of league football are the most compelling and entertaining games of the inter-county year.
Why? The reasons are obvious and project a luminous Bat Signal for the future direction for the calendar and competitions - if there is in fact a Dark Knight out there with the vision and authority to pay attention to what the sport needs.
By a process of natural selection, every team is where they deserve to be in the hierarchy at the start of each season. The virtue of that fact is that everyone around you are in similar positions and - crucially - beatable.
Most teams - at least in the beginning - believe in themselves and attack the league. Every game can be won and there is nothing to fear. Players who might add value in the championship must have the chance to do so in the league and so they need to see game time.
Game plans are evolving, and coaches and players are experimenting vigorously in their high intensity surroundings. The results are by and large good games and 'entertainment'.
Certainly, more so than the provincial championships and All-Ireland series.
It's not a complicated algorithm. When teams of a similar ability and outlook play each under in a competitive environment they push each other, meaning the games are close and invariably exciting. Everyone benefits; not least the paying public.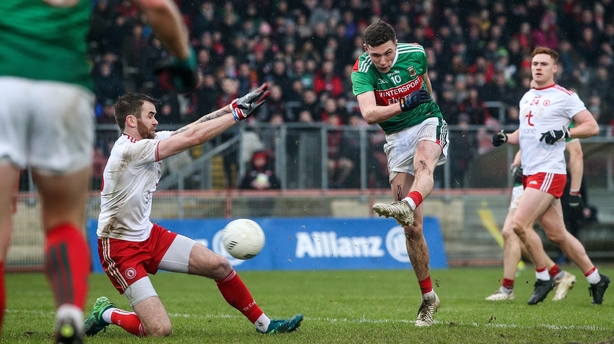 Marginal Gains
With teams so evenly matched, the smallest edges are deciding factors across 70-plus minutes of high energy football. When the numbers tell you that two out of every three games will be decided by the kick of a ball, it brings sharply into focus every tiny detail of preparation and execution.
There are very few coaching teams left in all four divisions that are not acutely aware of the importance of a tactical approach that gives their team a platform to compete.
Tactically aware teams will make their opponent earn every scoring opportunity they generate. There are no freebies left against teams at your own level from that perspective.
It is also unfathomable now that any team operating at county level would not maximise their conditioning within the limits of their environment. Players now have experienced and are fully aware of best practice; they demand a professional approach in their [mostly] amateur world.
And so, if the relatively easily controlled elements of game-plan and conditioning are assumed, the dividing factors are ability: technical, emotional and decision-making.
Sport at the highest level should always be this way. Players should have the same opportunity as their opponents and may the best team win.
The Great Dividers
Very occasionally, when the momentum of a game is in the balance or requires turning, a leader can step forward and make a play that influences the ultimate outcome.
Those are marquee moments that burn into our memories. Kevin McMenamin's goal to turn the 2011 All-Ireland football final in Dublin's favour, Donal O'Donovan's equaliser in the drawn 2013 hurling final, David Clifford's goal in Clones last summer, Stephen O'Hanlon's goal in Clones last week.
However, games are much more able to be influenced collectively during crucial or pressurised moments.
Certainly, individuals can deliver great impact but it is the hidden hand of the predetermined patterns and 'go-to' responses to crisis or opportunity that can control opposition momentum or create your own.
Well organised teams in any sport will have default formations and plays to assume when the conditions suit. These will come into effect across the entirety of a game but they return their maximum value when there is pressure or anxiety.
These are the moments when individual decision-making is of paramount importance and if players can default to a predetermined collective plan, their anxiety dissipates.
Set kick-outs, designated ball handlers, defined areas to work the ball to, go-to formations, etc all give players clarity of purpose and therefore focus in the moment.
These rehearsed strategies can be the hidden but defining features of managing the tightest of contests. Managing the game when it counts is the mark of winners.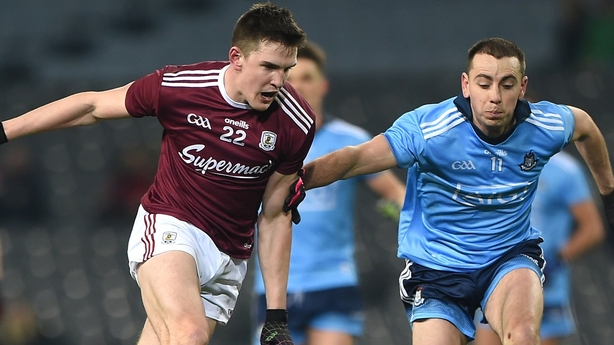 Game Management
With the backdrop of the All-Ireland champions' legacy in tight games and the cohesion that brings, their complete lack of urgency in the face of Monaghan's revival in the second half last week was confusing.
It seems that the extended holiday period and lack of match practice meant that Dublin simply continued playing when they looked in control early in the second half. Complacency left the door open.
Presumably the week leading into game two included some sharp reminders from coaching staff of what is supposed to happen when they are in front and in control. Galway were not afforded the same opportunity this weekend.
Dublin were in their normal groove, exploring attacking avenues wide down both flanks maintaining a constant motion with possession to prise shooting gaps out of Galway in the first half.
Then, as soon as they opened the gap to three points, they assumed their now customary counter-attack formation.
Galway pressed forward - as they had to chasing the game - and the Dubs collapsed either 14 or 15 inside their own half and sometimes deeper. If possible, Cormac Costello remained as a focal point at full forward.
The end game was simple but devastatingly effective; slow and frustrate an increasingly disillusioned challenger into mistakes beyond Dublin's 45 and unleash the natural athletic advantages the champions possess in lightening quick counter surges.
Effectively, Galway were placed in a tactical strait jacket.
The approach was best illustrated midway through the second half when, as the furthest man from Evan Comerford, Paul Mannion knocked a ball free on his own 65.
With no-one between him and the Galway goal he dribbled some 50 yards with the ball at his feet before being caught and fouled. The gap was widened. Repeat.
How many teams over the opening two weekends of this season will lament the concession of late scores or missed openings to create decisive opportunities for themselves?
Yesterday, Sligo controlled Down for most of the game but failed to keep them at arm's length and protect their goal when it mattered - as it was with Meath in Donegal on Saturday. Armagh have had two consecutive weekends of late reversals.
Undoubtedly, teams chasing are empowered by the sense of having 'nothing to lose' but those are the games that are notable for their lack of 'Blue Wave' thinking under pressure and they catch the headlines.
Game management is towards the end of the manual on building a team. It depends entirely on good planning and player empowerment - both of which need perceptive leadership skills on and off the pitch.
In a league of tiny margins, any team that can understand momentum and how to control it at crucial times in a game have a serious hidden weapon up their sleeve.