Twelve months ago, Offaly kicked off their league campaign with a dramatic win over Dublin at Croke Park but that seemed like a distant memory today as with little or no fuss, Dublin easily avenged that result this afternoon in Tullamore.
Donal Burke (0-06) and Oisín O'Rorke (2-03) were their key contributors in a comfortably 13-point victory, while John Hetherton and Fergal Whitely also gave Mattie Kenny something to think about with five points between them after coming off the bench.
Just over 1,000 supporters filed into Bord na Móna O'Connor Park for this one and it was only for the early stages of each half that the tie looked remotely competitive. With Dublin playing with the aid of a slight breeze in the first half, their own inaccuracy was their key failing as the teams were still deadlocked at 0-2 apiece after ten minutes, four shots having been sent wide of the target at the Offaly end of the ground in that time.
A slaloming run from Donal Burke down the left flank opened up the score that broke the game open for the Dubs after 11 minutes, and while Paddy Rigney did well to get in and hook the DCU student's initial effort, Burke still succeeded in working the ball across the line to O'Rorke, who had the space to take the sliothar up with his stick and then place it across the goal and into the corner of the net.
With Danny Sutcliffe looking sharp in the middle third, making a series of good breaks through the Offaly half back line, the ammo was provided to Burke for him to rack up four first half points, while O'Rorke added a couple and also earned a penalty after breaking in behind Tom Spain and drawing a foul from the Offaly corner back.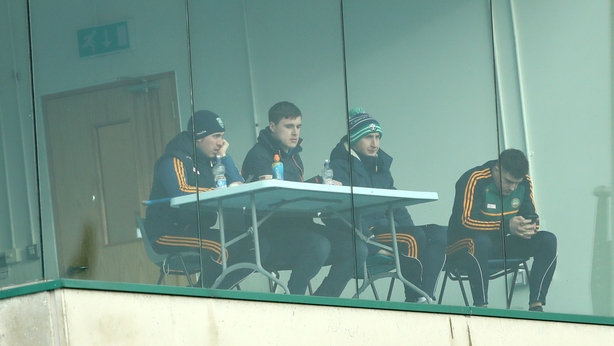 Seán Moran's penalty was weakly struck, and Eoghan Cahill was able to make the save to keep Offaly somewhat in the game, even if their own errant shooting was costing them dearly. Seven first half wides meant they trailed by 1-10 to 0-5 at the interval.
A bright start to the second half saw Paddy Murphy pick off the first point after the restart, and Eoghan Cahill duly followed that up with two long range frees, adding a third after John Hetherton announced his presence with a score.
That brief act of rebellion was immediately quashed however, Fiontán McGibb initiating the move the ended with O'Rorke slamming in the second goal of the game with 46 minutes on the clock.
The fare for the remainder of the second half was somewhat pedestrian, with the sides trading scores and maintaining a seven or eight-point gap throughout.
Damien Egan, Murphy and Kevin Dunne fired over good points for Offaly, but they struggled to maintain any sort of control on the Dublin attack at the other end and while the boys in blue never got into any real scoring rhythm, they always seemed to be able to find space and pick off an easy point just when Offaly looked as if they might begin to exert some pressure.
Hetherton, Whitely and Sutcliffe pointed late to stretch out the gap, while Eamon Dillon and Oisín Kelly missed good goal chances at either end in injury time.
Both sides face much more competitive games next time out, with Dublin set to take on a Galway side stung by today's draw with Carlow, while Offaly will face a crucial midlands derby game against Laois on Saturday week.
Offaly: Eoghan Cahill (0-03, 0-03 frees); Tom Spain, Niall Houlihan, Paddy Rigney; Aidan Treacy, Enda Grogan, Craig Taylor; Kevin Dunne (0-01), Mark Egan; Damien Egan (0-01), Paddy Murphy (0-02), Colin Egan; Colm Gath (0-01), Oisín Kelly (0-01), Kevin Connolly (0-03, 0-03 frees).
Subs: Andy Flynn for Taylor (35), Liam Langton for Mark Egan (half time), Seán Dolan for Gath (50), Eoghan Parlon for Murphy (60)
Dublin: Alan Nolan; Cian O'Callaghan, Eoghan O'Donnell, Paddy Smyth; Chris Crummey, Seán Moran (0-01), Shane Barrett; Seán Treacy, Darragh O'Connell; David Treacy (0-02, 0-01 free), Danny Sutcliffe (0-01), Rian McBride; Donal Burke (0-06), Liam Rushe (0-01), Oisín O'Rorke (2-03).
Subs: Eamon Dillon for Rushe (26), Jake Malone for Seán Treacy (27), Fiontán McGibb for Barrett (HT), John Hetherton (0-03, 0-02 frees) for David Treacy, Fergal Whitely (0-02) for McBride (57).
Referee: John Keenan (Wicklow)