Monaghan "turned a corner" with their win over Dublin in the Allianz Football League according to RTÉ GAA analyst Bernard Flynn.
Last year's All-Ireland semi-finalists were value for their win over the champions, with Jack McCarron scoring 0-05 and good strength In depth utilised from the bench.
Stephen O'Hanlon produced an eye-catching goal, and that was a moment that really captivated Flynn.
He told 2fm's Game On: "This guy has it and it's not too often you say it. I know Mayo had Brian Reape at the weekend but this guy is different class with his movement and balance.
"Three people in the press box told me about him yesterday, three former Monaghan players. They were nearly going to play him last year, but he was small and young and they thought they'd bide their time with him.
"Conor McManus must be smiling this morning, saying thank God I have someone beside me to help me."
The spectacle itself was equally as thrilling to Flynn who praised the Monaghan manager for learning from mistakes last year.
"It was a very enjoyable match. There was nearly 11,000 people there in difficult conditions. It was absolutely brilliant. I'd say Jim Gavin will get a lot from it. He certainly won't panic. Why should he? He found out a lot about his fringe players yesterday in what was a tough environment and a cauldron where a few maybe didn't pass the test.
"You have to applaud Monaghan and Malachy O'Rourke. I thought he was very astute in how he picked his team. I think he finished with his best team on the field and maybe in a lot of games over the last 12 to 18 months there was questions asked over closing out big games like Fermanagh and Tyrone.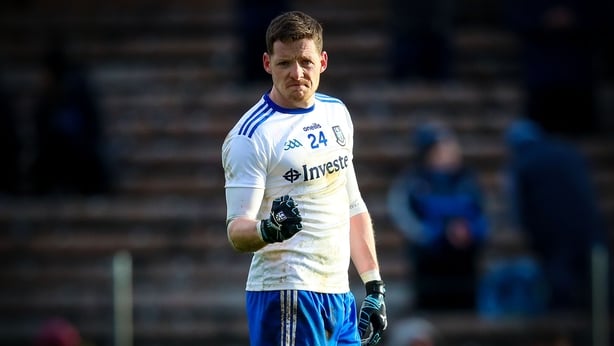 "The way they finished the game was excellent. Dublin did tire. They only had two weeks work done. No panic but it does give a glimmer of light to everyone else trying to chase down this dominant Dubs.
"I do believe Monaghan turned a corner, particularly yesterday. They had to think for themselves on their feet, on their own, and the way they adapted to Dublin's running game was superb because Dublin were majestic in that first 20 minutes.
"Jonny Cooper and Conor McManus off the ball was worth the entrance fee along, it was something to behold. The player that really shone and I thought he came of age yesterday, was Jack McCarron. He was awesome."
While the former Meath footballer does see a need for Dublin to rip up their tactic-book any time soon, he does see the importance of Stephen Cluxton to the team even more evident after the legendary goalkeeper sat out yesterday's game.
"The one thing for me is Dublin need to wrap Stephen Cluxton in cotton wool because the difference without him yesterday was huge.
"Any Dublin team that takes to the field in the near future without Stephen Cluxton are four or five points worse off. There is no question or doubt."