Joe Brolly and Colm Cooper were both impressed by Monaghan's astute use of the mark which was critical in turning the game against Dublin in the home side's direction. 
Trailing by six points at one stage in the first half, Monaghan ate into that deficit in the final minutes of the first half and then overhauled it completely in the third quarter, with the introduction of Conor McManus and Stephen O'Hanlon in early the second half proving pivotal. 
They eventually ran out three point winners, in the process claiming a second successive National League victory over the All-Ireland champions. 
"I think Monaghan showed us today how you can use the mark," Cooper said. "They moved it outside. They didn't balloon it down on top of the penalty spot. They used it cleverly. And especially when the two lads came off the bench (O'Hanlon and McManus) they chipped 20 and 25 yard passes and the Dubs just weren't ready for it." 
Brolly, for his part, stressed the modern defender's tendency to shepherd players away from goal rather than contest attacking balls, noting that this could prove self-defeating once the mark is cleverly deployed.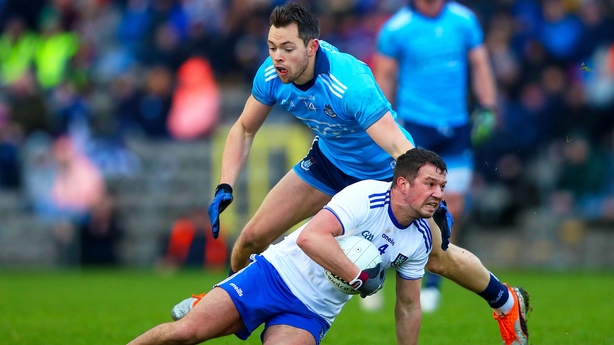 "It's taking advantage of the fact that the way most defences play now is to shepherd the forward away from the goals. 
"And what Monaghan were doing was taking advantage of the fact that the Dubs were standing off. Twice, Conor McManus took very easy kick passes that were floated 30 yards into him. 
"Now they were very well judged kick passes. But on both occasions, the Dublin player stayed off him and then to the Dublin defenders surprise, he takes the mark. And he gets a score.
"And they went from three behind to four up in that space of time when O'Hanlon and McManus came in."