Having been made to work for their victory in Ennis today, Donegal manager Declan Bonner was quick to laud the attitude of his players in a tightly fought win over Clare.
Donegal were forced to dig deep when Clare took an early second half lead at Cusack Park.
Speaking to RTÉ's Mike McCartney, Bonner stated his satisfaction that his side secured the points.
"Composed is probably the word we'd use, we got to be composed and Clare worked extremely hard and Colm (Collins, the Clare manager) had a lot of work done with these boys.
"You know they were very competitive in division 2 last season and for us to come down here and a difficult venue to get a result, we're delighted and to go up the road now with two points in the bag."
Donegal had to keep cool heads in the face of Clare's three unanswered points at the beginning of the second half, something Bonner attributed in part to his second half substitutes.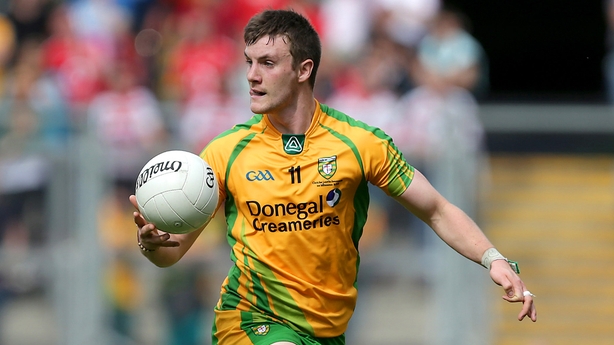 "We introduced Leo McLoone and Martin McElhinney at that stage, two experienced lads and I thought that we took control of the game in that final quarter and that was vital for us.
"It was a vital learning curve for a lot of the young lads too. Again we come up against a big test next Saturday night against Meath who beat Tipperary today, so it will be a real test on Saturday."
When asked if there was anything he said to his players at half-time, Bonner stated his desire for his players to express themselves, while reducing errors in their shooting.
"There was plenty in the first half that we were happy with, but again there was other aspects we needed to work on.
"We started the second half poorly, you know that first period in the second half we kicked a lot of bad wides, probably taking on the wrong shot selection.
"We do have a lot of good kickers in that team but the one thing we do is encourage these boys to go and play football."