Limerick survived a late Wexford uprising as the All-Ireland champions marked their return to top-flight Allianz Hurling League combat for the first-time since 2010 with a merited victory in an Arctic-like Southeast. 
But out-shooting Wexford by 14 wides to four threatened to be costly for John Kiely's charges as Davy Fitzgerald's men fought back from a deficit of 1-14 to 2-7 after 61 minutes to get themselves firmly in the mix.
However, an upright spared Limerick when Conor McDonald's stinging goal-bound drive hit the woodwork in a dramatic conclusion before a 7,000-strong attendance.
Exchanges were honest, but tempers boiled over on 27 minutes when Wexford full-back Liam Ryan and Limerick full-forward Seamus Flanagan were both red-carded arising from a mass scuffle on the sideline.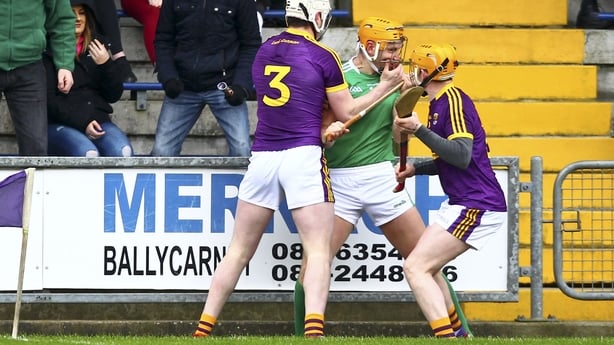 The early exchanges hinted at a lively contest as both nets were hit following an opening exchange of points, Cathal Dunbar blasting Wexford into a 1-01 to 0-01 seventh-minute lead after latching onto a long delivery from Conor Firman.
However, wind-assisted Limerick mustered an equalising goal three minutes later when Cian Lynch, on bended knee, fed Aaron Gillane to squeeze to the net from the right edge of the square.
Limerick continued to prosper with points from Gillane (a free) and Peter Casey before Wexford keeper Mark Fanning denied David Dempsey a certain goal on 18 minutes.
Wexford levelled on 1-03 apiece courtesy of Jack O'Connor (free) and Conor McDonald, and although Limerick regained supremacy through Seamus Flanagan and Peter Casey, the home-side lifted their passionate supporters when Jack O'Connor forced the ball home for a 2-03 to 1-05 lead after 24 minutes.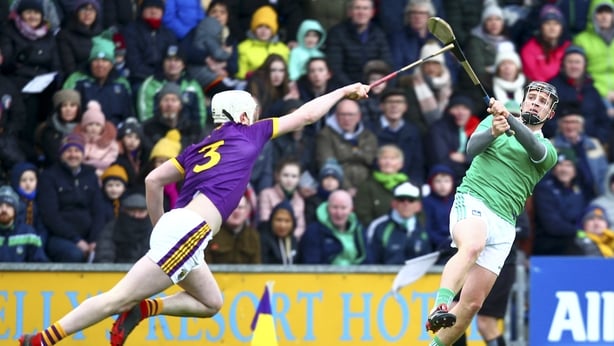 Limerick overcame having a goal ruled-out as they dominated the closing exchanges to charge ahead by 1-10 to 2-04 at half-time with points from Peter Casey, Aaron Gillane (3) and a line-ball from Colin Ryan.
A largely uneventful second-half saw Limerick extend their supremacy somewhat after 61 minutes before Wexford supporters found their voice again after subs Harry Kehoe and Paul Morris combined with Conor McDonald to cut the margin to 1-14 to 2-10 on 66 minutes.
But Wexford then hit a couple of costly wides while Darragh O'Donovan, a lovely sideline-cut and Gearóid Hegarty settled Limerick nerves entering added-time.
The drama wasn't over though as Wexford threatened to nab the spoils, with Conor McDonald's goal-bound drive rebounding from the woodwork before Liam Óg McGovern's follow-up attempt yielded a '65' pointed by Jack O'Connor.
Sub Barry Murphy hit back to ensure a merited victory for John Kiely's men.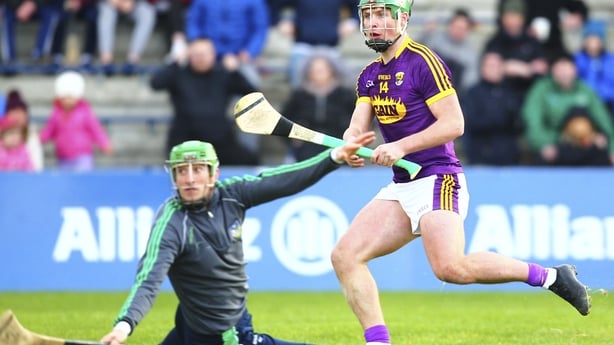 Limerick: Nickie Quaid; Tom Condon; Seán Finn, Richie English; Diarmaid Byrnes (0-02 frees), Declan Hannon, Dan Morrissey; Cian Lynch, Colin Ryan (0-02, sideline and free); Gearóid Hegarty (0-01), Tom Morrissey (0-01), David Dempsey; Aaron Gillane (1-05, 0-03fs), Seamus Flanagan (0-01), Peter Casey (0-03).
Subs: Barry Murphy (0-01) for Dempsey (54); Darragh O'Donovan (0-01, sideline) for Ryan (56); Pat Ryan for Casey (64).
Wexford: Mark Fanning; Simon Donohoe, Liam Ryan, Conor Firman; Pádraig Foley (0-01, free), Matthew O'Hanlon, Shaun Murphy; Diarmuid O'Keeffe, Kevin Foley; Jack O'Connor (1-05, 0-04fs, 0-01 '65), Aidan Nolan, David Dunne; Cathal Dunbar (1-00), Conor McDonald (0-02), Liam Óg McGovern (0-01).
Subs: Shane Reck for Firman (21); Paul Morris (0-01) for Dunne (54); Damien Reck for P Foley (62); Harry Kehoe (0-01) for Nolan (62).
Referee: Fergal Horgan (Tipperary).