James Horan "changed the face of modern Mayo", says Kevin McStay, who expects the Green and Red to produce one more major kick this summer in their quest to land Sam Maguire.
Horan was ratified as boss last October on a four-year term, taking the reins for the second time just over four years after stepping down in the wake of the 2014 All-Ireland SFC semi-final replay defeat to Kerry.
He led Mayo to four successive Connacht SFC titles during his first stint in charge as well as two painful All-Ireland final defeats to Donegal and Dublin in 2012 and 2013 respectively.
Now, he's tasked with leading a supremely talented, if ageing crop to the Holy Grail and thus end a wait for an AlI-Ireland crown that now stands at 68 years.
First, they'll try and make a statement over the spring, with tonight's Allianz Football League Division 1 opener against Roscommon a good opportunity to make an early statement.
"Mayo are mad for road," McStay told RTÉ Radio 1's Saturday Sport.
"James has stated that he wanted to win the FBD League [they lost on penalties to Galway], he wants to win the league, he wants to give it a real shot.
"James had to be the next appointment, from a Mayo perspective. He is the guy that changed the face of modern Mayo. John Maughan would have gone a good bit towards it, but James brought Mayo to another level.
"When the appointment was free again, I think he was the obvious choice. He's learned more from his time sitting on the couch. He's been watching the last three or four years when he was recharging the batteries. I get a great sense that he's highly motivated, highly energised for the next crack.
"He's going to have to hit the ground running because the age profile of his team is not healthy. They've aged together.
"He's going to have to strike, if not this year then certainly next year. But you couldn't rule Mayo out. They're a hugely competitive bunch of boys, fantastic team players, and if there's something left in them, I guess James Horan will get it out of them."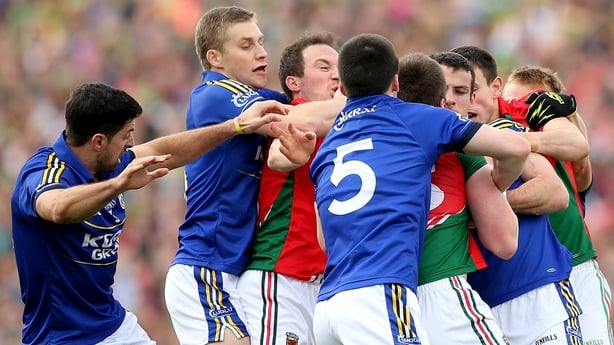 McStay expects a good battle at MacHale Park, one he hopes will help lift the doom and gloom that's engulfed football in recent times.
The criticism of the game, on several levels, has relented a little however, the ex-Rossies manager believes, as the league season gets under way.
"[Rossies boss] Anthony Cunningham, he absolutely wants to stay in Division 1 and I think that's what the team will want big time, to get another year in Division 1 for their development. It has the makings of a very lively game. It will be a big ask for Roscommon, but you can't rule it out.
"The last few months I really did sense an unprecedented level of negativity around the game The rules have been walloped... player were finding it hard to commit to the game, supporters were finding it very difficult to view, especially with the defensive set-ups that were going on - and just the general negativity.
"Everything just sees to be negative. Then when it's contrasted with the positivity surrounding hurling it makes it look even worse. But look, here we are now, everyone is getting their cars ready to head to the local grounds and see the big matches.
"In a lot of divisions - especially Divisions 1 and 2 - it's very hard to pick winners this weekend.
"That's why the leagues have really become the best part of the GAA calendar, in my view. It's going to be very exciting for the first two or three weeks."
Follow all the weekend's hurling and football league action via our live blog on RTÉ.ie and the News Now App, listen to live commentaries of games on RTÉ Radio 1 Saturday Sport and Sunday Sport, and catch up with TV highlights of the weekend's action on Allianz League Sunday on RTÉ2 and the RTÉ Player on Sunday 9.30pm