Cora Staunton was a high-profile international recruit in last year's second season of the professional AFLW and others will be following the Mayo legend this year.
Monaghan's Muireann Atkinson was one of 11 Irish women who travelled to Melbourne in September for a 'Cross Coders' training camp that assessed the potential for players from other sports to make the leap.
"It was a great experience to get a taste of the professional lifestyle," she told RTÉ Sport.
"The first five or six days were quite intense. Straight off the plane, we went to the training facilities and did athletic testing for two days. Then they introduced me to an AFL oval ball for the first time.
"We played a game the fifth or sixth day we were out there. It was the Cross Coders team against the VFL, which is the next standard to AFL. We absolutely hockeyed them: 60 points to five points. A group of 18 players who hadn't played a game before. 
The Irish footballers stood out among seven other international hopefuls from the worlds of rugby, netball and NFL with the result that Tipperary's Aisling McCarthy (Western Bulldogs), Yvonne Bonner (at Staunton's Greater Western Sydney Giants) and Clare's Ailish Considine (Adelaide Crows) all won contracts.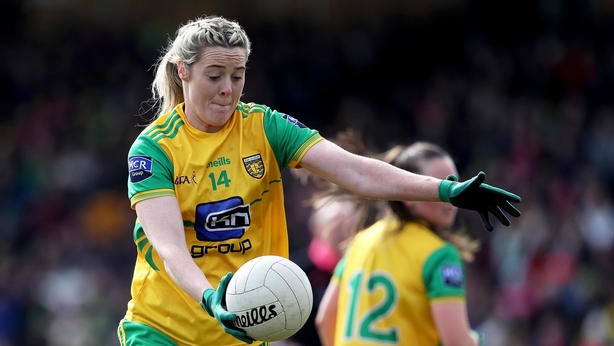 Atkinson had interest from a couple of clubs but decided that finishing her teaching degree at DCU, who she will represent in this year's Gourmet Food Parlour HEC Ladies Football Championships, was the priority.
"It was clear to see that they were very interested in the Irish players from the get-go," she said. "They've just seen it work before in the men's game, there's a right few who went over.
"It's the most transferable sport to AFL. A lot of the handball players and netball players struggled with the kicking whereas it came quite easy to us.
"Also, the professionalism of ladies football has gotten so good that we surprised them in terms of our athletic ability. It's not far behind AFL at all.
"The timing wasn't quite right for me at this point because of college and stuff but it would be great to get another whack at it in a couple of years' time.
"Gaelic in my opinion is a better sport. It's more skillful, you've more vision in total in the sport. It's just the professional lifestyle that attracts me to it. 
"I would be interested in it. Every ladies footballer, I think, would be, just to get a taste of it.  It's a full-time job, it's what you enjoy doing and it gives you a chance to reach your full, max potential as well."
Atkinson's friend, Mayo star and former Ireland underage soccer international Sarah Rowe, agreed to join Collingwood in August, meaning five Irish women will line out in next month's AFLW compared to 14 in the men's competition.
But with the AFLW expanding from eight to 10 teams this year, and to 14 in 2020, Atkinson expects the number of expats to rise sharply and warns that the season will soon become too long for footballers to return home for Championship campaigns.
"I'd be in contact with a few of them," she said of the Irish contingent. "They're having a great time and they're all, I feel, going to have a big impact on the game over there as well. 
"It's highly attractive that they get to come back from Australia and play the Championship with their counties as well. That's not going to last for too long with the new introduction of teams, players will have to make the big decision - if they want to spend the whole year over there and give up their time with their county completely."
Great to get my first run out with the 🥧's #sidebyside #goodbyepreseason pic.twitter.com/CigU9fRGk4

— Sarah Rowe (@SarsRowe) January 20, 2019
Atkinson also believes that the relative lack of rewards for female footballers on these shores will make leaving Ireland an easier choice.
"Men get a lot of perks in Gaelic football now compared to women still," she said. "I know it's growing but there's still a big, massive gap there. 
"For men to leave their set-up, they're leaving sponsorship deals, they're getting major travel expenses and they're getting huge publicity.
"Whereas ladies footballers, there are maybe ten high-profile players but what about the rest of them? They're not getting that many perks.
"So, why wouldn't they go over when they're not getting paid? Ladies footballers probably need to be offered more here in Ireland if they want us to stay."