Niamh McEvoy admits that the Dublin footballers were delighted to hang on to manager Mick Bohan in the face of reported interest from other counties.
Bohan was linked to the then-vacant Roscommon senior men's post before committing to the back-to-back All-Ireland champions until the end of the 2020 season, a decision he insisted was never in doubt.
The PE teacher, who has also been a skills coach and selector under Jim Gavin, is in his second spell with Dublin ladies, having led them to an All-Ireland final in 2003.
Upon returning in 2017, his team ended a run of three consecutive defeats in finals with victory over Mayo and backed that up by retaining their title with a win over old nemesis Cork last September.
"I heard that there a few offers there but we are very lucky to have someone of his calibre involved with us," DIT forward McEvoy told RTÉ Sport at the launch of the Gourmet Food Parlour HEC Ladies Football Championships.
"Mick is brilliant. He has brought in a brilliant group and he's a great leader.
"He came in and was very honest with us. He said our skills weren't where they needed to be, and there was a responsibility on us as players to raise those standards.
"Any time Mick tells us something we believe him. Coming up to the All-Ireland final, he told us that we were going to win – if we did certain things – and he's the type of man that you would believe.
"He's easy to follow. I believe everything he says. He's a skills coach. He was involved in the men's setup as a skills coach so that's only going to drive the standards up."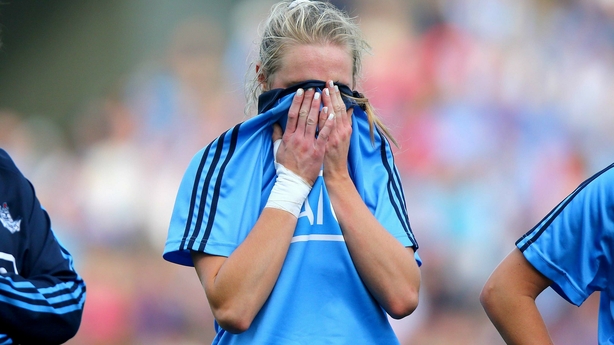 The Jackies are on a roll at the moment but for now McEvoy says 'three in a row' still inspires more thoughts of the heartache against Cork than it does the prospect of a first treble for the Dubs.
"It's a really special time to be involved," she said. "We certainly celebrated it for the last couple of months and really enjoyed it.
"But that was last season so we have parked it and we know that nothing we did last year is going to be good enough to do the same this year.
"Once you are successful, it just makes you hungry for more. If we were to go on and not do ourselves justice, it would be extraordinarily disappointing.
"It's funny, anytime I hear the words 'three-in-a-row', I always think of losing three in a row to Cork.
"So I would never really let myself get sucked into that type of thing and certainly Mick wouldn't as well. We're well aware of he feels on the topic.
"I was involved in 2010 when we won and then there was a seven-year gap until we won again so I'm very aware of not living in the past and trying to continue to improve."