Paddy Deegan is an unusual breed of Kilkenny hurler; he grew up more familiar with the bitter taste of defeat than sweet success.
The O'Loughlin Gaels 23-year-old came out the wrong side of three All-Ireland schools finals with Kilkenny CBS, a cruel hat-trick that taught him some harsh lessons.
Victory with his club in the Under-21 county decider was a sweet and important moment. That was followed by a senior club title in 2016, something he describes as his "greatest achievement".
Before he'd even left his teens, the sting of defeat had been weighing him down.
"I grew up between two age groups that were successful," Deegan said at the launch of the Allianz Hurling League on Monday.
"The younger lads and the older lads were a bit more successful than me and I fell into the group in the middle.
"I didn't win my first championship match with my club until my last year at minor. I lost three All-Irelands in a row with Kilkenny CBS and I think I lost a Leinster final at one stage there as well so there were a lot of losses along the way.
"The Under-21 county final was my first big win. It was the year after we lost the minor county final. It was massive for the club at that stage because we hadn't won it in something like 30 years.
"That set a platform, or whatever you might call it the following year, we won the senior county final then with O'Loughlin Gaels. That was a massive win for me personally and for the club.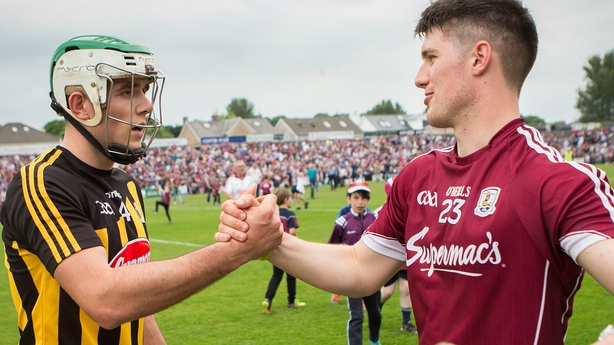 "I was getting to a point where I was saying, 'is it ever going to come for me?' Then I won two in two years - won the Under-21 and the senior, that's probably the greatest achievement I had in hurling, winning that senior county final [against Ballyhale Shamrock. It was massive."
Deegan roams the middle of the field for his club but it was at corner-back where he really caught the eye with the Cats last year. His physical, no-nonsense displays turned heads and earned praise. It was a seamless transition for a versatile and adaptable hurler.
"Ah I didn't mind it," he said of dropping further back the pitch.
"I play midfield for the club, in around there or the half-back line. I was used to the backs, being a defender anyway. You want to keep on top of your man in there, it's a different environment to midfield but if I'm playing I'm happy and I think anybody that knows me would say the same thing. I just want to be hurling whenever I get the chance.
"You should be trying to win the ball, you shouldn't be waiting for him to get it and then to take it off him, it's about attacking the ball, getting out there first and just playing hurling I suppose."
Deegan admits it was daunting walking into a Kilkenny senior dressing-room filled with seasoned, serial winners. The ferocious competition for a starting jersey meant he had to get over that pretty quickly, and now, ahead of the Division 1A opener against Cork this weekend, his only focus is on remaining in that team.
"Sure look, it was a bit nerve-wracking at the time going in first to the dressing room you get nervous, but you have to put that to the one side fairly quickly and just get on with the work and try your best to get onto the team and help them win.
"Every day you go out it is going to a be a battle, physical, fast. I suppose Cork, they are fast and slick hurlers they are very physical so it is going to be a battle but we are looking forward to it.
"It's fiercely competitive. There are five or six teams, even seven or eight teams you could even say that are capable of winning the Championship.
"I enjoy [the round-robin provincial format] because you are hurling constantly, you are playing matches, you get to play the whole time.
"When you are in that county set-up you are enjoying it because you are playing so much."