The life on an inter-county dual player is never dull.
It's hugely challenging, relentlessly demanding, and requires commitment above and beyond.
No player knows that more that Tipperary's Orla O'Dwyer. Last July, The camogie captain played in a football championship clash with Kerry in Nenagh.
When the whistle blew on their 3-13 to 2-10 loss, she immediately headed for The Ragg just outside Thurles to start a camogie championship tie against Offaly.
Four hours after the football game had thrown in for the Kerry game, O'Dwyer, 19, took her place in the starting 15 with her county's camogie side. They won it by a point. 
O'Dwyer is currently recovering from a dislocated shoulder but she expects to be back next month. Two codes will suck up all her energy. But she wouldn't have it any other way.
"I'm back running and driving so it's just about building up the strength in it," she told RTÉ Sport's Brian Carthy.
"I'm missing the pitch, I can't wait to get back on to it. Hopefully by the end of February I'll be back. 
"At times it can be daunting and hard. The big thing for me is the management are very good. They communicate a lot with each other. It helps me because it's hard to decide which training to go to if they overlap.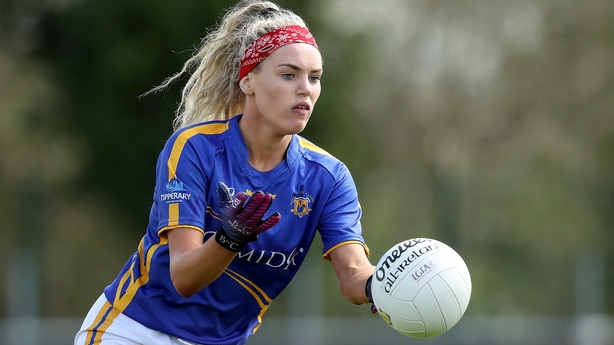 "It's just about time management and being able to be organised, especially with college, looking after yourself, listening to your body.
"Last summer we had to play against Kerry in Nenagh at 1pm. A few hours later we were playing Offaly in the camogie. As well as the physicality, it's the mentality - being able to move your mind from the football to then focus on the camogie. I'm glad I did it. I've no regrets."
O'Dwyer doesn't want endless praise for her dual pursuits- "we do it for the love of it" - but she would like to see those female players who represent their counties ion both codes get a bit more attention.
It is, she believes, crucial to promoting women's sports, and an example for the next generation who need role models to set the right example.
"I think the dual players aren't celebrated as much. They should be, especially women. A lot of women play both codes. It's very important to celebrate it.
"I remember back in 2017 when we were in the All-Ireland intermediate ladies football final. The amount of young girls there... you could hear the girls' voices in the crowd, it was excellent. This year with the All-Ireland football final attracting over 50,000, and the camogie final having over 26,000, it's great.
"It's constantly improving and increasing. Young children should be looking up to role models on county teams. 
"It's important for inter-county players to be recognised in their own clubs and counties. 
"I think there will be a time when the women's and men's game will be equal but it's getting there. It's going from strength to strength each year."