Wexford 0-20 Galway 1-23
Joe Canning's radar was on point as the Portumna ace's 0-13 guided Galway through some difficulties to capture a first Walsh Cup senior hurling crown since 2015 at the expense of battling Wexford after a competitive final at an overcast Bellefield on Saturday.
Galway, who led 1-08 to 0-09 at half-time, had to operate with a man less for much of this decider as, after both sides had been reduced to 14-men, the visitors saw Jarlath Mannion red-carded for a helmet infraction shortly before the break.
But with Canning in such irrepressible form, Micheál Donoghue's Tribesmen controlled the scoreboard, stretching ahead by 1-16 to 0-14 midway through the closing period en route to landing the silverware ahead of next weekend's National League opener against Laois, when Wexford welcome All-Ireland champions Limerick.
Ian Byrne (free) and no.6 Matthew O'Hanlon settled Wexford into a 0-2 to 0-0 lead after three minutes. But the home-side's poor discipline allowed Joe Canning to tie things on 0-4 apiece after 13 minutes, before midfield ace Cathal Mannion earned Galway a lead they would never relinquish after 19 minutes (0-6 to 0-4).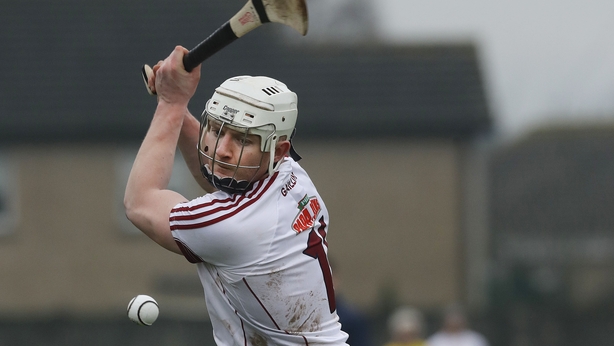 Wexford got it back to 0-7 to 0-6 courtesy of two Ian Byrne frees. But Galway then began to pose serious threat to the Wexford goal, and while 'keeper Mark Fanning brilliantly denied Canning in an initial advance, the siege was hardly lifted before Canning fed Aidan Harte as the no.4 raced through to roof the net.
Jack Coyne increased the margin to 1-8 to 0-6, but Wexford battled back with points from David Dunne, Conor McDonald and Ian Byrne (free).
Unfortunately the closing stages of the first-half became dominated by disciplinary matters. Firstly, referee Seán Cleere red-carded Wexford full-back Liam Ryan and Galway centre-back Pádraic Mannion after a mass melee, while Galway corner-forward Jarlath Mannion was dismissed for a helmet infraction just before half-time.
Despite their numerical superiority, Wexford continued to employ Kevin Foley as a 'sweeper', and Galway profited to stretch ahead by 1-16 to 0-14 after 51 minutes as Seán Kilduff, Davy Glennon and Seán Bleahene got in on the scoring act.
Wexford demonstrated lots of ambition, and after Conor McDonald together with subs Harry Kehoe and Paudie Foley ('65) shaved the margin to 1-18 to 0-17 on 60 minutes, the home-side threatened several times for goals. This pressure eventually saw Conor McDonald force a penalty, but Mark Fanning was unfortunate to see his pile-driver fly over the crossbar to leave it 1-18 to 0-18 on 63 minutes.
Galway were able to breath easily after Joe Canning (2 frees) and Seán Linnane opened-up a 1-22 to 0-19 difference in added-time, and with Wexford also down to 13-men in the dying embers of the game, the Tribesmen deservedly claimed the spoils.
Galway: Fergal Flannery; Jack Grealish, Ronan Burke, Aidan Harte (1-00); Kevin Hussey, Pádraig Mannion, Joe Mooney; Cathal Mannion (0-04), Seán Kilduff (0-01); Ronan Ó Meara, Joe Canning (0-13, 10 frees, 1 '65, 1 line-ball), Jack Coyne (0-01); Jarlath Mannion, Seán Bleahane (0-01), Davy Glennon (0-01).
Subs: Johnny Coen for Mooney (44); Jason Flynn for Coyne (46); Seán Linnane (0-01) for Kilduff (58); Kevin Cooney for O'Meara (59); Shane Bannon for Linnane (temp., 62); Tadhg Haran (0-01) for Bleahene (70+3).
Wexford: Mark Fanning (0-01 penalty); Shane Reck, Liam Ryan, Conor Firman; Simon Donohoe, Matthew O'Hanlon (0-02), Shaun Murphy; Aidan Nolan, Diarmuid O'Keeffe (0-01); Ian Byrne (0-05 frees), David Dunne (0-02), Kevin Foley (0-01); Cathal Dunbar (0-01), Conor McDonald (0-02), Liam Óg McGovern.
Subs: Damien Reck for Firman (27); Pádraig Foley (0-02, 1 free, 1 '65) for S Reck (ht); Paul Morris (0-02) for Byrne (ht); Seamus Casey for McGovern (55); Rory Higgins for Nolan (55); Harry Kehoe (0-01) for Dunne (55).
Referee: Seán Cleere (Kilkenny).