The road from Dublin to Monaghan is a road well travelled by Ryan Wylie. But the Monaghan footballer is not alone in the trek. Twenty of the panel reside in the capital city.
Wylie works as a radiographer in the Mater Hospital and it takes him about an hour and 45 minutes to get to training. As a member of the Farney squad since 2013, he is well used to it by now.
In attendance at the launch of this year's Allianz Football League at Croke Park, Wylie is gearing up for another campaign. There will be gym sessions in Dublin and then up home for training on Tuesdays and Thursdays, sometimes Fridays.
"The road from Monaghan to Dublin is not going to get any shorter," he said.
"I've been doing it since 2013 so I'm used to it now, it's part of my week.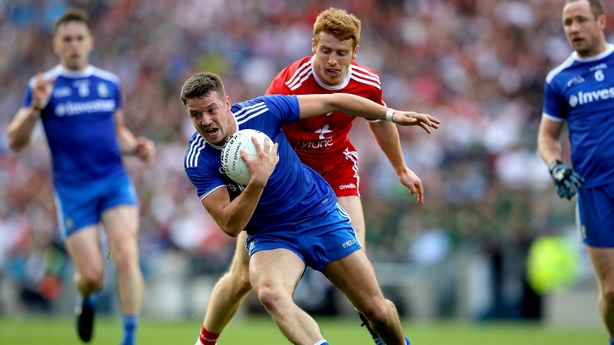 "It's probably an advantage some of the other teams have that they have more home-based players to get more collective sessions in and get their training sessions earlier.
"You look at some people and they're home at nine o'clock and we're only finishing our training at nine or after it and you're back into your house around 12 and by the time you get settled down in the bed, you're wrecked.
"But that's just the way it is and there's no point complaining about it, it's not going to change."
What could change is how Gaelic football is played in the future – five proposed changes, already trialled in the pre-season competitions, could be in place for the start of the league
When asked about the tinkering, Wylie said: "I'm not the one making the rules, I'm just there to play."
DCU's @NiallMoyna and @Sweeney_Peter of RTÉ Sport debated Gaelic football's current rule experiment on @TodaySOR - have a listen!https://t.co/5Y2XJ2EUuL #RTEGAA

— RTÉ GAA (@RTEgaa) January 16, 2019
So far this year, the Ballybay clubman has played just one competitive game – a McKenna Cup tie – and when pushed he was more forthcoming in his thoughts on any changes.
"I just thought with the handpass, you find yourself counting the whole game and shouting numbers," he said.
"It's very tough to engineer goal chances and there's nothing better in a game of football than a goal. Once you see the net bulging, that's probably the best thing about a game of football, a well-worked goal. But you're not really seeing any of that. There's a stat in the McKenna Cup, I think they're down 50% on goals scored.
"I know they're trying to improve the game and they want to be tweaking it but maybe, only unlimited passes inside the 45 and then outside that, three handpasses."
Wylie does, however, see merit in having a sin-bin and added: "It's a decent proposal.
"I don't know what other players think but you're not ruled out completely. It is a big disadvantage whenever you're down to 14 men and I know it's only 10 minutes but if you're down and you're with 14 men, you do find a difference and it's probably a punishment."
As for the 'mark', Wylie flipped it on the head when replying: "You've a defensive mark as well so if you win it out in front of the forward, you can mark as well.
"It probably just slows down the game more because you've 15 seconds to kick the ball so you're slowing down the game so you can kill the whole momentum of the play.
"It's going to be a lot tougher if they (attacker) win it out in front. Normally if they win it and they catch it clean, a lot of times players have goals on their minds anyway so I don't know if they'll be settling for a point."
The chasing pack are eyeing up Dublin's Division 1 crown. #RTEGAA pic.twitter.com/DVYAnCiHX0

— RTÉ Sport (@RTEsport) January 16, 2019
So, Wylie, like so many others has given us his view on winter's hot topic. Ultimately, he questions the need for such a debate, in spite of Monaghan being prepared for any changed landscape.
"I came in with an open mind, I said 'I'll give these a go', and we've been training with them.
"We haven't been completely ignorant to the fact that things might change, we've been training away with them because they might help us improve as footballers as well but I just don't think they've worked so far."
Tellingly, he added: "Five rules in one go, I don't know if there's any other sport in the world who would bring in so many rules in one go. Was the Championship that bad last summer? I think some of them felt like belters playing them. Playing Kerry and Galway felt good for us. Both games against Tyrone were decent.
"A couple of League games, that game we played Dublin, 1-17 to 19 points or something, that's serious scoring. How many scores do people want? That's just the way football is gone but I don't think it's as offensive as it was, talking to a couple of the lads, I think it's fairly open."