Westmeath 2-10 Longford 0-4
Westmeath's impressive O'Byrne Cup run continued on Saturday afternoon at the Downs GAA club just outside Mullingar, when they easily brushed aside an anaemic Longford challenge to secure their place in the cup decider next Friday night.
Jack Cooney's side grew in stature as the game progressed and they had little difficulty in completely shutting down the Longford attack, who failed to register a score from play at any stage in the contest.
Between the second and 70th minute Pauric Davis' men posted just two points in total, both wind-assisted free-kicks from outside the 45m line.
Closer to goal they simply couldn't break free from the shackles placed on them by a superb Westmeath defensive performance, led by full-backs Boidu Sayeh and Ronan Wallace, who were both superb.
Longford opened the scoring through Barry McKeon after Peter Hanley broke forward to win an early free, and with a strong wind blowing into their faces, 0-1 each after ten minutes of play was a satisfactory state of affairs from their point of view.
The landscape changed when young midfielder Sam Duncan, a player that manager Jack Cooney singled out for praise after the game, broke two tackles and floated a handpass into his centre-field colleague Seán Flanagan, who duly blasted the ball across the body of Paddy Collum and just inside the far post.
It took Westmeath some time to make their dominance count on the scoreboard but they finally got some momentum when Ronan O'Toole and Kieran Martin pointed in quick succession after 18 minutes, though at 1-5 to 0-1 in front with the change of ends coming, they had left the door open for Longford – in no small part because of their six first-half wides.
James Dolan got them off the mark with a superb score in the first minute of the second half however and while McKeon's second point – a thunderous kick from all of 60 metres out under the stand – cancelled that out, Longford never looked like creating any space or opportunities close to the Westmeath goal, where their need was greatest.
The first four points of the second half were evenly shared before Duncan made his second critical intervention, winning a free and quickly picking out Callum McCormack, who duly exchanged passes with Ger Egan before slipping in the game's second goal.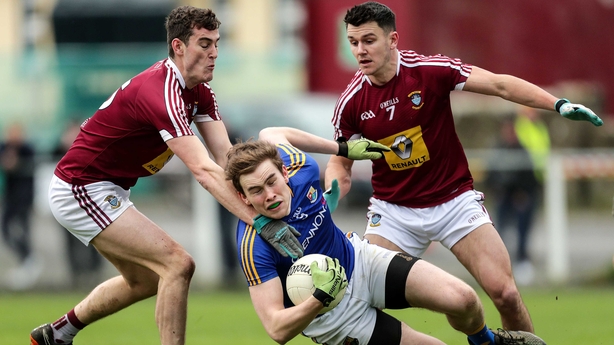 The competitive edge was gone out of the contest at that stage as Longford never looked like breaking down Westmeath's well-marshalled defence, though it could be argued that the removal of the fourth handpass option was also a big factor as there was a huge number of backwards foot passes in a bid to reset the counter when teams put two or three handpasses together in a bid to gain territory.
On the few occasions that Longford tried to kick the ball long into their forwards, they weren't accurate enough to create marks and any breaks were gobbled up by the Westmeath covering defenders, in particular James Dolan who operated as a sweeper throughout.
O'Toole, McCormack and Duncan kicked late points for Westmeath as they eased over the line to record their second consecutive big win at this venue, in the process marking themselves out as a team to watch in a Leinster-heavy Division Three of the Allianz football league.
Westmeath: Eoin Carberry; Boidu Sayeh, Ronan Wallace, Killian Daly; Noel O'Reilly, Noel Mulligan, David Lynch; Seán Flanagan (1-00), Sam Duncan (0-01); Ronan O'Toole (0-02), Callum McCormack (1-01), Ger Egan (0-04, frees); Ger Leech, Kieran Martin (0-01), James Dolan (0-01).
Subs used: Tommy McDaniel for Leech (47), Ned Cully for O'Toole (58), Darren Giles for Flanagan (62), Daire Conway for O'Reilly (65), Mattie Rowden for Carberry (65), Sean Pettit for Martin (67), Theo Watts for Egan (67), Conor Slevin for Lynch (69), Anthony McGivney for McCormack (69).
Longford: Paddy Collum; Barry O'Farrell, Andrew Farrell, Darren Quinn; Colm P. Smyth, Michael Quinn, Daniel Mimnagh; Darren Gallagher (0-01, free), Peter Hanley; Shane Donohoe, Barry McKeon (0-02, frees), Peter Lynn; Liam Connerton, Robbie Smyth (0-01, free), Darragh Doherty.
Subs used: Iarla O'Sullivan for Donohoe (49), Pauric Gill for Hanley (49), Connor Shields for Connerton (67), Mark Hughes for Smyth (67), Nigel Rabbitte for Mimnagh (67), PJ Masterson for Quinn (69).
Referee: Brendan Cawley (Kildare)