Tyrone defender Michael McKernan believes that Dublin are not as far ahead of the competition as people perceive.
Keeping pace with the four-in-a-row All-Ireland champions is a difficult task, he concedes, but they're not the elusive prospect that many consider them to be.
McKernan was at the heart of Tyrone's defence as Dublin collected a fourth consecutive crown last September, with six points separating the sides at the final whistle.
But Mickey Harte's charges provided a stern test when the champions travelled to Healy Park during the Super 8s campaign earlier in the year and that performance gives McKernan hope that the Dubs are still within touching distance.
"They're very calm, they've been there and done it," he says.
"They've experienced it. Hopefully last year's experience will help us. You seen Mayo brought them to a replay and were only a kick of a ball away from beating them so I don't think they're as far as everyone says but it's definitely a tough ask.
"I suppose the main thing about that there is keeping it for 70 minutes. That's very hard to do. Something we can probably improve on is our decision-making in matches.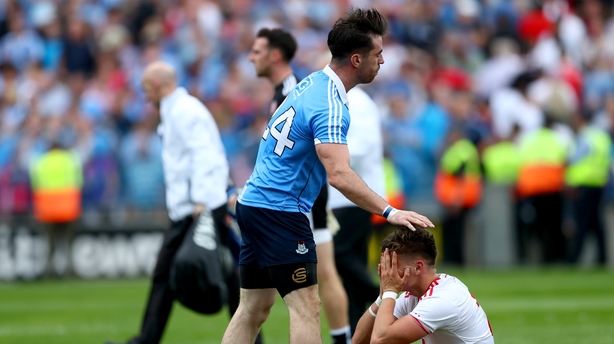 "Maybe in the final we went a few points in the lead and maybe started taking stupid shots. Whereas if we kept chipping away at the points it might have been a different outcome.
"But you can't take anything away from them, they're unbelievable. And they probably are the best team to play Gaelic Football. Fair play to them for what they've done."
Tyrone bridged a 10-year gap when they qualified for last year's All-Ireland SFC final. Naturally, it was a much-changed outfit which included only a few survivors from the 2008 panel that defeated Kerry in that All-Ireland final.
It was Tyrone's third time to lift the Sam Maguire in five years, but the 2018 team were unable to maintain that winning record in All-Ireland finals.
However, McKernan can reflect on the positives of last year where he broke into the starting team and also collected a senior county championship title with his club Coalisland later in the season.
"I hadn't played in Croke Park until this year. And then my third or fourth time playing in it was an All-Ireland Final. It's kind of surreal looking back on it.
"It was a very good experience because I think maybe only Collie Cavanagh and Cathal McCarron who played in the 2008 Final, no-one else had played in one.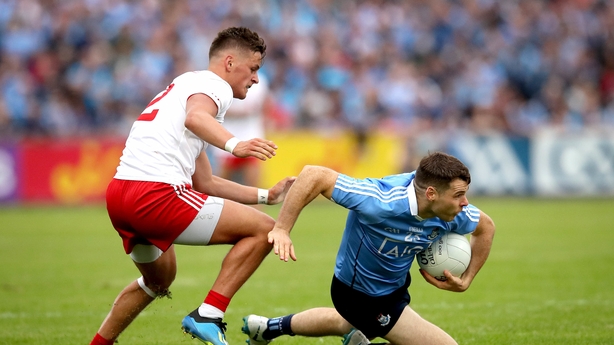 "Even for this year coming it gives us a lot of experience. If we get to that position again we'll know how it feels and how not to be overwhelmed."
Tyrone's 2019 inter-county season is already underway with the Dr McKenna Cup, but for now, McKernan's focus is on his Sigerson Cup commitments to Ulster University Jordanstown. He's sharing accommodation with other inter-county talents and UUJ teammates including Donegal's Eoghan Ban Gallagher, a living environment which he enjoys.
The players share training ideas and diet tips and do their gym work together while also sparing a bit of time to fit in a few rounds of playing Fifa.
They're parking their country rivalries until later in the season and focusing on UUJ's first-round tie in the Sigerson Cup against IT Tralee on 16 January.
"I think it's a very tough competition, because if you're not playing with boys that are on county teams you're playing with boys who are pushing for county teams and are looking to be seen because county managers take interest in it.
"It is a challenge for them boys to be seen so everyone wants to perform at a high level and you still have to perform at a high level at this time of year.
"They know exactly when we're training and we know when they're training. Everyone is basically the same anyway, there's no-one really doing any less or more.
"It's more even the quality of rest too. The rest is very important. So you don't want to be overdoing it either."
Electric Ireland launched the Sigerson, Fitzgibbon and Higher Education Championships today, announcing that Electric Ireland will live stream a selection of Fitzgibbon and Sigerson Cup games, bringing fans closer to the action than ever before.