In a parallel universe Kerry won the 1982 All-Ireland football final.
There Mick O'Dwyer led the greatest team that ever played the game of Gaelic football to the first ever five-in-a-row.
The name Seamus Darby is unknown to the masses of that other world.
One of the small things that went against Kerry on that September day in our world went the other way in the alternate universe.
Maybe Mikey Sheehy scored the penalty, maybe the heavens didn't open and the selectors decided not to put in Darby – two of the five initially wanted another player but the situation called for more experience.
In the alternate universe maybe referee PJ McGrath doesn't award Offaly a free with less than three minutes to play that brings the margin back to two.
"I never bothered asking him [what on Earth he awarded it for]," says Eugene McGee.

What if Eoin Liston had shadowed Pat Fitzgerald instead of rugby tackling him?
What if Darby's marker had been an experienced corner-back?
In the other reality maybe McGrath judges that the nudge was a push in the back. Free out! Game over.
"Looking back it looks like destiny," Seamus Darby tells RTÉ Sport.
Speaking in the RTÉ documentary Players of the Faithful, which will be on RTE One on Friday at 9.30pm, GAA historian Paul Rouse calls it "the greatest one-in-a-row in history".
Therein lies the truth.

True, Kerry were chasing the ultimate prize, an unprecedented five All-Ireland titles in a row.
But Offaly were only chasing one.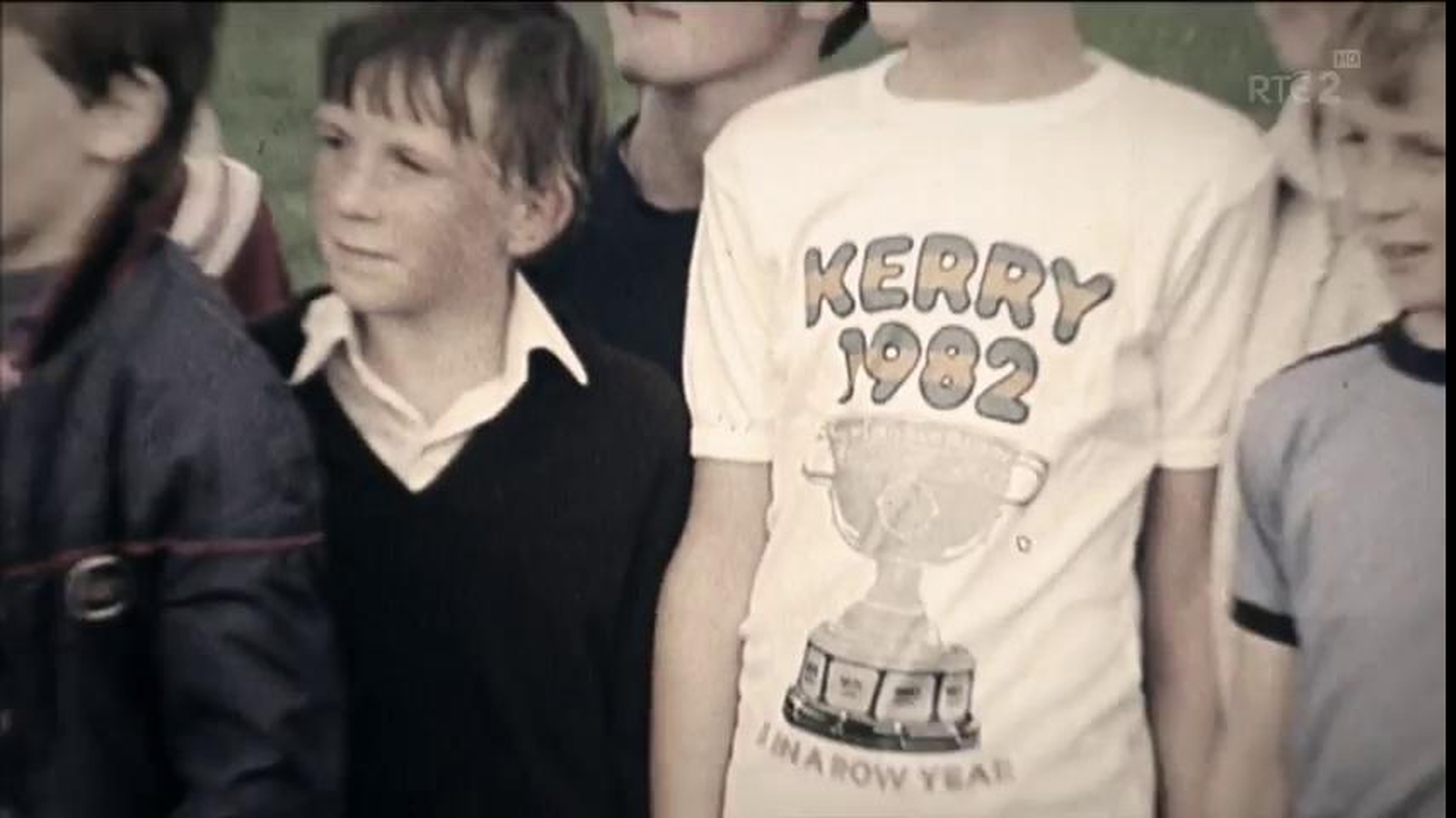 "We never spoke about the five-in-a-row," recalls Darby.
"It didn't play any part in it. I don't think it was even mentioned before we went out in Croke Park on that Sunday.
"Eugene McGee, the manager, said when we were going out, 'today there's going to be history made – either Kerry are going to win five in a row or we're going to stop them'. I'd say that was the very first time it was spoken about.
"We were there to try to win the All-Ireland, it just happened to be Kerry again."
By September the t-shirts had been printed, the records had been pressed and the unstoppable Kerry were coming to loan Sam Maguire to Croke Park for just over an hour before returning to Kingdom as immortals.
"It looked like this would be just a coronation," says McGee.
Kerry's run had included wins over Offaly in a semi-final in 1980 and a final in 1981. They had the measure of the Faithful County.
But the gears in McGee's head were turning.

The Longford native could see progress. The 1980 clash ended 4-15 to 4-10 with Matt O'Connor scoring 2-09 in one of the greatest individual performances ever produced.
McGee: "We only went into that match for the craic because we'd gone so hard to win Leinster."
But it meant Offaly knew how to get at the Kerry defence.
In 1981 Kerry won 1-12 to 0-08.
But, says McGee, "that great forward line got no goal, it was Jack O'Shea. They'd been scoring four or five goals regular against us in League and Championship.
"We knew the gap had narrowed dramatically."
Next step? Combine the two.
Darby is synonymous with 1982, but he had won All-Ireland titles with Offaly in 1971 and '72.

He'd been off the panel for a few years before a good run of form with Rhode saw him recalled ahead of that year's Leinster final where he scored 1-03 against Dublin.
Then he pulled his hamstring before the semi-final, a one-point win over Galway.
He recovered for the final but would start on the bench.
The night before the game, Darby, then living in Edenderry, was pumped up.
"I was restless," he says.
"I knew I wouldn't sleep because I was fairly wound up. I was living next door to Paddy McCormack's pub. It was absolutely mobbed, they were out on the street so I couldn't show my face in there.
"I rang my brother-in-law, Kevin Farrell, Lord have mercy on him, and asked have you anything up there to drink.
"He said I've a brandy but I've nothing to put in it. I said what do you want and he said 7up or whatever, so I got 7up and went up and we drank a couple of brandies and came back and slept like a baby."
Another version has the duo polishing off the bottle. Whatever volume was consumed, the perfect measure had been poured.
The game itself was quite even for the most part, the underdogs leading 0-10 to 0-09 at half-time.
However, with Offaly one point behind Kerry won a penalty. Up stepped a reluctant Sheehy.
"Martin Furlong saved it," said Darby of the strike that was meant to seal the deal.
But Offaly did fall four behind and action was needed.

There was some discussion (but no debate) on the sideline about who to send on with just seven minutes left.
McGee: "It was lashing rain, All-Ireland final, 60,000 people. Darby had won All-Irelands."
The score was 0-16 to 0-12, on came Darby; Connor tapped over a free.
Crucially, he replaced half-forward John Guinan, but was sent up to the front line with instructions to get a goal.
We need your consent to load this rte-player contentWe use rte-player to manage extra content that can set cookies on your device and collect data about your activity. Please review their details and accept them to load the content.Manage Preferences
Maybe it was summit fever, maybe Micko just didn't cop it but Tommy Doyle, who had been marking Guinan, tracked Darby. It turned out to be a fatal error.
McGee summed up the dilemma facing a novice corner-back.
"If you got it wrong, you were bollixed."
Two more Connor frees reeled in the advantage.
Darby: "I knew we needed a goal to win it but I didn't know where it was going to come from.
"But I thought if we got a goal we'd win the match."
Darby also revealed that he realised he was being marked by a man out of his comfort zone.
"That went through my head.
"It also went through my head that he's about six inches taller than me."
With less than two minutes left, Bomber piles in on Pat Fitzgerald, free to Offaly.
And then it happened, the goal of goals, the iconic moment captured in Micheal O'Hehir's famous commentary.
"It looks as if they are winning the way the Offaly men are just diddling and dawdling there. Here they come, this is Liam Connor, the full-back…
"…a high, lobbing, dropping ball…
Darby: "I was watching the ball coming down.
"I actually thought that the goalkeeper Charlie Nelligan was going to fist it out of my hand. From the time the ball was coming in, I was turning and I thought Charlie Nelligan had left the line.
"I was kind of behind Tommy, if I'd got it in front of him I had a problem.
"…in towards the goalmouth…"
"I kind of held him with my hip and it just came into my hands. I had nothing else in my head except go for goal.
"The only thing I did know is that if I turned onto my right foot I was going to be caught because I could see Jack O'Shea and John O'Keeffe had moved in, it had all tightened up on my right."
"...a shot…"
"The only chance I had of getting a shot at it was go with the other one, so that's what I did.
"… and a GOAL, a GOAL, a GOAL FOR OFFALY! There was a goal in the game!"
"I couldn't wait to see the green flag going up. I saw people running in on the field and getting excited but I wanted to make sure the flag was up.
"I couldn't believe that I'd hit the net with it."
The final whistle sounded just ninety seconds later and the world changed, Darby's world changed utterly. 
Everyone wanted a piece of match hero. There were too many late nights and not enough early mornings. His family life and businesses suffered.
Just seven years later he headed for the boat and on to London, "£50 quid in my pocket that I was after getting off someone."
In the RTÉ Radio documentary Seamus Darby and the Goal that made Champions, he admits there were many lonely nights over the seven years spent in England.
"I often lay down in bed and cried my eyes out, thinking of where I was after coming from."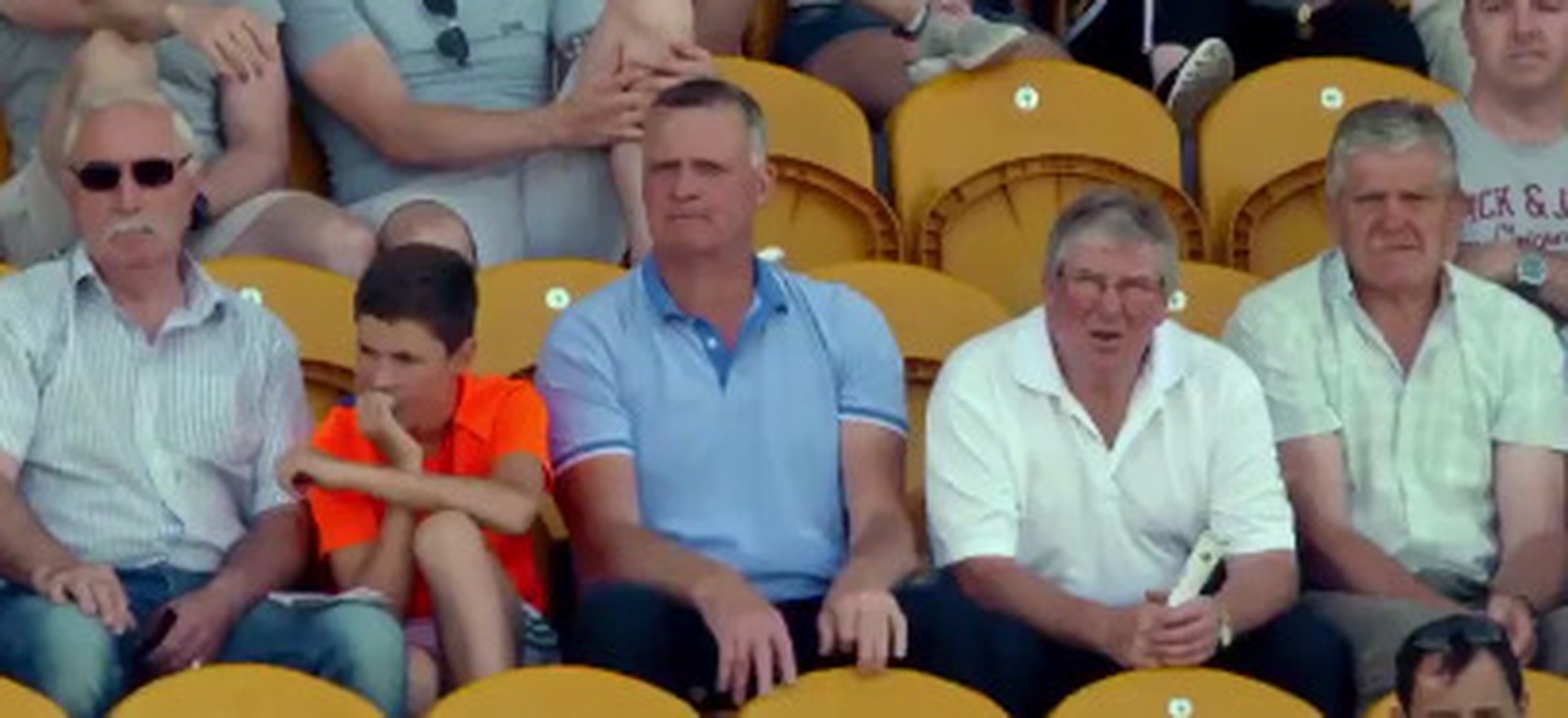 Does he ever think about what would have happened in the parallel universe, if any of the variables had played out differently?
"Yes, I do, pretty often as it happens," says a hale and hearty-looking 67-year-old Darby, sipping a cup of tea in Byrne's pub in Edenderry where a picture of the 1982 squad finds pride of place in the bar, the young men captured moments before the majesty.
"It totally changed my direction in life. It was harder on people that were close to me. It never happened to anyone before, not that people didn't score winning points or goals but this was very unique.
"It was five in a row, we were down four points with four minutes to go against the great Kerry team.
"Very few teams came back from that situation and we did. Of course, it changed my life. I hope it didn't change me too much.
"People often say sure you can never go down to Kerry and if they only knew the truth I can't get out of it.
"I've the pub in Toomevara and I would get Kerry people calling in going to matches, including all the Kerry lads and they've have a pint and a wind-up.
We need your consent to load this rte-player contentWe use rte-player to manage extra content that can set cookies on your device and collect data about your activity. Please review their details and accept them to load the content.Manage Preferences
"I feel very proud, proud to be part of a great team, proud that we'd won the All-Ireland and unfortunately we haven't won one since.
"It's hard to believe it's 36 years later. I still get asked about it every day of my life almost.
"It would be great if someone else took over the mantle. Hopefully that will happen in my time."
That prize is not within Offaly's reach at the moment. As recession took hold of the country, the midlands was one of the areas hardest hit. The climb back up the mountain looks insurmountable.
"There were five sets of brothers on that 1982 team," he says.
"Of the 17 lads on the team that day, 11 of them came out of five houses, which was a unique thing for an All-Ireland final.
"After that times got lean, the country went through a crisis and Bord na Mona, the ESB, Banagher Concrete would have had a big part to play, all nurseries of the GAA in Offaly, hurling and football.
"They all fell away, weren't recruiting anymore and lads had to emigrate. We depended on all the successful businesses that supported the GAA."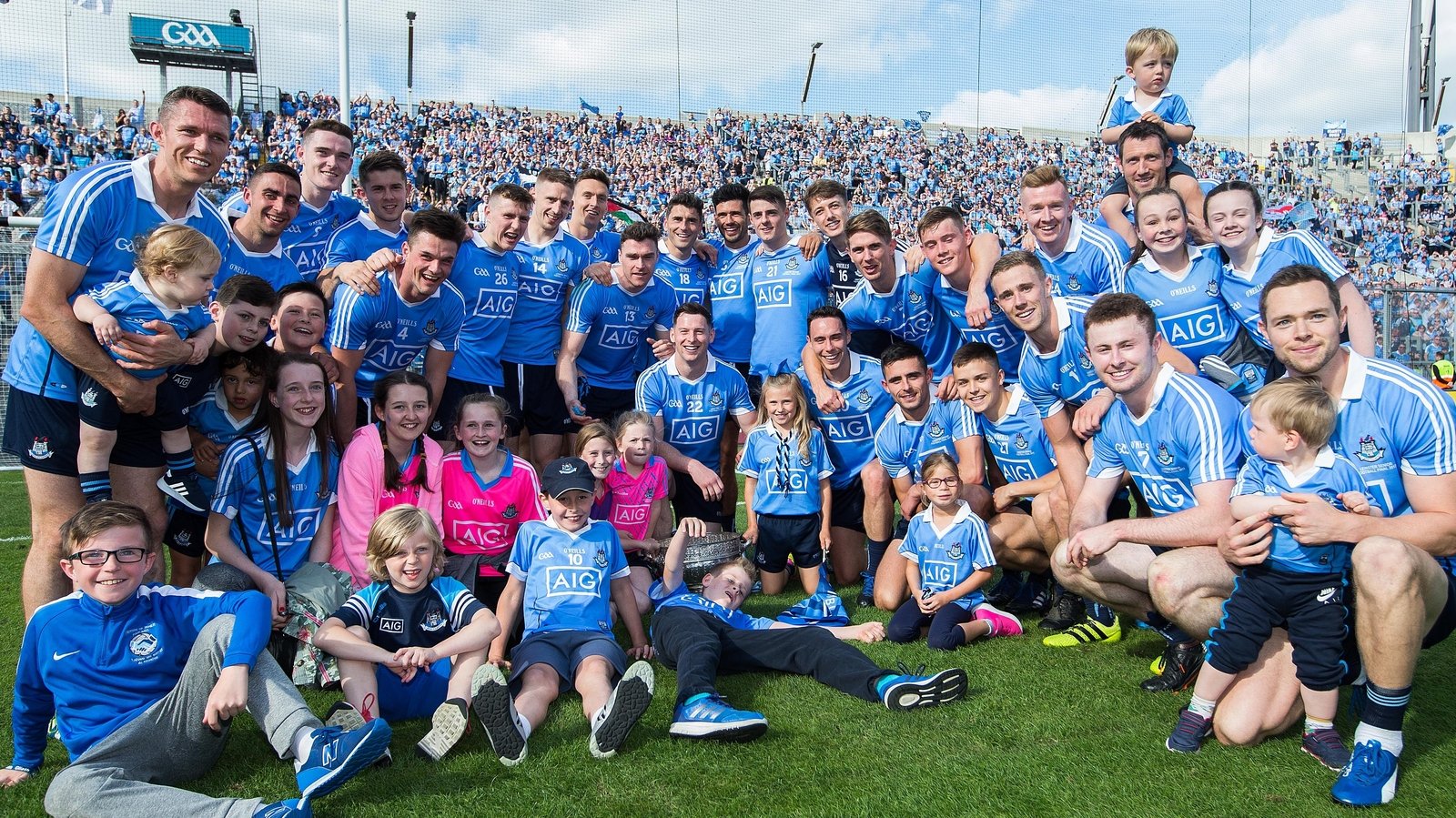 Whatever way they spin it over the next nine months, Dublin are going for the five-in-a-row.
They have won 16 of the 18 trophies they've competed for under Jim Gavin. No-one laid a glove on them last season, they look unstoppable.
Is there another reality, an alternate universe where the Dubs don't do the five-in-a-row.
"If Dublin get over the line it will be somebody else they'll be talking about," says Darby.
"At this moment it's hard to see anyone to come and beat them but Kerry might be on the way back and Mayo if they get it together again.
"I always felt Mayo was one of the teams that could beat them.
"I think the Kerry team are still the best team that ever played. Dublin have very little to play in Leinster at the moment.
"The five-in-a-row is not that easy to do and they are no hotter favourites that Kerry were in 1982.
"In fairness they have taken it to another level, fitness-wise, but if they were playing that Kerry team in the morning, I wouldn't say they'd run away with it."
Watch Players of the Faithul on RTE One and RTE Player at 9.30pm on Friday night.