Carlow forward Paul Broderick has called on the GAA to drop the proposed trial of experimental Gaelic football rules in the Allianz League.
Broderick has played under the new rules in the O'Byrne Cup against Westmeath and Kildare, and in several challenge games.
"I'd love to see the new rules scrapped," the All-Star nominee told RTÉ Sport.
"I've played a handful of games with them now and they're a headache. They're very limiting and I don't think they're working.
"I appreciate what they're trying to do, the game is not a good spectacle, but I don't think they're conducive to changing that."
Broderick feels that the kickout, sideline and sin-bin changes have made little impact but he does welcome the offensive mark, saying: "It could be a positive thing. Kildare scored three or four of them against us last week and if utilised well it gives a great opportunity for your small nippy forward to catch a ball and have a shot. Though it does slow the game down."
He is scathing, however, on the limit of three consecutive handpasses, believing it is having the opposite effect to the stated intention of encouraging attacking play.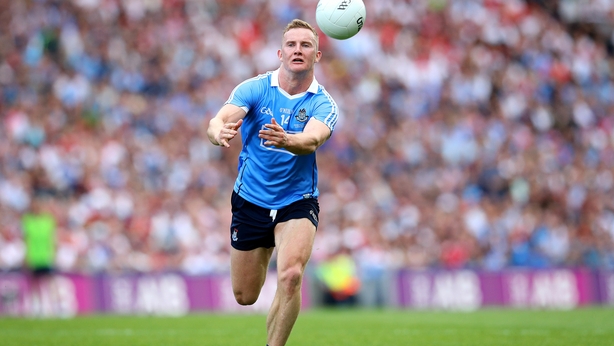 "What is changing the face of the game is the handpass. It's one of the most ridiculous things I've seen in action," said the Tinryland man.
"It is encouraging shorter kicks to get back and reset the handpasses. I know they didn't set out to do that, and you need to trial these things, but it's forcing it and blocking out creativity.
"If you get the second handpass, you're thinking 'If I give another handpass here, I'm putting a lad into a position where he has to kick it'. So you're not giving it in to a tight situation where a fella is coming off the shoulder and might break a line (of defenders).
"I'm just not going to give it to him because if he doesn't get through that gap... He would have been able to roll around and handpass to someone before but now he's not. He either has to kick it or he loses possession and the opposition know that.
"That happens from handpass one and two. It's not just handpass three that you're putting the restriction on, you're changing the way players think from the very beginning when they get the ball."
Broderick is also baffled by the decision to trial the new rules in the League before reverting to the old rules for the Championship.
Carlow want to put a big focus on the League in 2019 after winning promotion to Division 3 but training exclusively under the new rules could leave them at a disadvantage in the summer.
"For us, and probably 20 other teams in the country, if that trial goes into our most important competition of the year, I don't think it's fair," said Broderick.
"Regardless of whether it works out or not, it's not in the Championship. So you have two weeks in May to come back to the old rules, a game you haven't played in six  months.
"It doesn't seem plausible."