The slow-mo opening sequence, with Jason Sherlock walking through the tunnel out on to the Croke Park turf hints at just another sports documentary where a star of yesterday takes us on a sepia-tinted stroll through their best years.
First appearances can be misleading. This is not Wayne Rooney: The Man Behind the Goals.
Jayo is an, at times, uncomfortable watch, as the Darling of the Hill explores his own origin story in search of the peace he feels he should have found by the early years of his fifth decade.
From Finglas to Durban, South Africa via north Cork, Lansdowne Road and Croke Park, Sherlock visits the spot where his estranged father was murdered and meets his half-brother for the first time in this Loosehorse production for RTÉ Sport, which airs at 9.30pm this Sunday on RTÉ One.
If you are wondering why a man who describes himself as "guarded and reserved" has chosen to take such a personal journey in the company of a television crew, you must consider his how he exploded onto the national stage.
The gifted sportsman who had the chance to play basketball in the United States or trial with Liverpool before almost accidentally in 1995 finding himself in the Dublin full-forward line as they won their only All-Ireland of an otherwise barren 28-year spell between 1983 and 2011.
At just 19 years of age and with a mediocre minor career behind him, Sherlock heard his name being chanted from the Hill and the rooftops as Pat O'Neill's men beat Meath, Cork and Tyrone to claim Sam Maguire during the hottest summer in living memory.
Jason Sherlock is comfortable in front of cameras because he grew up in front of them, in that summer of 1995
Chat show appearances, newspaper columns, an RTÉ TV show, a New York Times interview and countless endorsements followed. For a young man who excelled at sport in search of acceptance, he was now living in a dream where he was receiving "positive attention and adulation".
Jason Sherlock is comfortable with the cameras because he grew up in front of them, in that summer of 1995.
Unfortunately for Sherlock and a generation of Dublin footballers, 1995 was an aberration and the forward would toil at the coalface for another 14 seasons with only six Leinster titles to show for his efforts. A pittance compared to the hauls of the young men he has been coaching as part of Jim Gavin's backroom team.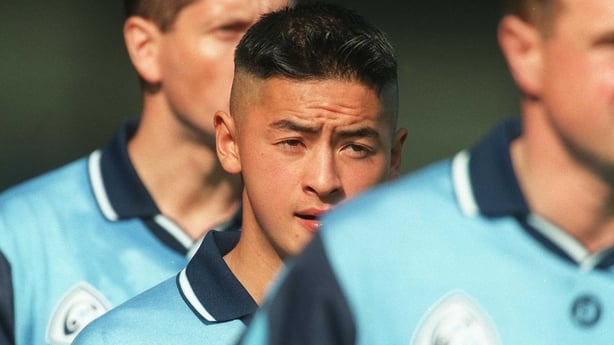 One of the most telling pieces of archive in the documentary is an interview with Tyrone fans ahead of the 1995 final. Dismissive of Sherlock, one of the Red Hand supporters turns his back on the camera to reveal the word 'God' on the back of his jersey.
Dublin could keep their soccer player, in Canavan they trusted.
Canavan would lose that day but finish 1995 as the Championship's top scorer with 1-38. Eight years later he would hoist Sam Maguire above his head and, today, God's place in the pantheon is assured.
Sherlock had that summer followed by an endless Autumn; deified Canavan has eternity in Val Halla.
In the course of this documentary we see footage of Sherlock playing his part as an Under-15 Irish team become the first Irish underage basketball side to beat England. We see him scoring for UCD and hear how Roy Evans invited him to try out at Liverpool before the summer of '95 ignited.
We also learn he was a nifty hurler, playing Under-14 for Ballyhea during summers spent with cousins in Cork, but there is no mention of his football club career - the majority of which was spent with Na Fianna before a late career transfer to St Oliver Plunketts Eoghan Ruadh.
It is a GAA career with an unusual origin story, but then Sherlock himself has spent his life struggling with his own beginning, which is where the real meat of this documentary is to be found.
Reflecting on Pat Gilroy ending his inter-county career in 2010 Sherlock says, "I never gave up on Dublin, Dublin gave up on me", which is poignant but seems rehearsed. When discussing his background and his relationship with his father, Sherlock is raw in the extreme.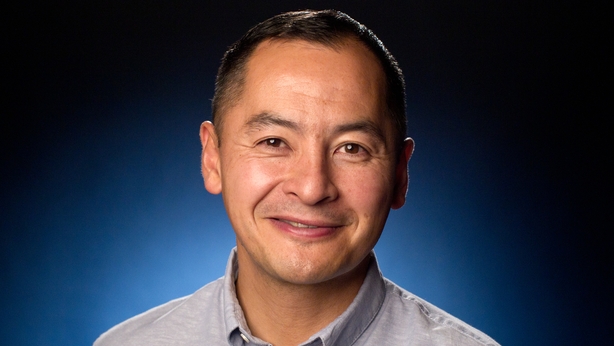 Before Denis Leung left Ireland for South Africa, Sherlock was literally dragged to his father's restaurant off Grafton Street on occasion, where he insisted upon eating fish and chips.
His mother had no relationship with Denis and it seemed the young Sherlock was determined to avoid one too. His father left the country when Sherlock was seven, and in 1995 - in the maelstrom of media attention and hours before a UCD game - he got a call from his uncle Martin telling him his father had been murdered.
"It did not make much impact on me," admits Sherlock, whose motivation for this documentary lies in the "shame" and "guilt" he feels when he thinks of his relationship with his father.
The tragedy of a middle-aged man torturing himself for the actions of a mixed-race seven-year-old struggling for acceptance in 1980s working class Dublin is laid bare at the corner of Beatty Place and Gillespie Street as he fights back tears at the spot where his father ran a takeaway in Durban.
He was going home with the takings when he was robbed at gunpoint and shot dead in 1995.
He meets his half brother Jack, who admits the whole affair is "pretty weird" and tells Sherlock their father ran marathons "for fun". A shared love of physical fitness across the cultural divide.
At the columbaria where his father's ashes reside, Sherlock has his moment of catharsis: "I had a lot of anger towards you, but I realise now that was not your fault," he says to Denis's urn.
"I am sorry you did not get to see Jack and myself grow up," he continues, in a moment of intense honesty.
Earlier in the documentary, we see Sherlock address his Dublin minor football team after their season-ending defeat to Longford with tears in his eyes - encouraging them to succeed in their lives as a whole and not just Gaelic football.
It is a pep talk you sense he regrets not receiving from any of his basketball, GAA or soccer coaches. He admits himself it took him 40 years to discover a career at DCU.
And now, in a South African temple, he finally finds a "sense of calm" by speaking to the father he never knew and never accepted.
The rest of us will always have the Summer of 1995, but Jayo now seems ready to move on with the rest of his life.
Jayo airs on RTÉ One and the RTÉ Player at 9.30pm this Sunday, 30 December.