Mullinalaghta's remarkable progress in the All-Ireland senior club championship has left boss Mickey Graham with a heavy workload over the coming winter and spring.
It is not set to be a vintage winter for the Mullinalaghta manager's work-life balance.
Graham, an Ulster champion with Cavan as a player back in 1997, was appointed manager of his native county in late August.
'Celebrations continue in Mullinalaghta as @gaaleinster final victory sinks in, reports @MartyM_RTE #rtegaa pic.twitter.com/7hAtHbMsy2

— RTÉ GAA (@RTEgaa) December 10, 2018
This would appear to cause some complications over the next while.
By the time Mullinalaghta meet Dr Crokes in the All-Ireland semi-final on 16 February, Cavan will already have three Division 1 games under their belt in the Allianz Football League.
The Mullinalaghta players and supporters, giddy on the high of victory, have been having fun with the issue, quoting Joe Strummer in the process.
The first problem on winning Leinster pic.twitter.com/0dN4ML8dYM

— Longford GAA (@OfficialLDGAA) December 9, 2018
Graham himself appeared on Today with Sean O'Rourke on RTÉ Radio 1 and chortled at the thought of the hectic winter period his over-achieving Longford boys had saddled him with.
"When it comes to Christmas, everyone likes to put the feet up and relax and enjoy it," he said. "Unfortunately, that won't be happening this year for me.
"Because, while Mullinalaghta will be easing off over the next couple of weeks, the inter-county scene is starting to ramp up.
"There's the pre-season competition, the McKenna Cup, and then you're heading into a National League. So, yeah, it's very busy times now for the next while."
"There's probably not enough days in the week but we'll work it," he later elaborated to RTÉ Sport's Marty Morrissey.
"We've good backroom teams, between Mullinalaghta and Cavan, and we'll organise training and make sure we can accommodate both. There'll be no issues there."
Mickey Graham confirms to @MartyM_RTE that he will continue as Mullinalaghta manager for the rest of their All-Ireland club campaign while also managing Cavan #GAA pic.twitter.com/ljC2ph2kVZ

— RTÉ GAA (@RTEgaa) December 10, 2018
The Cavan county board, who engaged his services before the All-Ireland football final was through this year, are chilled on the matter.
Mattie McGleenan departed after two years in charge following Cavan's exit to Tyrone in a third-round qualifier, a plucky performance which nonetheless brought the curtain down on an underwhelming summer.
Cavan turned to ex-player Graham, who'd managed the county's minors at the end of the last decade and led Butlersbridge and Drumalee to junior and intermediate Cavan titles respectively.
He'd also, more to the point, been tearing it up with Mullinalaghta, leading them to a first Longford SFC title in 66 years back in 2016. Back-to-back county titles were achieved in 2017 and they had cause to regret a late capitulation against St Loman's in the Leinster semi-final last November. All this indicated that a Leinster title was within the club's grasp this in 2018.
Cavan Co Board PRO Mark O'Rourke told RTÉ Sport that it was agreed at the outset that Graham would remain with Mullinalaghta as long as they hung around in the 2018-19 club championship.
While it may be a surprise to see the North Longford side go quite this far, there is no discomfort in Cavan GAA circles at the prospect of their new senior manager double jobbing during next year's National League campaign.
"It was always a possibility and it was agreed at the start that Mickey Graham would remain with Mullinalaghta as long as they progressed," O'Rourke said.
"It would have been flagged in the interview process. Mullinalaghta were going for three in a row in Longford and they had come very close in Leinster last year. So, it was always a possibility they could progress."
Graham's workload has a couple of famous precedents.
Two high-profile managers took their first inter-county jobs while leading club teams all the way to the St Patrick's Day deciders in Croke Park.
Both those club campaigns would end in replay defeats to Crossmaglen Rangers, oddly enough. And neither of those counties lumbered with a double-jobbing manager seemed to suffer much from the experience. Quite the contrary.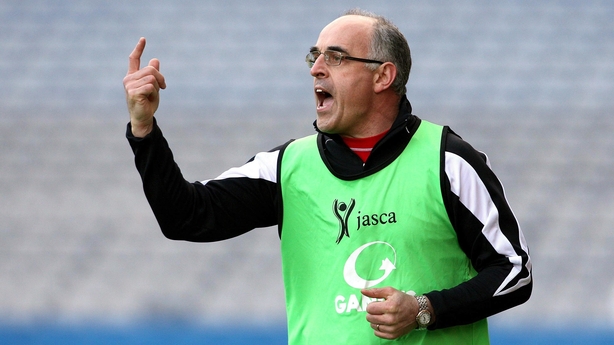 The new Roscommon football manager has been down this road. Anthony Cunningham led the Galway U21 hurlers to the All-Ireland title in 2011 and was promptly appointed Galway senior manager.
At the time, he still had the small matter of Garrycastle's All-Ireland club run to attend to. Cunningham, only known nationally as a hurling man during his playing days, was that rather rare creature, the dual manager.
Before taking the Garrycastle job, he'd led Roscommon kingpins St Brigid's to a Connacht club and three straight county titles in the noughties. Just over the border in Westmeath, he won back-to-back county championships with Garrycastle in 2010 and 2011.
The latter of those led all the way to St Patrick's day as Garrycastle accounted for Dublin's St Brigid's in the 2011 Leinster final and then Cunningham's old club, the Rossie St Brigid's, in the All-Ireland semi-final.
They fell to the Armagh aristocrats with Galway's NHL campaign in full swing. The Tribesmen picked themselves off the canvas, stunning Brian Cody's Kilkenny in July's Leinster final and getting all the way to the September showpiece.
Pat O'Shea, likewise, assumed the Kerry job in late 2006 with his Dr Crokes side pursuing a first All-Ireland club title since the early 90s.
It was Cross who stood in the way at the final hurdle once again. But O'Shea would taste All-Ireland glory later that September.
O'Shea and Cunningham's experience in 2007 and 2012 suggests that an enthusiastic 'double-jobbing' manager is no barrier to success.
"Cavan people are absolutely delighted with the achievement," says O'Rourke. "It's a fantastic achievement by Mickey and all the players. He has a fantastic backroom team in Cavan and we've no issue with him double-jobbing.
"He has been heavily involved with Cavan over the last number of weeks while continuing his work with Mullinalaghta. It's not an issue and knowing Mickey it won't be an issue."