Mullinalaghta's Dan McElligott believes that the club's players have given local children a new generation of heroes to look up to, after their remarkable Leinster club final victory over Kilmacud Crokes.
Mullinalaghta from a half-parish of just 447 in north-east Longford made history when they beat Dublin giants Crokes 1-08 to 1-06 to become the first Longford side to win the AIB Leinster club SFC title.
Mickey Graham's men came into the contest as massive underdogs as the first Longford side ever to contest a final at that level.
They trailed by three points with four minutes of normal time remaining before pulling off a famous smash and grab raid.
David McGivney reduced the deficit to two before Gary Rogers fired home a 59th-minute penalty that put them ahead before Aidan McElligott added an insurance point.
Dan McElligott, who has five sons including Aidan on the triumphant panel, believes that the side have written themselves into history with their exploits.
He told RTÉ Sport: "Santa arrived early and he delivered big in Mullinalaghta.
"It's incredible really, you spend your lifetime listening to other people's fairytales and stories and dreaming that some day it could happen.
"It will take a while for reality to set in, everybody is in dreamland."
Since their heyday of the 40s and 50s, when they won the Leader Cup six times between 1945 and 1951, along with the county championship in 1948 and 1950, it's been slim pickings for the club.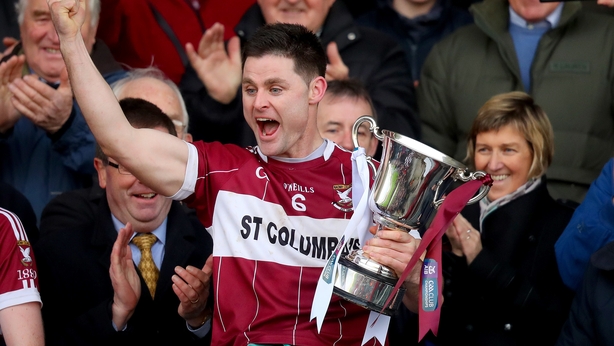 But Sunday's win has surpassed even those achievements and McElligott hopes that it will inspire future generations of players.
"The young lads around here have been reared on stories of the past, the heroic deeds of the past," he said. "It was in the 40s and 50s that success came to Mullinalaghta previously.
"The young people had to go back to that era. It was no different to hearing stories of Fionn Mac Cumhail and Setanta and all those heroes of the past but now all the young people of Mullinalaghta have a new breed of heroes to look up to.
"They're working and walking among them, well there mightn't be too many working today, but they'll just see them every day and their heroes are there in person and that's a massive boost for future generations in the parish."
While Mullinalaghta's success may appear to be overnight to outside observers, McElligott claims that it's been 30 years in the making and pointed to a local story whereby the frustrations of a sixth class schoolboy, who was fed up of suffering defeat after defeat, kick-started the club's revival.
According to McElligott, Brian Buckley's lament of 'if only we could win one bloody match', in the late 1980s, was where the seeds of the club's success were planted.
"It's a well-documented fact that about 30 years ago when they were competing at schoolboy level that following numerous defeats at schoolboy level, one particular schoolboy cried in frustration one day, 'if we could only win one bloody match'.
"So it was probably that outburst that kick-started the formula that set up future generations.
"Numerous lads put their shoulder to the wheel and coached and tutored those lads in the local pitch and just installed belief that with hard work, practice and basic skill that they could be the best that they could be.
"Now that they're Leinster champions, they are the best. So Brian did get his wish and the one bloody match to win yesterday was the Leinster club final."