Mourneabbey are over the novelty of reaching All-Ireland finals.
Indeed, it is an incredible feat to reach this stage of the competition at any grade. But this Cork side are well past the stage of simply appreciating the occasion.
This time they're playing to win.
They've already collected All-Ireland honours at junior and intermediate level, but the senior crown continues to evade them after featuring in three deciders across the last four years.
Their first attempt stretches back to 2014 when they came up against Donegal side Termon, who were also chasing a first senior All-Ireland title at the time. Donegal sharpshooter Geraldine McLaughlin posted 3-8 in that game and brought Mourneabbey's dreams of success to a crashing halt.
That defeat was arguably the easiest one for them to stomach as the All-Ireland final was a new experience to them.
Monaghan's Donaghmoyne were up next in the 2015 decider and their experience edged them over the line to claim their fourth All-Ireland crown at Mourneabbey's expense.
The same opposition stopped Mourneabbey in their tracks at the semi-final stage the following year before Carnacon overpowered them in last year's All-Ireland final in Parnell Park.
As Mourneabbey defender Eimear Meaney puts it, it's time to put things right.
"I was saying I was talking to some of the girls and it's their first All-Ireland up here. Obviously our first year was massive as well, and it was a great honour to get to the final. I think we've gotten over the honour at this stage.
"We just want to win the All-Ireland, to put it plainly. At the start of the year we came back, obviously you have to win the county and Munster to get here, but our goal wasn't to win the county or win the Munster, we are going for that illusive title. This is our fifth year running."
That last defeat to Carnacon could well have broken their resolve. They could have succumbed to the realisation that this simply was not for them but they have returned to the well once more. All other life goals have been put on ice while this mission remains uncompleted.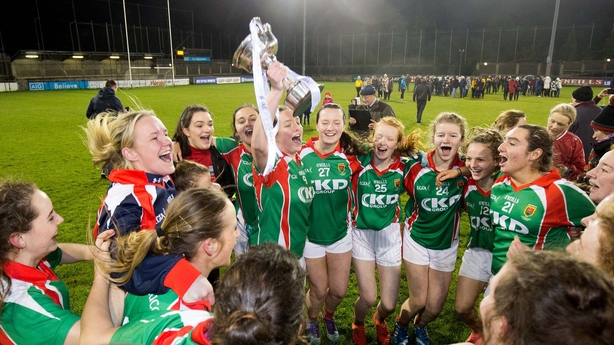 There is a strong sense of unity in this Mourneabbey side, with Emma Coakley being the only player missing from last year's panel as she is currently teaching in Dubai.
"I think it's just wanting to win so badly, it's really hard coming out of it last year," Meaney explains.
"It was devastating, we were all heartbroken, but I think that this is exactly where we want to get back to. If we could have fast-forwarded in time that day last year to next Saturday, I think we all would have and turned around and played the match again.
"It's exactly where we wanted to be. I suppose it's very easy for me, I'm only 21, it was never...I wasn't going to be hanging up my boots, hopefully I have a long career of me.
"But some of the older girls, some of the girls wanted to go travelling, it was a lot more difficult for them, they make such massive sacrifices, they are extremely dedicated.
"I think when you see them, and even Shane Ronayne, it was his fifth year and when you see all of the management wanting to get back involved again, that club, the support that we have, five years running and we've lost three All-Irelands in four years and they still come out and support us the length and breath of the country. That's what spurs everybody on."
Foxrock-Cabinteely contested the 2016 All-Ireland final and Mourneabbey will be acutely aware of the challenge they pose. This Dublin side are far from newcomers to the biggest stage in club football.
They will also have the added incentive of wanting to avenge last year's All-Ireland semi-final defeat to Mourneabbey, as they prepare to do battle in Parnell Park which is practically home soil for them.
Mourneabbey manager Shane Ronayne revealed earlier this week that their club comes from a small townland in Cork. There's no shops around, and their major landmarks come in the form of two pubs and two churches.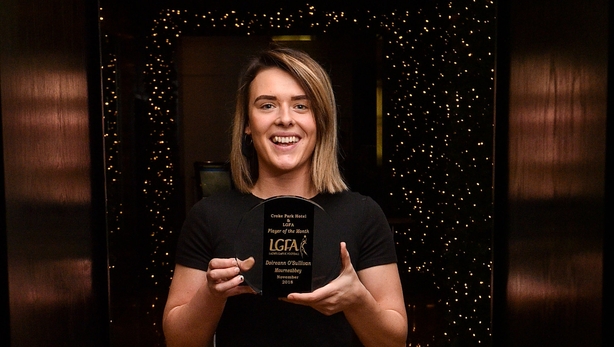 But they have harnessed huge potential from their locality, with O'Sullivan sisters Doireann and Ciara leading the charge back to another All-Ireland final. They hit 0-11 between them in their All-Ireland semi-final win over Kilkerrin-Clonberne.
They're over the honour of getting to this stage of the championship and this time, they're here to win.
"I don't think there is words to describe or explain exactly what it could mean. I suppose I've been lucky that I've played in a lot of teams between county and college and stuff, even with my school I've been successful but I don't think I've ever wanted something as bad. I think I can say that collectively from the team.
"We have players who have eight, nine All-Irelands with Cork and massive...they've won the junior and intermediate, but I just don't think you can put into words how much every player on that panel wants to win on Saturday.
"And I suppose that's coming in from the other years as well. It's that hunger that's been built from that heartache and disappointment.
"You have to bottle that and take the positive from it. There is not much positives from it but you have to...I don't think I'll ever forget those matches and the hurt we felt in those.
"I'll definitely be thinking of that on Saturday when I feel my legs can't go any longer, I don't want to be coming off that pitch the same."