Dublin GAA chief executive John Costello has taken a sarcastic swipe at critics of the county's footballers, making a thinly veiled suggestion that Jim Gavin would get more praise of he behaved like Jurgen Klopp or Jose Mourinho.
In last year's annual report Costello accused some commentators of indulging in "the Cult of Me...  have a go at the Dubs, then sit back, get invited as a paid guest onto various radio shows etc - kerching, cha-ching, cha-ching, kerching!"
This year, he's taken umbrage at accusations that the All-Ireland champions lack personality, and mechanically churn out success with seemingly little emotion.
"Some of the commentary on our senior footballers and management was eye-catching and I think it would be remiss of me not to let it pass unchallenged," Costello said. 
"Words such as 'robots, 'automatons', 'emotionless' were used by a small group of commentators to describe our management and players on several occasions this summer.
"Concerned by this matter we undertook an examination of the sum of the parts of all involved and [are] glad to report that no microchips, levers, wires, transistors, relays etc were discovered! However, I can exclusively reveal that Paul Mannion and Jack McCaffrey do have a sixth gear!
"On a more serious note, I am not sure what purpose this fulfils for some commentators. When we were less successful, we were ridiculed for being too showy etc - now it's the opposite."
In an apparent reference to Liverpool manager Klopp and Manchester United boss Moruinho, he added:  "Perhaps Jim Gavin should run up and down the sideline during games, gesturing to the crowd or throwing water bottles around to show his 'passion', or a senior ranking county board official should run to Hill 16 after some victory and their their tie into the famous terrace."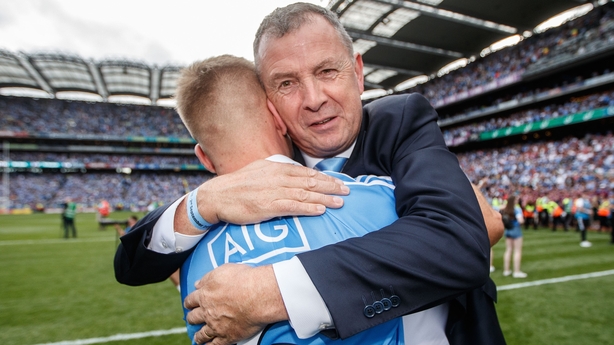 Costello also described claims that the Dubs' success has come off the back of healthy funding as "alt-history".  
"The subject of Dublin's games development grants is another crude device used by some to try and devalue the achievements of Dublin's senior footballers this decade, those who want to engage in some alt-history of this decade.
"To draw a simple straight line, some linear equation, directly connecting this investment at nursery/juvenile level and the success of Dublin's senior footballers years later is inaccurate.
"I have read articles using the figures of adult players in the capital to suggest that the grants have been invested in our adult games and indeed directly towards our senior footballers and hurlers.
"This is untrue and at best is mischievous. We all learned to join the dots in the early years of primary school but we didn't all make it to the status of artists like Jack B Yeats!"