Clontarf always believed it was their time whenever they booked a place in the Dublin county final.
But as they soon discovered, confidence wasn't going to be enough to get them over the line.
A combination of injuries and poor decision-making condemned them to defeat in four out of the five finals they contested, and they would have to wait until the 2018 decider before overcoming that hurdle.
Current team captain Sarah Murphy was one of the younger players on the panel when they started out on that journey, and is now among the more seasoned members of the team.
She was absent for one of the finals as she was in Thailand at the time, and was unable to get back to Ireland despite getting offers from the club to help fly her home.
But she was there when they finally made the breakthrough and defeated Cuala in this year's final.
And after all the previous heartache, Clontarf have been rewarded with a place in the All-Ireland Ladies Intermediate Club final where they will take on Monaghan and Ulster champions Emmet Óg.
"How we got through it was, we couldn't lose another one," says Murphy when reflecting on those county final defeats.
"And then, we lost another one. And then next year, we couldn't lose again because we were the stronger team and the teams we've played, we've beaten many times before.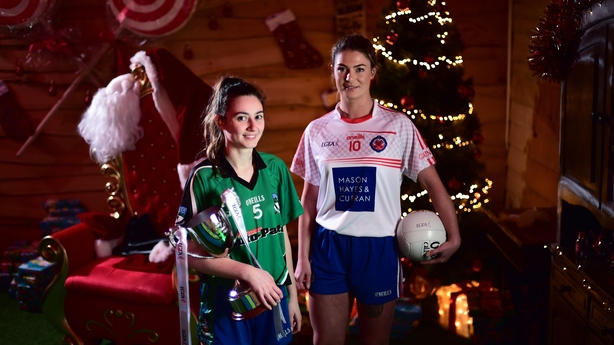 "There's a lot of girls who have come in from the country and other Dublin clubs when their clubs have folded. We have a lot of great girls my age and younger who have come through and given us a boost.
"Sometimes you just have to shake each other - we're just so lucky to have all these girls. No one's like, 'Oh, I should be there in front of her.' The thing is, everyone is so good. If you're on the bench, you can't complain. Who are you going to step in for? Everyone is so unbelievable and everyone wants to be on that pitch."
Clontarf will go into Saturday's All-Ireland final without the services of Sarah McCaffrey, who is currently away travelling in New Zealand.
She who was one of Dublin's star performers in their 2017 All-Ireland triumph over Mayo, scoring two crucial goals after she was sprung from the bench in the second half of the tie. Mick Bohan's side stormed to victory in Croke Park that day to claim the Brendan Martin Cup for the first time since 2010.
Murphy and McCaffrey have always been close and the pair have been in regular contact throughout the season as Clontarf were progressing through the county, provincial and All-Ireland stages.
"She would have been our best player and a good friend of mine so it's a tough one," she said.
"Her Dad [Noel] would have been with us last year and everyone thought he was going to get us over the line because he's such a good coach. He just had us running like there was no tomorrow and we put it up to all the senior teams.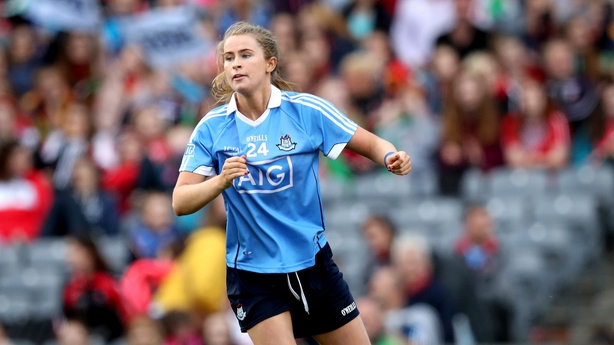 "Not having her this year is sort of bittersweet. That's how I feel so I can't imagine how she feels.
"She has been in touch with me but I think the time difference over there is so massive. Some of the girls would know her but not as much [as I would].
"She would have went in May. So some of them wouldn't have got to know her as well as myself. I try to keep her in the loop but also, I don't want to be like, 'We won again!' Just to let her know that I'm still thinking of her."
McCaffrey's absence is a blow no doubt, but Clontarf are also benefiting from having Ireland rugby legend Fiona Coghlan in their squad.
Coghlan captained Ireland to a famous Grand Slam title in 2013 and called time on her career the following year with an impressive 85 caps for her country.
She's bringing all her experience on the international stage to their set-up.
"She's great and this year she's stepped into a sort of management [role]," says Murphy. "When you hear her voice, you're gonna get to the line, she's brilliant.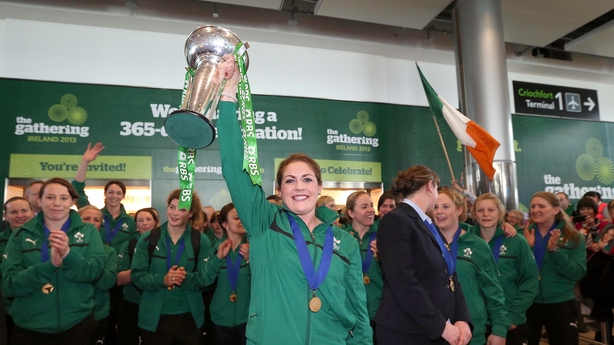 "She's such an inspiration for the younger girls and young girls like to talk, but when Fiona's around you don't talk. I would be there saying 'be quiet' but sometimes they don't listen to you," she jokes.
Clontarf's mantra for their All-Ireland final is to focus on themselves rather than stress about the movements of their opponents.
Emmet Óg have their own targets to reach and are looking to emulate Emyvale's achievement and add another Monaghan club name to the list of All-Ireland intermediate winners.
But that's their business. Clontarf are zeroing in on their own preparations and drawing on the confidence they have always been blessed with in their search for All-Ireland glory.
Murphy explained: "People were asking, 'What do we know about them?'
"From my point view, I don't know about anyone else, just for my own sake - it didn't go across the whole team - I don't want to know about the other team. I'm so confident in my team and our ability to just go out and play our own game."
All-Ireland Ladies Intermediate Club Final
Saturday 8 December - Clontarf (Dublin) v Emmet Óg (Monaghan); Parnell Park, Donnycarney, Dublin, 7.30pm.