It's up to other counties to bring a motion to Congress to decide if Dublin should be afforded two games at Croke Park in the 'Super 8s', according to the GAA's head of games administration Feargal McGill.
This year the All-Ireland champions enjoyed two games at GAA headquarters at the quarter-finals stage, something that as it stands won't change for the 2019 season, assuming the All-Ireland champions advance to the last eight.
Many are critical of the fact that the other seven teams involved are forced to travel twice at the same stage.
McGill suspects there is an appetite out there for change, but says it isn't within the remit of the Competitions Control Committee (CCC) to bring about change.
"Ultimately, that's up to counties if they want to bring a motion and there may well be interest out there, I suspect there is in bringing a motion to consider that Croke Park shouldn't be used essentially for Dublin quarter-finals as a neutral venue," he told RTÉ Sport.
"I don't think it was for CCC to make that call. The CCC for instance consider for All-Ireland semi-finals that Dublin, in Croke Park, is a neutral venue.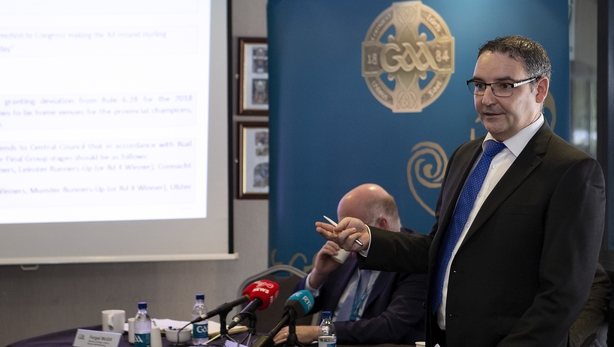 "If the broader association in Congress want to make that decision that for quarter-finals, it shouldn't be considered a neutral venue then that's fine, we'll work with that. But it's something we felt was a matter for Congress and not for CCC."
Earlier this year the Donegal County Board sought clarity on the issue to ensure what they insisted at the time "a level playing field for every team at the All-Ireland quarter-final group stage and to seek clarification on how any county may use a ground as both neutral and home venue".
McGill says the ball remains in the court of county boards. 
"I sat down with Donegal [over the summer], myself and the Director General sat down with them at the time and we explained to them that it would be a matter for Congress and to bring a motion," he explained.
"So it's a question for them for if they're going to or not. I suspect they may. I don't know."