Eleven-time All-Ireland football winner Briege Corkery is set to make dramatic return this weekend as she is named to captain the Munster team competing in the annual Interprovincial tournament.
Corkery last lined out for Cork in the 2016 All-Ireland final when they defeated Dublin in Croke Park and has been absent from the inter-county game since then.
While she did return to the Cork camogie side earlier this year on the way to retaining their All-Ireland crown, the dual star has yet to come back to line out for Ephie Fitzgerald's charges, having amassed 18 All-Ireland medals in total across the two codes.
Corkery's last time to play Interprovincial Football was back in 2013 and the 10-time All-Star is set to make her return to that competition as Munster look to wrangle the cup off the current holders Ulster.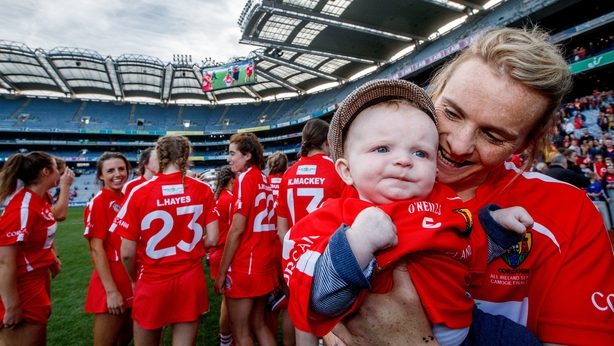 All four provinces have unveiled their squads for the tournament, with All-Ireland winners Lyndsey Davey and Carla Rowe Dublin's two representatives on the Leinster panel. Davey, who has been nominated for the 2018 TG4 Senior Players' Player of the Year award, will lead out the side as captain.

All-Ireland finalists Cork have 10 representatives in the Munster squad including Corkery while seven Mayo players are included in the Connacht pack along with 12 from Galway, including Tracey Leonard who will captain the province.

All-Ireland semi-finalists Donegal have three players listed in the Ulster team for the tournament which will be held on Saturday at the WIT Sports Campus.

The action gets underway at 11am, with the Interprovincial and Shield Finals pencilled in for 3.30pm.

Full Squads:

Connacht

1. Helena Cummins (Roscommon) 2. Fabienne Cooney (Galway) 3. Amanda McLoone (Roscommon 4. Sinéad Burke (Galway) 5. Rachel Kearns (Mayo) 6. Lauren Boles (Sligo) 7. Kathryn Sullivan (Mayo) 8. Áine McDonagh (Galway) 9. Noirín Moran (Mayo) 10. Joanne Cregg (Roscommon) 11. Tracey Leonard (Galway) 12. Fiona Doherty (Mayo) 13. Katie Walsh Tourlestrane (Sligo) 14. Róisín Leonard (Galway) 15. Grace Kelly (Mayo) 16. Laura Brennan (Mayo) 17. Sinéad Cafferky (Mayo) 18. Eilise Codd (Sligo) 19. Leanne Coen (Galway) 20. Catríona Cormican (Galway) 21 Olivia Divilly (Galway) 22 Laura Fleming (Roscommon) 23 Alice Kelly Kilbride (Roscommon) 24 Sinéad Kenny (Roscommon) 25 Laura Ann Laffey (Sligo) 26 Sarah Lynch (Galway) 27 Clodagh McManamon (Mayo) 28 Bronagh Quinn (Galway) 29 Emma Reaney (Galway) 30 Mairéad Seoighe (Galway)

Leinster

1. Mary Rose Kelly (Wexford) 2. Nicole Feery (Westmeath) 3. Marie Byrne (Wexford) 4. Trina Duggan (Kildare) 5. Lorna Fusciardi (Wicklow) 6. Fiona Claffey (Westmeath) 7. Laura Nerney (Laois) 8. Maud Ann Foley (Westmeath) 9. Bernie Breen (Wexford) 10. Carla Rowe (Dublin) 11. Lyndsey Davey (Dublin) 12. Erone Fitzpatrick (Laois) 13. Mairéad Daly (Offaly) 14. Jackie Kinch (Wicklow) 15. Lucy McCartan (Westmeath) 16. Rebecca McGuirk (Kildare) 17. Fiona Coyle (Westmeath) 18. Jennifer Rogers (Westmeath) 19. Rachel Dillon (Westmeath) 20. Amy Horan (Kildare) 21. Siobhán O'Sullivan (Kildare) 22. Sarah Hogan (Wicklow) 23. Sarah Miley (Wicklow) 24. Caoimhe Simms (Laois) 25. Eva Galvin (Laois) 26. Ellen Dowling (Kildare) 27. Vicky Wall (Meath) 28. Grace Clifford (Kildare) 29. Rebecca Carr (Louth) 30. Nessa Dooley (Kildare)

Munster

1. Martina O'Brien (Cork) 2. Megan Dunford (Waterford) 3. Aislinn Desmond (Kerry) 4. Shauna Kelly Araglen (Cork) 5. Ashling Hutchings (Cork) 6. Karen McGrath (Waterford) 7. Emma Murray (Waterford) 8. Briege Corkery (Cork) 9. Niamh Cotter (Cork) 10. Áine O'Sullivan (Cork) 11. Louise Ní Mhuircheartaigh (Kerry) 12. Libby Coppinger (Cork) 13. Sarah Houlihan (Kerry) 14. Hannah O'Donoghue (Kerry) 15. Hannah Looney (Cork) 16. Lauren Fitzpatrick (Tipperary 17. Caoimhe McGrath (Waterford) 18. Kate McGrath (Waterford) 19. Emma Dineen (Kerry) 20. Niamh Ryan (Limerick) 21. Katie Murray (Waterford) 22. Michelle Ryan (Waterford) 23. Fiadhna Tangney Beaufort Kerry 24. Michelle McGrath (Waterford) 25. Melissa Duggan (Cork) 26. Aishling Moloney (Tipperary) 27. Orlagh Farmer (Cork) 28. Laurie Ryan (Clare) 29. Aoife Murray (Waterford) 30. Aileen Wall (Waterford)

Ulster

1. Linda Martin (Monaghan) 2. Josie Fitzpatrick (Monaghan) 3. Nicole McLaughlin (Donegal) 4. Emer Gallagher (Donegal) 5. Gráinne McNally (Monaghan) 6. Sharon Courtney (Monaghan) 7. Emma Brennan (Tyrone) 8. Neamh Woods (Tyrone) 9. Katy Herron (Donegal) 10. Niamh Hughes (Tyrone) 11. Caroline O'Hanlon (Armagh) 12. Cora Courtney (Monaghan) 13. Aishling Sheridan (Cavan) 14. Gemma Begley (Tyrone) 15. Kelly Mallon (Armagh) 16. Shannon Lynch (Tyrone) 17. Marian McGuinness (Armagh) 18. Donna English (Cavan) 19. Slaine McCarroll (Tyrone) 20. Mona Sheridan (Cavan) 21. Niamh McGirr (Tyrone) 22. Clodagh McCambridge (Armagh) 23. Emma Jane Gervin (Tyrone) 24. Laoise Duffy (Down) 25. Chloe McCaffery (Tyrone) 26. Jess Foy (Down) 27. Niamh O'Neill (Tyrone) 28. Gráinne Rafferty (Tyrone) 29. Cathriona McConnell (Monaghan)