Armagh's All-Ireland winning manager Joe Kernan can't envisage a compensation system for GAA clubs who lose players to Australian Rules.
Red Óg Murphy from Sligo became the latest Irish recruit to make the move Down Under, when signing a Category B rookie contract with North Melbourne.
As things stand, the number of Irishmen contracted to AFL clubs is 14
7th player signed on the off season from Ireland. it's great opportunity for lads and don't blame them one bit but what a kick in the hole for clubs who've brought them through and given them everything.Counties too.Aussies just pick and leave.charge them.https://t.co/pF7w0IyAV6

— Tomás Ó Sé (@tomas5ky) October 30, 2018
Recently, former Kerry star Tomás Ó Sé, while accepting that a move Down Under is a "great opportunity" for some, added on Twitter that clubs at home should get some recompense for having their talent poached.   
Straight to club. Transfer markets??? Hardly. They are two different sports. We are amateur for god sake. Under Gaa supervision they should be made pay a contribution yes. God sake amount of clubs struggling financially and these fellas swan in and out poaching. Disgraceful

— Tomás Ó Sé (@tomas5ky) October 30, 2018
Kernan's shares Ó Sé's view on the prospect that some will realise their dream of making a living out of playing sport, but simply can't see any compensatory system in place once a player departs these shores.
Speaking at the launch of Trócaire's Christmas 'Gifts of Love' range, the Armagh native said: "I wouldn't be thinking of going down that road of compensation."
"We're not professional and even though we put a lot of time into it, I suppose we don't want to see anyone going away or the good players we have leaving, but these boys are amateurs and we're always going to be amateurs. If they can go out and do something out in a different country and make a living for themselves who are we to say no?"
"I would just hope that, one, they wouldn't go and that would solve all the problems. But if they do go we have to support them and wish them luck and hopefully they stay safe."
On the idea of player welfare, Kernan added: "The unfortunate thing is it is (Aussie Rules) very physical and a lot of the boys that come back either retire early with injury or when they come back they're never the same. That's the only worry that I would have or the biggest worry."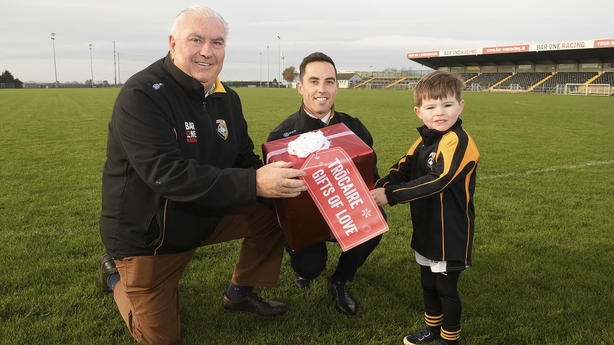 Back to matters at home, Kernan's club Crossmaglen Rangers take on Gweedore from Donegal in Sunday's Ulster SFC club semi-final as they continue their pursuit of a first Ulster crown since 2015. 
Under 'Big Joe', Crossmaglen won three provincial titles, though not surprisingly he is not letting past success cloud any thoughts as to how the encounter in Omagh will go.
"There'll be nobody here talking about Ulster finals or All-Irelands – it's just the next match. Gweedore have come through a tough Donegal championship, so they'll be looking forward to it. We met them a few years ago and we had a win over them so they'll be wanting to turn that around. For Cross, we know we can play better and we just hope we do." 
Joe Kernan was speaking to launch Trócaire's 'Gifts of Love' Christmas campaign. Last year, people across the island of Ireland bought more than €765,000 worth of Trócaire gifts, which helped over 27,000 families throughout the developing world. To find out more visit www.trocaire.org/gifts