St. Joseph's Miltown Malbay 2-11 The Nire 0-09
St. Joseph's Miltown Malbay have qualified for their first ever Munster club senior football final after an emphatic eight point victory over The Nire at Fraher Field.
The Clare Champions deservedly led by four points at the break but it was second half goals from Cormac Murray and substitute Sean Malone that confirmed their passage to the final.
While Tom Barron had the opening score of the game with a point it was the wind-assisted Clare champions St. Joseph's Miltown Malbay who dominated the opening period.
Conor Cleary and Oisin Looney controlled proceedings around centre-field with half-backs Gordon Kelly and Colin Hehir roaming forward at every opportunity causing all sorts of problems for a leaden footed Nire side.
Eoin Cleary converted two frees with Kieran Malone and Colin Hehir also bisecting the posts to give Milton Malbay a clear advantage, 0-4 to 0-1 after 10 minutes.
Conor Glesson who had an early goal chance well saved by goalkeeper Sean O'Brien finally got on the scoresheet with a well taken point to add to white flaggers from Shane Ryan and Jamie Barron to level the game by the 19th minute.
Miltown Malbay upped the pace considerably and hit five points in succession before the break with a single point from Conor Glesson coming back in reply.
Having hit eight wides the Clare men should have had better reward for their dominance, leading 0-9 to 0-5 at half-time.
The crucial opening goal arrived after 40 minutes when a long ball from the outstanding Conor Cleary was seized on by Cormac Murray after his marker slipped and the corner forward blasted the ball to net, 1-10 to 0-7.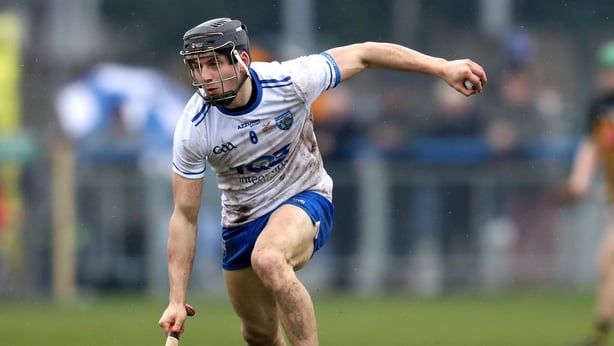 The Nire tried to get back into the tie with Jamie Barron scoring two good second half points but the goal they needed never arrived.
Jamie Barron the former All-Star hurler came closest after 48 minutes when his rising shot was tipped over by goalkeeper Sean O'Brien while his brother Tom Barron had a strong claim for a penalty turned down by referee Padraig O'Sullivan.
With just 10 minutes remaining substitute Sean Malone had a second Miltown Malbay goal when he connected with a loose ball in front of The Nire goal with his ground strike easily beating a wrong footed Diarmuid Murphy, 2-10 to 0-9.
With Brian Curtin providing extra cover, sweeping in front of his full-back line the Clare winners always looked in control.
Eoin Cleary landed a free in injury time for St Joseph's to confirm a famous victory with a date versus Kerry champions Dr. Crokes in two weeks' time.
St Joseph's Miltown Malbay: Sean O'Brien; Aidan McGuane, Enda O'Gorman, Eoin O'Brien; Colin Hehir (0-2), Gordon Kelly, Jamesie O'Connor, Oisin Looney (0-1), Conor Cleary (0-1), Eoin Curtin (0-1), Brian Curtin, Kieran Malone (0-2); Eoin Cleary (0-3f), Darragh McDonagh (), Cormac Murray (1-1).
Subs: Sean Malone (1-0) for Darragh McDonagh (47m), Euan Reidy for Jamesie O'Connor (53m), Graham Kelly for Eoin Curtin (56m), Micheal Murray for Oisin Looney (61m).
The Nire: Diarmuid Murphy, David Meehan, Thomas O'Gorman, Michel Moore, Tom Barron (0-1), James McGrath, Darren Guiry, Tholom Guiry, Craig Guiry, Jamie Barron (0-3), Dylan Guiry (0-1), Shane O'Meara, Shane Ryan (0-1f), Conor Gleeson (0-2, 0-1f), Shane Walsh (0-1).
Subs: Dermot Ryan for Tholm Guiry (37m), Conal Mulcahy for David Meehan (46m), Ciaran Walsh for Shane O'Meara (56m
Referee: Padraig O'Sullivan (Kerry).