Moorefield 1-11 Portlaoise 1-14
There will be new Leinster Champions in 2018 after Portlaoise got the better of Moorefield in a pulsating Leinster Football semi-final.
Paul Cahillane was the star for the victors as his seven points helped Portlaoise make up for defeat to Moorefield a year previous.
Portlaoise laid the platform for the victory in a clinical first half where a Craig Rogers goal pushed them into a 1-8 to 0-4 lead.
Moorefield battled back bravely in the second half but they left themselves too much to do and they fell up short as a result.
The contest began in awful conditions as the rain bucketed down ensuring that ball handling was going to be at a virtue.
Portlaoise did make all the early running and were on the board in the opening minute as Paul Cahillane kicked beautifully between the posts on the turn from a Conor Boyle ball down the line.
Cahillane then doubled the lead minutes later with a well taken free as Portlaoise went 0-2 to 0-0 in front.
Moorefield opened their account in the 5th minute with a Eddie Heavey score but Portlaoise hit back in kind with frees from Cahillane and Craig Rogers.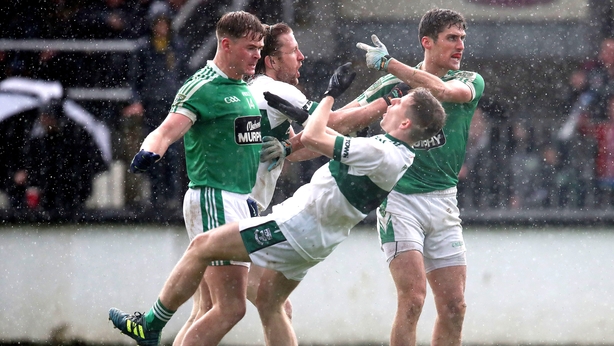 Moorefield had a chance to equalise when the experienced Ronan Sweeney broke away from the Portlaoise cover but his goal-bound effort was well saved by Graham Brody before Niall Hurley Lynch kicked the rebound over the bar.
The miss was felt even more when three minutes later Moorefield goalkeeper Tom Corley poorly punched a ball inside his square and Craig Rogers was there to kick the ball into an empty net.
Adam Tyrrell steadied the ship with a free for the defending Leinster champions in response but it was only brief as Portlaoise kicked three points on the bounce courtesy of Rogers, Kieran Lillis and Ricky Maher.
The half ended with both sides exchanging points with a Tyrrell free cancelled out by Cahillane as Portlaoise went into the break with a 1-8 to 0-4 advantage.
Moorefield looked in big trouble but they had a whirlwind start to the second period as Ronan Sweeney scored a point before the net was rattling moments later as a fairly routine Eddie Heavey effort looked to be going into the hands of Graham Brody but he mishandled it and Niall Hurley Lynch was there to fist home.
Portlaoise weren't overly fussed and even though the lead was back to within a kick of the ball, Portlaoise responded with three points on the bounce with scores from Cahillane and Brian McCormack.
Moorefield then kicked over four of the next five points as they reduced the lead to just three as Sweeney, Heavey and Eanna O'Connor all found the target.
The game was set for a frantic finale after Cahillane and O'Connor exchanged points to leave Portlaoise 1-13 to 1-10 in front and they could have wrapped the game up when sub Scott Lawless had a shot well saved which Gareth Dillion knocked over on the rebound.
O'Connor kicked Moorefield back to within three points in stoppage time but no matter what they tried they couldn't force a goal as Portlaoise held on for a three point victory.
Portlaoise: Graham Brody; Frank Flanagan, David Seale, Chris Finn, Colin Finn, Cahir Healy, David Hollan, Ciaran McEvoy, Conor Boyle, Craig Rogers (1-02, 0-01f), Kieran Lillis (0-01), Gareth Dillon (0-01) Paul Cahillane (0-07, 0-03f), Brian McCormack (0-02), Ricky Maher (0-01).
Subs: Brian Glynn for Rogers 44 mins, Scott Lawless for Maher 49 mins.
Moorefield: Thomas Corley; Liam Callaghan, Liam Healy, Mark Dempsey, Kevin Murnaghan, Anthony Durney, James Murray, Daryl Flynn, Aaron Masterson, Cian O'Connor, Eddie Heavey (0-02), Eanna O'Connor (0-04, 0-01f), Adam Tyrrell (0-02, 0-02f), Ronan Sweeney (0-02), Niall Hurley Lynch (1-01).
Subs: Ian Meehan for Flynn 30 mins, Ian McDonnell for Corley h-t, Sean Healy for Murnaghan 37 mins, Jason Phillips for C.O'Connor 57 mins, Mark McDermott for Heavey 58 mins, Aaron Mullins for Hurley Lynch 61 mins.
Referee: Barry Tiernan (Dublin)