Cian Lynch strode up to collect his Hurler of Year award at the All-Stars with the relaxed confidence he made his trademark when shining in midfield for Limerick in the summer.
The 22-year-old Patrickswell man capped a fairytale year with an All-Star and the prestigious individual accolade.
Afterwards, he focused on the importance of friendship and family, reflecting on his journey to the top alongside clubmates Aaron Gillane and Diarmuid Byrnes.
"It's what you dream of as a kid," he told RTÉ Sport's Joanne Cantwell.
"My parents brought me to games when I was a young lad and I remember running on to the pitch looking for Joe Canning's autograph, Dan Shanahan's autograph.
"I've a picture from 2007 of me with Dan after Waterford beat Limerick in the Munster final. For me to have the opportunity to stand up here, it goes back to the small things, back to the family.
"Leonard Enright went in the Hall of Fame [tonight]. Heroes like him, legends like him, it's what makes it extra special.
"There's three of us here: myself, Aaron and Diarmuid. We grew up together. Patrickswell is a small little village and family means everything. After county hurling you always go back to your club, to your local people. And it's an absolute honour.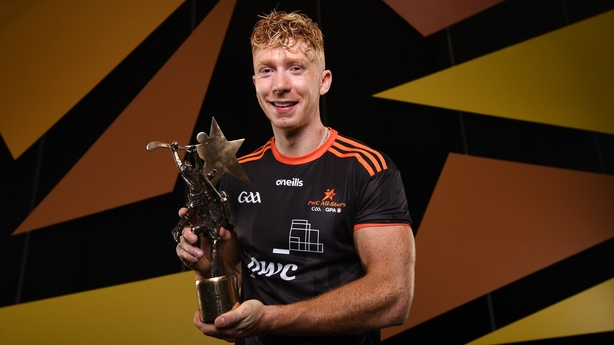 "We all go back to family at the end of the day. They're the people that are there when you win something and they're the most important people when you lose something."
Limerick could hardly have ended their long wait for Liam MacCarthy in more dramatic fashion, as Canning's last-gasp free for Galway fell short and the Treaty won it by a point.
Asked what was going through his head before Canning pulled the trigger, Lynch quipped: "Very little goes through my head at the best of times!
"It was just great to get over the line.
"You're only as good as the lads around you on the pitch. This is for the rest of the boys as well.
"We'll enjoy these few weeks. Forty-five years is a long time. Looking at the lads who played in the 70s, 80s, 90s and 2000s, they set in stone what we had to follow and thank God we put the icing on the cake for them."