St Finbarr's 3-14 Duhallow 2-14
St Finbarr's are the Cork senior football champions for the first time since 1985 after emerging on top against Duhallow in an entertaining final at Páirc Uí Chaoimh.
Having trailed by five points at two stages in the first half, the Cork city side began the second period 2-07 to 1-07 behind but were level immediately as Colin Lyons got in for a goal.
Though Duhallow did reply with a point from Jerry O'Connor, they were not to lead again, even though they would push the Barrs all the way.
Cork senior Stephen Sherlock was in sparkling form for the winners – who had lost eight finals since last lifting the Andy Scannell Cup 33 years ago – and three points from him and one by sub Eoghan Finn suggested they would push on as they established a three-point lead.
To their credit, north-western divisional side Duhallow were level again with points from Aidan Walsh, Jerry O'Connor and Donncha O'Connor, setting up an interesting last ten minutes.
Having had to wait so long, though, the Barrs weren't to be denied. The game's crucial score came as Finn won a loose Duhallow kickout and exchanged passes with Denis O'Brien before slotting home and then Enda Dennehy opened up a four-point lead.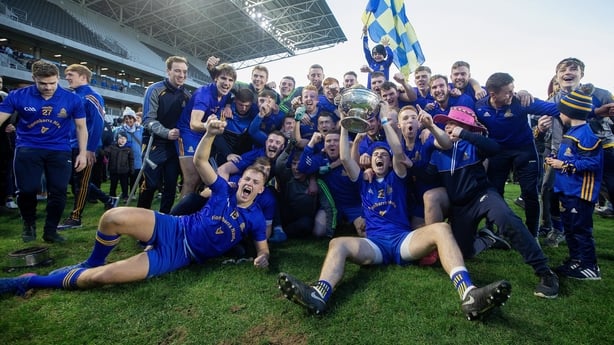 Still Duhallow came back, with Anthony O'Connor, Kevin Crowley and Jerry O'Connor on hand to reduce the lead to a point, but an equaliser was elusive. Sherlock might have had a fourth Barrs goal only for Patrick Doyle to deny him, but Colm Barrett and Finn added late scores to secure the title, amid jubilant scenes.
It wasn't a victory that seemed inevitable in the first half, though. Duhallow led by 0-03 to 0-02 when Séamus Hickey shot a goal, sending home the rebound after John Kerins had saved from Jerry O'Connor.
Eoghan McSweeney added another point in the wake of that, but just as quickly, the Barrs had the ball in the net as Stephen Sherlock rounded off a flowing team move and then Sherlock's free left a point in it, 1-04 to 1-03.
Once more though, Duhallow had a goal, having been awarded a penalty after Dylan Quinn was deemed to have blocked Donncha O'Connor's shot with his foot. The former Cork star dispatched his kick beyond John Kerins.
Paul Walsh made it 2-05 to 1-03, but the Barrs responded well and Conor Dennehy and Denis O'Brien both had points as they had the deficit back to a goal, 2-07 to 1-07, by half-time. Lyons' goal had them level on the resumption and they drove on from there.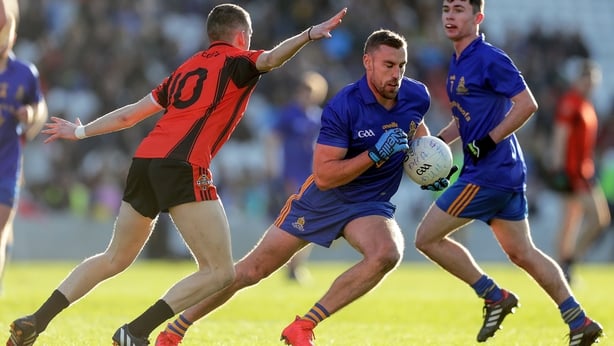 St Finbarr's: John Kerins; Jamie Burns, Dylan Quinn, Conor Dennehy (0-01); Colin Lyons (0-01), Alan O'Connor, Colm Scully; Ian Maguire, Eoin Comyns; Denis O'Brien (0-01), Michael Shields, Enda Dennehy (0-01); Eoin McGreevey, Colm Keane (0-01), Stephen Sherlock (1-08, 0-08 frees).
Subs: Glen O'Connor for Burns (half-time), Eoghan Finn (1-01) for Keane (42), Colm Barrett (0-01) for McGreevey (48), Ross O'Dwyer for Quinn (50), Robert O'Mahony for Enda Dennehy (60).
Duhallow: Patrick Doyle (Knocknagree); John McLoughlin (Kiskeam), Lorcan O'Neill (Kanturk), Bart Daly (Newmarket); Kevin Crowley (Millstreet, 0-01), Keelan Buckley (Knocknagree), Lorcán McLoughlin (Kanturk); Aidan Walsh (Kanturk, 0-01), Séamus Hickey (Rockchapel, 1-00); Fintan O'Connor (Knocknagree), Eoghan McSweeney (Knocknagree, 0-02), Paul Walsh (Kanturk, 0-01); Jerry O'Connor (Boherbue, 0-03, 0-02 frees), Donncha O'Connor (Ballydesmond, 1-05, 1-00 penalty, 0-03 frees)), Michael Vaughan (Millstreet).
Subs: Anthony O'Connor (Knocknagree, 0-01) for Vaughan (29), Kevin Cremin (Boherbue) for Fintan O'Connor (42), Darragh Moynihan (Ballydesmond) for McSweeney (58).
Referee: David Murnane (Macroom).