Dr Crokes 1-15 Dingle 0-12
Dr Crokes made it three Kerry county football titles in a row and seven in this decade after they accounted for Dingle by six points, with Gavin White's late goal finally killing off the challenge of a resolute Dingle side.
Crokes hardly needed another county title to copper-fasten their standing as Kerry top-dogs this decade - and overall on the roll of honour now with 13 titles - but this three-in-a-row coming so soon after the 2010-2013 four-timer leaves no one in any doubt.
It took White's 57th-minute goal for the champions to be absolutely comfortable in this contest, with Dingle refusing to wilt or surrender, but the West Kerry club couldn't engineer the goal they really needed in order to challenge for the club's first title in 70 years.
Paul Geaney's early free put Dingle into an early lead and they led 0-02 to 0-01 after five minutes but then Crokes reeled off the next seven points without reply, with David Shaw kicking three from play and Tony Brosnan adding a brace from play.
The champions played controlled football in that 15-minute period forcing Dingle on to the back foot and into a massed defence but Crokes were still able to find the openings to pick off their scores.
It was 0-08 to 0-02 to Crokes when Kerry defender Tom O'Sullivan kicked Dingle's third, and that kick-started one of their best spells when three more points followed in the last five minutes of the half to bring them right back into contention at 0-08 to 0-06 at half-time.
Matthew Flaherty's point cut the gap to one but Crokes always found scores easier and points from Shaw, White, Johnny Buckley and Daithi Casey had them 0-13 to 0-09 ahead after 48 minutes.
They were 0-14 to 0-11 ahead after 51 minutes when Dingle had corner back Padraig O'Connor sent off for a second yellow.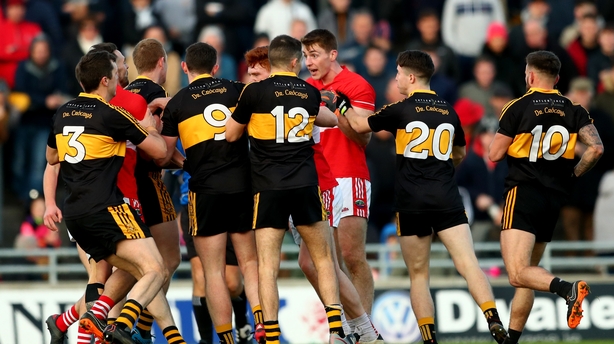 Dingle tried in vain to conjure that much needed goal but the Crokes defence were immense throughout, although Shane Murphy had one superb save to make to deny Geaney in the 35th minute.
White's goal sealed the result for the champions, who had Colm Cooper and Eoin Brosnan winning their eighth county championship medal.
The turnaround is short, however, as Crokes head to Tipperary next Sunday for a Munster Club quarter-final against Moyle Rovers.
Nevertheless they will savour this title as much as any any of the other six since 2010 before making a bid to regain the Munster and All-Ireland titles they recently held.
Dr Crokes: Shane Murphy, John Payne, Michael Moloney, Fionn Fitzgerald, David O'Leary, Gavin White 1-01, Shane Doolan, Johnny Buckley 0-01, Daithi Casey 0-04 (0-03f), Micheal Burns, Gavin O'Shea 0-01, Brian Looney 0-01, David Shaw 0-04, Kieran O'Leary, Tony Brosnan 0-02.
Subs: Colm Cooper for G O'Shea (38), Alan O'Sullivan for D O'Leary (45), Jordan Kiely 0-01 for T Brosnan (50), Michael Potts for D Shaw (55), Eoin Brosnan for M Burns (62), Paul Clarke for K O'Leary (63)
Dingle: Gavin Curran, Michael Flannery, Tom Leo O'Sullivan, Padraig O'Connor, Michael Begley, Tom O'Sullivan 0-02, Aidan O'Connor, Billy O'Connor, Barry O'Sullivan 0-01, Brian O'Connor, Michael Geaney 0-01, Paul Devane, Tomas Sheehy 0-01, Paul Geaney 0-06 (0-05f), Matthew Flaherty 0-01.
Subs: Eoin Murphy for P Devane (42), Brendan Kelliher for M Flannery (57), Conor Geaney for T Sheehy (63)
Referee: Seamus Mulvihill (St Senans)