Ballyhale Shamrocks 2-20 Bennettsbridge 2-17
Ballyhale Shamrocks opened with storm force and threatened to run away with the game, but Bennettsbridge put in a powerful second half to turn the Kilkenny senior hurling final into a thrilling contest at Nowlan Park today.
The title looked to be going to one place and one place only when young Brian Cody shot a 36th minute point to push Shamrocks a strong 2-14 to 1-09 clear.
That was only minutes after Brian Lannon had scored a goal for Bennettsbridge to bring them back within shouting distance of the opposition.
However, after the 'Bridge powered on and out-scored the Shamrocks by 1-3 to 0-1 during the following six minutes with Lannon shooting a second goal, the contest was opened up again.
The divide was down to 2-15 to 2-12, but Shamrocks never flinched. A great point from Ronan Corcoran helped them through their most difficult period of the match.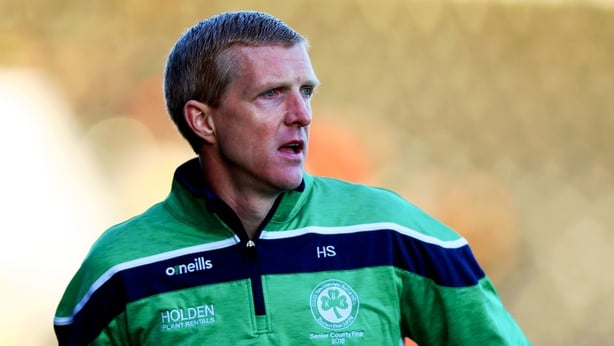 And when Eoin Reid took a pass from his brother, T.J. to up the gap to 2-17 to 2-12 heading towards the closing 10 minutes the Shamrocks 16th championship win looked an almost sure thing.
Bennettsbridge chased hard to the finish, but they never looked like saving the game and adding to their last championship success which was way back in 1971.
Shamrocks, led by the brilliant T.J. Reid, blitzed the opposition from the start. With Reid contributing 1-04 they galloped eight points clear within seven minutes of the start (1-05 to no score).
The 'Bridge opened their account through free taker, Nicky Cleere, but they were always under pressure during this half. When Shamrocks had a second goal from Eoin Cody (2-7 to 0-5) they were looking really good.
At half-time wind assisted Shamrocks led by 2-12 to 0-8.
When Brian Lannon pulled back a goal for Bennettsbridge in the 34th minute he ignited the contest, but despite playing some fine hurling afterwards, the losers were always chasing at a distance.
Ballyhale Shamrocks: D. Mason; C. Walsh, J. Holden, B. Butler; E. Shefflin (0-01), M. Fennelly, D. Mullen (0-01); R. Corcoran (0-01), R. Reid; A. Mullen (0-01), T.J. Reid (1-10, 0-08f), B. Cody (0-02); E. Reid (0-01), E. Cody (1-01), C. Fennelly (0-01).
Subs: M. Aylward (0-01) for E. Reid; P. Mullen for D. Mullen; J. Cuddihy for E. Cody; G. Butler for E. Shefflin; B. Aylward for B. Cody.
Bennettsbridge: E. Cleere; C. Murphy, R. Lennon (0-01), C. Wafer; E. Morrissey (0-02), J. Cleere (0-02), D. Wafer; K. Blanchfield, D. Blanchfield (0-01); A. Cleere (0-01), L. Blanchfield (0-01), N. Cleere (0-07, 0-06f); D. Walsh, B. Lannon (2-01), S. Morrissey (0-01).
Sub: D. Coyne for D. Walsh.
Referee: P. Cahill (Dunnamaggin).