Kerry's Darran O'Sullivan has no regrets over his decision to retire from inter-county football after bringing the curtain down on an illustrious career.
O'Sullivan became the latest experienced player to end his Kingdom career in recent weeks following Donnchadh Walsh, Kieran Donaghy and Anthony Maher.
He won four All-Ireland medals in total in the green and yellow of Kerry.
The 32-year-old was credited with being one of the most skilful players of his generation, however speaking to 2fm's Game On, he revealed that he's confident that the timing is right for him.
"It's been overwhelming," he said. "I'd often hear people say they're overwhelmed by this or that and I'd brush it off, but the reaction was overwhelming, it took me a bit by surprise.
"I was saying there to Kieran Donaghy, that I should have done it ages ago, it's done wonders for my confidence!
"I'd been toying with for a while. Obviously there's a lot more to life when you get into your late 20s and 30s and my wife is expecting in the next couple weeks.
"I opened a business the last two years so there's a lot going on and the demands of the GAA season, it is getting tougher.
"With the injuries I picked up, none of them too serious to be fair, most of them niggles and wear and tear, I just felt that it was probably time to step away.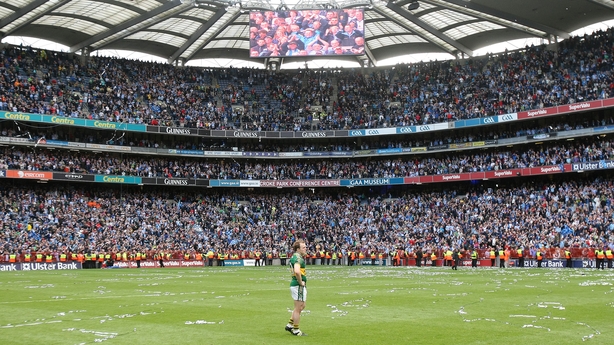 "It was time to step away now instead of putting my body through another year.
"Even the mind, when you're pushing the body as hard as it can go and you know it can't go harder but you're still going to push it and you break down and are gone for two or three weeks. It's tough enough and it's tough enough on the people around you."
2009 and 2011 were the big stand-out years in O'Sullivan's career.
He captained his county to All-Ireland glory in 2009 and was named among the All-Stars in 2011, and when pushed to pick the best season of his time with Kerry, he opted for 2011, despite being on the losing side in the All-Ireland final with Dublin edging out the Kingdom by a point.
"I suppose 2009 would be the most memorable because of the ending but 2011 in terms of consistency and performance would definitely be the one that stands out," he said.
"From the first game in the McGrath Cup I was moving quiet well and I moved well throughout the year, so I suppose in terms of consistency and remember games, it would probably be 2011.
"It's very easy to highlight why, I suppose I had the break over winter. I don't think the club scene was too good the year before so I actually got a bit of a break so when the season started I was ready to go from the very get-go.
"A lot of other seasons that are rolling into each other, so you don't get the time off or the proper preparations, whereas that year I'd had the time off.
"From the very start I was ready to go and building fitness throughout the McGrath Cup and into the league and then into the Championship.
"It's not actually that hard to pinpoint why it went so well, it's just a pity that other years because of things that are out of the inter-county players control with club seasons, sometimes you can't control the kind of break you're going to get."