Clonoulty-Rossmore 0-23 Nenagh Éire Óg 2-13
Timmy Hammersley scored 12 points as Clontoulty-Rossmore bridged a 21-year gap to land the Tipperary SHC title with victory over Nenagh Éire Óg in Thurles.
Both of these sides had to go back over two decades since the last time they had lifted the Dan Breen Cup but the Clontoulty-Rossmore forward showed massive composure as he landed vital frees late on.
Clonoulty-Rossmore were 0-12 to 1-08 ahead at half-time. Philip Hickey hit the net for Nenagh Éire Óg but Hammersley then led the comeback.
He scored the first point on the resumption too and, despite Paddy Murphy's goal, Nenagh Éire Óg came up short.
Clonoulty-Rossmore were the west divisional champions but Nenagh Éire Óg had already defeated them when the sides met in the group stages of the championship this year.
Clonoulty-Rossmore were against the breeze but they held a narrow 0-12 to 1-08 lead after five minutes of additional time at the end of the opening half.
Cathal Bourke and Tommy Heffernan traded early points before Clonoulty-Rossmore hit back-to-back scores with John O'Keeffe and Tom Butler on target.
Nenagh Éire Óg got in front for the first time at the end of the first quarter. Andrew Coffey, Jake Morris and Hickey scored the points, and the latter got their next score, a goal in the 19th minute.
But Clonoulty-Rossmore scored three unanswered points before then. Dillon Quirke found his range from a sideline, while Paudie White and Fiachra O'Keeffe scored as well.
Then Killian Gleeson passed to Coffey, who shot low, and though Shane Hennessy saved well the ball fell to Hickey to put it in the net.
It gave Nenagh Éire Óg a 1-4 to 0-6 advantage before Quirke stepped up to score another stunning sideline cut from the right.
Then Morris took over from the frees and he had scored five points by the end of the first half. Timmy Hammersley did likewise for Clonoulty-Rossmore and he scored three points before the break.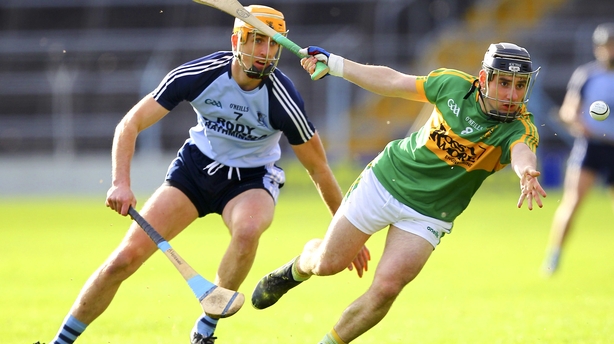 Clonoulty-Rossmore scored first after half-time and it was Timmy Hammersley again from a free. Nenagh Éire Óg captain Michael Heffernan got his first point from a sideline and the impressive Gleeson tied the game up in the 35th minute.
Hammersley and Paddy Murphy traded scores and Timmy Hammersley tapped over his third free of the half to give Clonoulty-Rossmore a one-point lead.
White got forward for a big score, his side's first from play in the second half, and Timmy Hammersley added his seventh of the day.
Nenagh Éire Óg were desperate for a score and Barry Heffernan got their first in ten minutes with a point in the 51st minute. And they had a goal two minutes later when John O'Keeffe's clearance was blocked down by Morris and Paddy Murphy drove the ball past Declan O'Dwyer.
Suddenly, Nenagh Éire Óg had a 2-12 to 0-17 lead with seven minutes of normal time remaining.
But Timmy Hammersley took control once again and scored five more points before the end to seal the win.
Clonoulty-Rossmore: Declan O'Dwyer; Joey O'Keeffe, Ciaran Quirke, James Ryan; Enda Heffernan, John O'Keeffe (0-01), Sean O'Connor; Michael Ryan (0-01), Conor Hammersley; Paudie White (0-02), Dillon Quirke (0-02, 0-02 sl), Tom Butler (0-01); Cathal Bourke (0-03), Timmy Hammersley (0-12, 0-10f), Fiachra O'Keeffe (0-01).
Subs used: Ronan Heffernan for F O'Keeffe (49), James Hammersley for Joey O'Keeffe (54), Thomas Butler for White (56).
Nenagh Éire Óg: Shane Hennessy; Conor McCarthy, Noel Maloney, Dáire Quinn; Conor Ryan, Hugh Maloney, Barry Heffernan (0-01); Pearse Morris, Killian Gleeson (0-01); Paddy Murphy (1-01), Jake Morris (0-06, 0-04f), Andrew Coffey (0-01); Tommy Heffernan (0-01), Michael Heffernan (0-01, 0-01sl), Philip Hickey (1-01).
Subs used: James Mackey for P Morris (40), Adam Gratton for N Maloney (49).
Referee: Kevin Jordan (Tipperary)