Two of the country's highest-profile referees have welcomed the proposed changes to the rules of Gaelic football.
The GAA last month proposed trials of major changes to the playing rules, including expanding the use of marks, a sin bin and a limit on consecutive handpasses.
Corkman Conor Lane, who refereed the All-Ireland final between Dublin and Tyrone last month thinks the proposals could improve the game.
"I think what they're trying to do is get the ball forward as fast as they can," he told RTÉ Radio 1's Saturday Sport.
"In hurling, when the corner-back gets the ball, his first thing is to get a good fast ball up to his corner-forward.
"In football, it's about possession. They like to work it through the lines.
"I think it will be positive. For us, it will be okay to manage."
Wexford's James Owens refereed the hurling final between Limerick and Galway but also officiates in football.
"The attacking mark is going to encourage an awful lot more attacking play," he agreed.
"Supporters want to see scores and it's certainly going to add to it."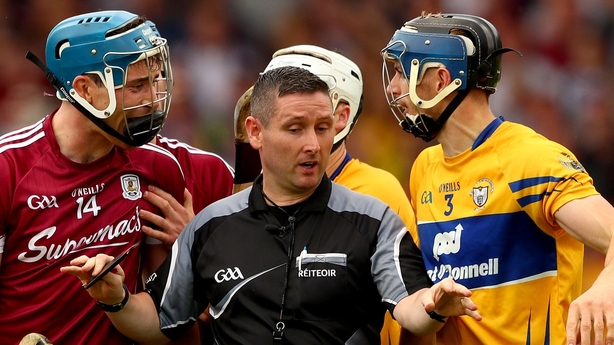 What about hurling? The only change Owens feels is needed is to bring the square-ball rule into line with football.
"The hurling rules are okay," he said. "We had a great hurling championship this year and I think the referees contributed to that in the way they implemented the rules.
"They played good advantage when it was needed, when red cards needed to be issued, they were issued.
"Maybe the square-ball could be looked at. We wouldn't mind it seeing it changed to something similar to the football, where once the ball is struck the player is entitled to enter the square."
James McGrath speaks to RTE Sport about his decision to retire from the inter-county referee panel in the light of the appointments committee not appointing him as one the match officials for the 2018 final pic.twitter.com/eHrGrkU2wQ

— RTÉ GAA (@RTEgaa) August 8, 2018
There was controversy following Owens' appointment to the hurling decider, with Westmeath's James McGrath publically resigning from the refereeing panel after missing out.
Owens said he empathised with McGrath and hoped he would change his mind.
"I can understand because if I hadn't got that call, I would have been hurt.
"At the end of the day, everyone of us wants to referee an All-Ireland final, that's our ambition.
"We certainly feel for him.
"I've been talking to James. There's no animosity between us at all.
"We started off in Leinster (together) 20 years ago so we're good friends.
"If James makes the decision that he wants to come back in 2019 he will be welcomed back by every hurling referee."