The 2018 Bord Gáis Energy U21 Hurling Team of the Year has been revealed with beaten All-Ireland finalists Cork leading the way with six representatives on this year's team selection.
The Rebel County were comfortable winners against Tipperary in the Munster final, but were eventually beaten when the two counties met again in the All-Ireland decider on the 26 August.
Five players from the Premier County make the side, while Galway and Wexford, both of whom contested the All-Ireland semi-finals, have two a-piece to complete the line-up.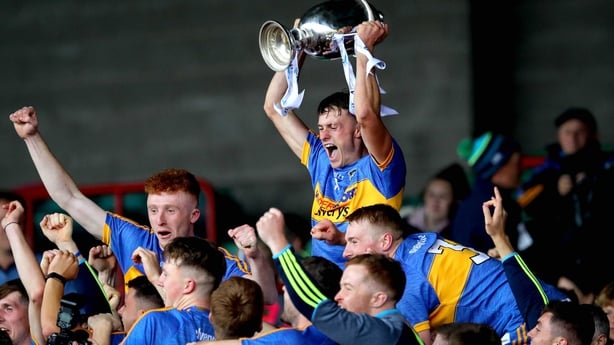 The 2018 Bord Gáis Energy U-21 Player of the Year and 'B' Championship Player of the Year award winners will be announced at the Gala ceremony which takes place at Dublin's City Hall on Friday.
The Team of the Year and Player of the Year winners are picked by a panel of judges chaired by Bord Gáis Energy Sports Ambassador Ger Cunningham alongside Bord Gáis Energy #HurlingToTheCore Ambassador Joe Canning, Waterford legend Ken McGrath and TG4's Micheál Ó Domhnaill.
2018 Bord Gáis Energy Team of the Year
1 Ger Collins (Cork)
2 Killian O'Dwyer (Tipperary)
3 Brian McGrath (Tipperary)
4 Niall O'Leary (Cork)
5 Fintan Burke (Galway)
6 Robert Byrne (Tipperary)
7 Billy Hennessy (Cork)
8 Mark Coleman (Cork)
9 Ger Browne (Tipperary)
10 Robbie O'Flynn (Cork)
11 Rory O'Connor (Wexford)
12 Cianan Fahy (Galway)
13 Jake Morris (Tipperary)
14 Tim O'Mahony (Cork)
15 Seamus Casey (Wexford)
2018 Bord Gáis Energy Player of the Year Nominees
Ger Browne (Tipperary)
Fintan Burke (Galway)
Mark Coleman (Cork)
Jake Morris (Tipperary)